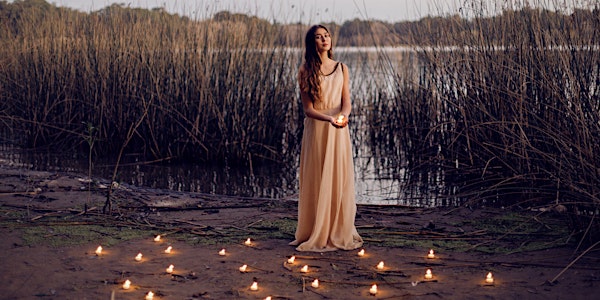 Women's Free Monthly Intuition Circle
Join an intimate circle of women for a monthly evening of healing and empowerment!
When and where
Date and time
Mon, Feb 13, 2023 6:00 PM - 7:00 PM PST
About this event
Do you long to expand your intuitive capacity?
Would you benefit from monthly intuitive readings?
Would you love to be part of a circle of close, supportive women?
Join an intimate circle of women for a monthly evening of healing and empowerment!
The Intuition Circle provides an opportunity for women to cultivate significant connections while supporting each other's work and lives.
The Circle begins with a 10-minute guided visualization, followed by a check-in.
Women are provided with a brief introduction to the intuitive process, how it functions individually and how to access it.
After this, the group takes turns focusing their intuition on each individual.
After each focus-session, there's time for members to share their insights and for the querent to share their question.
The circle concludes with a round of gratitudes.
No experience necessary!
Grow your intuitive capacities
Experience growing psychic awareness throughout your daily life
Own your knowing, and grow your sense of empowerment and inspiration
Have the courage to trust yourself to embark on new facets of your life journey
Support and be deeply supported on immediate and longstanding issues
Please note that your on-screen presence in required during these events.
Marn Norwich is an intuitive energy-therapist with a background in reiki, shiatsu, Healing Touch and energy-focused counselling.
She offers individual sessions for those seeking deep healing through energy work and intuitive insight. Examples of areas of focus are creative blocks, anxiety, depression, life transitions, grief and breakup.
Marn runs Vancouver Women's Writing Courses, where she facilitates the Intro to Intuitive Development + Energy-Work Workshop Series , The Women's Writing as Healing Workshops Series and the Muse Lab: A playground for women writers.
She has a background as an author, poet, playwright, journalist, writer/editor and writing consultant.
Check out Marn's site for her Free Intros, held six times a year, free coaching consults or to book a workshop for your organization.
"From the first introductory class I took with Marn, I knew I had found the right person to guide me in my journey of self discovery. Marn exudes a quiet strength and a generous heart. I took the Writing as Healing Workshop with her prior to taking the Women's Intuitive and Energy Work workshop. I have learned so much in both workshops particularly, in the Women's Intuitive and Energy Work workshop. This workshop is for anyone who wants to be more in touch and in tune with their intuition, and themselves. Marn created a safe space for all of us to share deeply and lovingly. There were moments of great insight, unbridled laughter and streaming tears. These all took place in a safe circle of sisterhood. I am still blown away by how much love and respect we all felt for one another despite only knowing one another for 6 weeks. It is true that time doesn't matter, only resonance. I resonated with every woman in my group. I am truly grateful for Marn and her special gift for creating such powerful circles of trust and love."
Stephanie Samboo, Oakville, Ontario
"Something truly magical transpires through Marn's facilitation. She leads by example, responding thoughtfully to each contribution, holding space, and validating where we are in our healing journey. Her intuitive, attentive approach creates a nearly palpable sense of safety and connection in the room, transforming strangers into a circle of trust, support, and inspiration...Attending her workshops is easily one of the best things I've ever done for my well-being, for my love of writing, and for my sense of wonder and appreciation for women."
Amanda Hobbs, Vancouver, B.C.
"If you are looking for a safe place to reveal yourself to yourself, in the gentle, accepting company of other women, through the medium of writing, expression, inspiration and meditation…this course is for you.
 If you long for a compassionate, present, non-judgemental "space-holding" witness… Marn is your facilitator.
 And, if you are called to be a part of a strong, nurturing, empowering, uplifting circle of women, helping other women…let your voice ring out, it will be heard and welcomed."
Joanna McKinnon
"Participating in Marn's writing workshop has easily become the highlight of my week. ...She has created a truly nurturing environment to allow for writers at all levels to flourish...Marn provides a space where we can all write freely, share vulnerably and hold each other with such compassion. When we get together in her workshop, it is absolute and pure magic."
Annie Phung, Vancouver, B.C.
Photo credit: Carolina Basi, Pexels
About the organizer
Marn Norwich runs Vancouver Women's Writing Courses, where she offers workshops, retreats, empowerment groups, writing coaching + onsite writing for wellness. She has been facilitating creative writing workshops since 1994 and has worked as a professional  energy therapist since 2000.
Marn worked as a writer, editor + consultant for 25 years and is the author of the Independent Book Publishers Association award-winning poetry collection, Wildflowers at my doorstep (Karma press). She recently wrote and produced the musical comedy A Coveted Wife of East Van for the Vancouver Fringe Festival.
Marn is currently serving as Artist in Residence for the City of Port Coquitlam.