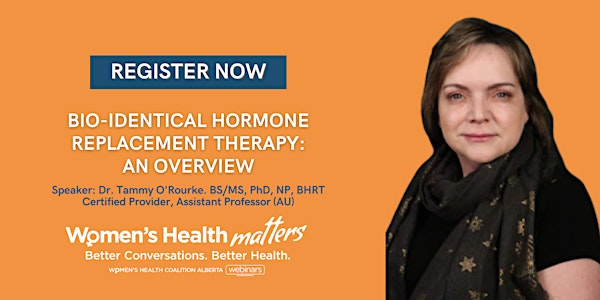 Women's Health Matters: BHRT - An Overview
Everything you need to know about BHRT(Bio Identical Hormone Replacement Therapy), treating hormone imbalance and accessing clinical support
Refund Policy
Contact the organizer to request a refund.
Eventbrite's fee is nonrefundable.
About this event
Bio-Identical Hormone Replacement Therapy - An Overview
Presented by: Dr. Tammy O'Rourke. BS/MS, PhD, NP, BHRT Certified Provider, Assistant Professor (AU)
Let's talk about HORMONES!   You will learn about signs and symptoms of hormone imbalance, and the five main female hormones. You will gain an understanding of the benefits and options that may be available with BHRT.  You will be able to have better conversations with your partner and your clinician about your symptoms of hormone imbalance.  
WHO SHOULD ATTEND?
- Women and their partners who want to learn more about hormonal changes and BHRT
- Healthcare professionals interested in understanding the benefits and considerations of BHRT for their patients
- Women's health stakeholders that want to drive new conversations for better health outcomes.
____________________________________________________________________________________________
Dr. Tammy O'Rourke. BS/MS, PhD, NP, BHRT Certified Provider, Assistant Professor (AU)
Dr. O'Rourke is a nurse practitioner, educator and expert in bio-identical hormone replacement therapy. Dr. O'Rourke is WorldLink certified in BHRT, committed to patient centred care and works with each client to achieve optimum health and lifestyle outcomes. She also has an extensive background in the development and evaluation of inter-professional primary care/primary health care teams in multiple provinces. She is well known for her leadership and involvement in the development of one of the initial Nurse Practitioner Led Clinics in Ontario.
____________________________________________________________________________________________
About The WHC
Mission
The Women's Health Coalition is committed to creating a movement to speak openly, learn and engage with purpose to address menstrual reproductive and sexual health for life.
Vision
The right support and treatment at the right time for improved quality of life, improved health outcomes, and better lived experiences.
Mandate
The Women's Health Coalition will take a leading role in engaging and informing community stakeholders, healthcare professionals, industry and government to challenge traditional thinking, address gender bias, and improve health outcomes for women facing menstrual, reproductive and sexual health challenges.
The Women's Health Coalition is a network of:
- Women who have faced health challenges
- Professionals who care for women
- People who care about women and women's health
- Businesses and Associations committed to women's health
- We will fulfill our mandate by:
CONNECTING WITH WOMEN to understand the patient journey : Engage women of diverse backgrounds to provide testimony of unique experiences in Alberta's health system to validate priorities identified for system change and promote a shift in patient behaviors.
ENGAGING THE HEALTHCARE COMMUNITY for system improvement: Work with healthcare professionals and industry partners to engage health system influencers to explore opportunities for improving women's health patient experience.
ADVOCATING for policy change: Establish relationships and credibility with provincial and federal governments to raise awareness and advocate for policy change to support patient choice and address gender equity.
FACILITATING RESEARCH for evidence-based recommendations: Work with partners to understand, clarify and promote women's health based on data, evidence and patient experience.