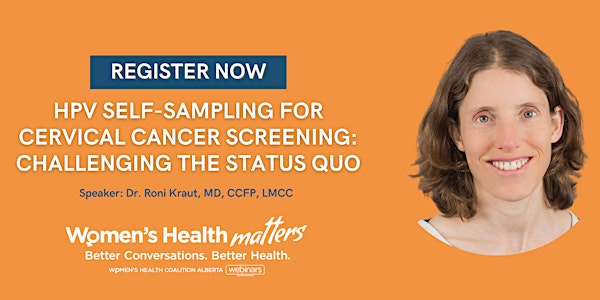 Women's Health Matters: HPV - Challenging the Status Quo
HPV Self-Sampling for Cervical Cancer Screening: Challenging the Status Quo. Presented by Dr. Roni Kraut, MD, CCFP, LMCC
Refund Policy
Contact the organizer to request a refund.
Eventbrite's fee is nonrefundable.
About this event
HPV Self-Sampling for Cervical Cancer Screening: Challenging the Status Quo.
Speaker: Dr. Roni Kraut, MD, CCFP, LMCC
Most sexually active people will have HPV in their lifetime. HPV can cause a number of serious health issues and is responsible for almost all cases of cervical cancers in women. This women's health webinar will help you become familiar with cervical cancer screening in Canada. You will gain awareness and understanding of HPV self-sampling as a screening method.
WHO SHOULD ATTEND?
- Women and parents who want to learn more about HPV, cervical cancer, and screening.
- Healthcare professionals interested in understanding HPV, cervical cancer screening and the patient journey.
- Community stakeholders that want to drive new conversations for better health outcomes.
Cost
$20 non-members
Free – WHC Members
Become a WHC member today for $25 at link below and then register for webinars free.
https://thewhc.ca/membership/
For more information contact: info@TheWHC.ca
____________________________________________________________________________________________
DR. RONI KRAUT, MD, CCFP, LMCC
Dr. Roni Kraut is a family physician in Edmonton and an assistant clinical professor at the University of Alberta. She completed her MSc in clinical epidemiology in 2020. She brings the unique lens of a family physician to her research endeavours with patient experiences at its foundation. Her research centres on not just accepting the current paradigms in medicine but thinking beyond them. on a client centered approach with a systemic and cognitive behavioural style allowing for good connection between the client and therapist while being active and focused on making effective change in the areas needed.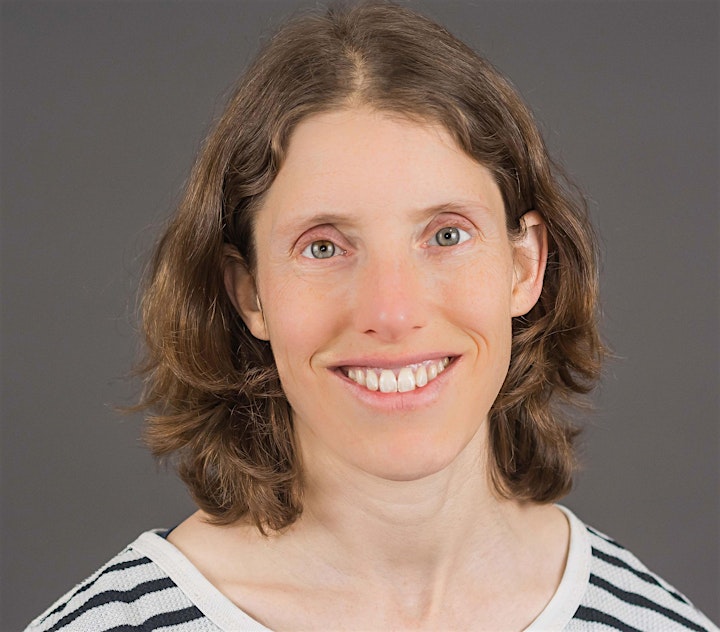 ____________________________________________________________________________________________
Join the women's health movement.
Become a WHC member TODAY!
Your membership will:
- Connect you to a network of thought leaders and passionate advocates for women's health
- Position you/your organization as a leader for health system innovations
- Provide you with access to members only information, research, tools and resources
- Exclusive invitations, networking opportunities and consultations
For more info: WHC Memberships
____________________________________________________________________________________________
About The WHC
Mission
The Women's Health Coalition is committed to creating a movement to speak openly, learn and engage with purpose to address menstrual reproductive and sexual health for life.
Vision
The right support and treatment at the right time for improved quality of life, improved health outcomes, and better lived experiences.
Mandate
The Women's Health Coalition will take a leading role in engaging and informing community stakeholders, healthcare professionals, industry and government to challenge traditional thinking, address gender bias, and improve health outcomes for women facing menstrual, reproductive and sexual health challenges.
The Women's Health Coalition is a network of:
- Women who have faced health challenges
- Professionals who care for women
- People who care about women and women's health
- Businesses and Associations committed to women's health
- We will fulfill our mandate by:
CONNECTING WITH WOMEN to understand the patient journey : Engage women of diverse backgrounds to provide testimony of unique experiences in Alberta's health system to validate priorities identified for system change and promote a shift in patient behaviors.
ENGAGING THE HEALTHCARE COMMUNITY for system improvement: Work with healthcare professionals and industry partners to engage health system influencers to explore opportunities for improving women's health patient experience.
ADVOCATING for policy change: Establish relationships and credibility with provincial and federal governments to raise awareness and advocate for policy change to support patient choice and address gender equity.
FACILITATING RESEARCH for evidence-based recommendations: Work with partners to understand, clarify and promote women's health based on data, evidence and patient experience.