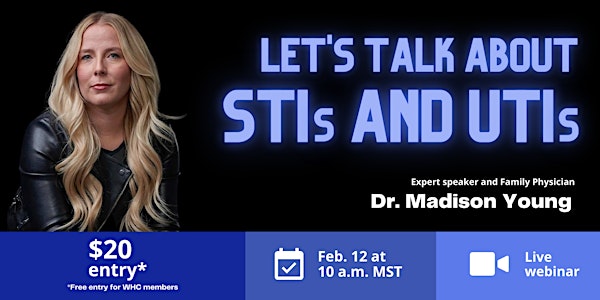 Women's Health Matters: STIs and UTIs - What you need to know
Urinary Tract Infections - How to recognize them, what to do about them.
Refund Policy
Contact the organizer to request a refund.
Eventbrite's fee is nonrefundable.
About this event
Sexually Transmitted Infections and Recurring Urinary Tract Infections
Presented by: Dr. Madison Young
Let's talk about STIs and UTIs!   When is a discharge and painful urination something to worry about?
Dr. Young will explore common STIs and current screening and treatment practices. She will discuss recurring UTIs and best practice in terms of management and treatment. Dr. Young will share information and resources that will educate youth about STIs, UTIs, and personal safety.
WHO SHOULD ATTEND?
- Women, their partners and youth who want to learn more about STIs, UTIs, and safe practices.
- Healthcare professionals who want to have better conversations with their patients and current information about trends, treatments, and best practices
- Women's health stakeholders that want to drive new conversations for better health outcomes.
____________________________________________________________________________________________
Dr. Madison Young MD. Dr. Madison Young was born, raised and received her undergraduate degree and MD in Winnipeg MB. She completed her residency in Family Medicine in Calgary and continues to practice in Calgary at Innovations Health Clinics. Dr. Young has an extremely varied practice and enjoys the complexities of providing comprehensive primary care. She provides a modern and up-to-date approach to Family Medicine, using evidence-based medicine in combination with clinical experience, while always maintaining a patient-centered approach. Learn more about Dr. Madison (here).
____________________________________________________________________________________________
About The WHC
Mission
The Women's Health Coalition is committed to creating a movement to speak openly, learn and engage with purpose to address menstrual reproductive and sexual health through all the ages and stages.
Vision
The right support and treatment at the right time for improved quality of life, improved health outcomes, and better lived experiences.
Mandate
The Women's Health Coalition will take a leading role in engaging and informing community stakeholders, healthcare professionals, industry and government to challenge traditional thinking, address gender bias, and improve health outcomes for women facing menstrual, reproductive and sexual health challenges.
The Women's Health Coalition is a network of:
Women who have faced health challenges
Professionals who care for women
People who care about women and women's health
Businesses and Associations committed to women's health
We will fulfill our mandate by:
CONNECTING WITH WOMEN to understand the patient journey : Engage women of diverse backgrounds to provide testimony of unique experiences in Alberta's health system to validate priorities identified for system change and promote a shift in patient behaviors.
ENGAGING THE HEALTHCARE COMMUNITY for system improvement: Work with healthcare professionals and industry partners to engage health system influencers to explore opportunities for improving women's health patient experience.
ADVOCATING for policy change: Establish relationships and credibility with provincial and federal governments to raise awareness and advocate for policy change to support patient choice and address gender equity.
FACILITATING RESEARCH for evidence-based recommendations: Work with partners to understand, clarify and promote women's health based on data, evidence and patient experience.