The *virtual* EVOLVE Summit brings together ambitious female leaders, shares bold ideas, & provides networking. www.womensnetwork.ca
About this Event
Tickets
For questions relating to tickets, please email hello@womensnetwork.ca or call or text 905-745-1985.
About the Summit
The EVOLVE Summit will bring together and support professional women by sharing bold ideas, updating soft-skills, piquing critical thinking, and providing strategies for advancement in the current and post-pandemic landscape.
Hosted on a virtual platform, this first-of-its-kind event will have a strong focus on content delivery, attendee engagement, and virtual relationship building – a new and uncomfortable concept for many, but more critical than ever.
The Summit features professional development sessions, interactive workshops, networking opportunities, and a forum to enjoy some cocktails while forging new connections with other like-minded professionals.
>> Support Local - Snag a VIP ticket including a bottle of Kick Ass Sass Red wine and a meal provided by a local restaurant (Hamilton/Burlington) to elevate your Summit experience
>> Celebrate International Women's Day with your fellow attendees during the virtual Happy Hour cocktail party.
More details about speakers and content will be released over the coming weeks.
Who Should Attend?
Professionals who identify as women seeking business development and networking opportunities, dedicated professional development time, brand and career upgrades for a digital world, and inspiration for thriving in remote working or post-pandemic environments. All gender identities are encouraged to attend including those who identify as men, trans and non-binary people.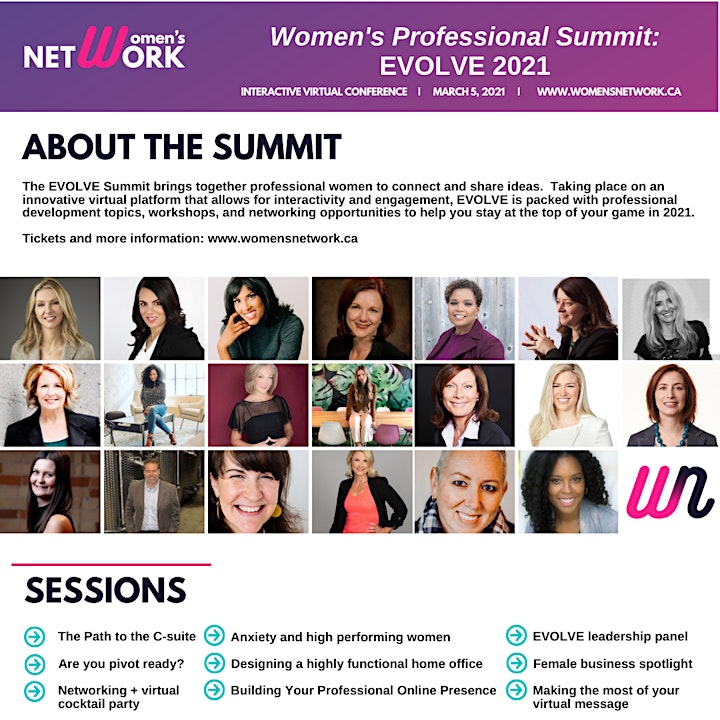 VIP Tickets
Include a bottle of wine, Kick Ass Sass Red, by Sass Jordan and your choice of meal from a variety of local restaurants.
Pick-up details: Your meal + package will be available for pick-up at your selected restaurant on March 4th (day before the Summit). Pick-up details to follow.
Meal options:
Radius: Atlantic Salmon Nicoise & Banana Tarte Tatin (serves 1) [soft poached Chassagne farm organic hen egg | roasted fingerling potato | Nicoise olives | avocado | haricot vert | cucumber | tarragon vinaigrette & Banana Tarte Tatin - butter scotch caramel | organic bananas | toasted walnuts | crispy puff pastry]
Castelli Cucina: Margherita and Pepperoni Pizza Kit (V - Serves 2-4) [Semolina flour | Pizza Sauce | Fior di latte cheese | Basil | Pepperoni]
The Hamilton Club: House Made Lasagna (serves 4 - GF option available) [ground wagyu beef, mozzarella & ricotta with a house made San Marzano tomato & basil sauce served with a radicchio and rocket salad with Grana Padano parmesan cheese, balsamic vinegar & extra virgin olive oil]
The Hamilton Club: Stuffed Acorn Squash (GF/V – serves 2) [Two roasted acorn squash stuffed with sautéed root vegetables & quinoa topped with goat cheese & drizzled with reduced balsamic served with a winter superfood salad of kale, cabbage & brussel sprouts, dried cranberries, apple, goat cheese, pomegranate & walnuts tossed in a house sherry vinaigrette]
North Coal (Burlington): (serves 1) Roast Beef, Roasted New Potatoes, Local Mixed Mushrooms, Herb Roasted Radishes, Horseradish Beef Gravy. Lava Brownie with Chocolate Ganache and Chantilly.
North Coal (Burlington): (serves 1) Seared Atlantic Salmon, Sticky Rice, Herb Roasted Radishes, Carrots, and Peppers, St. Lawrence Sauce, Crumbled Candied Walnuts. Apple Crumble - Spiced Apple Filling, Oat Crumble, Salted Caramel.
Event Schedule
Please note the virtual doors will open at 9:30 AM EST for on-boarding on the virtual venue and networking. The official program will begin at 10:00 AM EST.
Happy Hour Cocktail Party begins at 3:30PM and the event ends at 5:00PM.
Virtual Venue
Virtual platforms are new to many of us. With the help from our Presenting Sponsor, Connect Event Hub, we will be hosting this event virtually using the online platform, Remo.
Remo mirrors an in-person event experience by offering both a "stage view" and "networking hall" where guests can virtually sit down at a table to connect and network.
Haven't used Remo before? Check out the short video below to learn more about using Remo as an attendee, we promise it's worth the learning curve!
Event Sponsors and Partners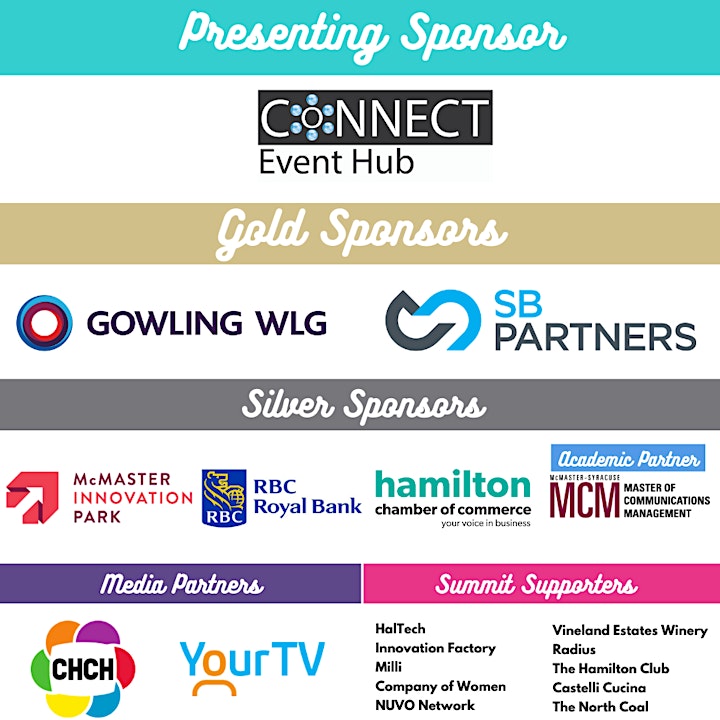 Date and Time
Location
Refund Policy