The [RE] ENVISION Summit provides professional development & networking with female professionals. www.womensnetwork.ca
About this event
Full Summit details: www.womensnetwork.ca
Tickets
For questions relating to tickets, please email hello@womensnetwork.ca or call or text 905-745-1985.
About the 2022 Theme: [RE] ENVISION
This time last year, we were in the depths of navigating the pandemic and were focused on finding ways to feel in control as we responded and adapted to ever-changing circumstances.
As such, our inaugural conference was built around the theme EVOLVE.
Now, we can reflect on many lessons learned from the pandemic, and many of us would agree that we have an opportunity to pave a new way forward, rather than going back to "how things were."
As we look ahead to 2022, we have an opportunity to envision, or re-envision, our future. We all have an opportunity to be intentional and deliberate about creating the "next normal" for ourselves.
The theme of this year's summit is (re) Envision, with a focus on supporting and inspiring women as they move to a more proactive state and into a mindset where they can re-imagine what is possible.
The 2022 Summit will include a robust agenda of keynote presentations, mini workshops, panel discussions, and networking opportunities that will explore the theme of (re) Envision from a number of perspectives.
(re) Envision:
your definition of success
your relationships
your life
your legacy
your future
your career
your self-care and wellness
your work-life balance
your approach to leading and management
About the Women's Professional Summit
The Summit brings together and support ambitious female leaders in the Southern Ontario region by sharing bold ideas, updating soft-skills, piquing critical thinking, and providing strategies for advancement in the current and post-pandemic landscape.
Hosted on a virtual platform, Remo [learn more], the second annual event will have a strong focus on content delivery, attendee engagement, and virtual relationship building – a new and uncomfortable concept for many, but more critical than ever.
The Summit features professional development sessions, interactive workshops, panel discussions, networking opportunities, and a forum to enjoy some cocktails while forging new connections with other like-minded professionals.
>> Celebrate International Women's Day with your fellow attendees during the virtual Happy Hour cocktail party
Event Schedule
Full Details available on www.womensnetwork.ca
Please note the virtual doors will open at 8:30 AM EST for on-boarding on the virtual venue and networking. The official program will begin at 9:00 AM EST.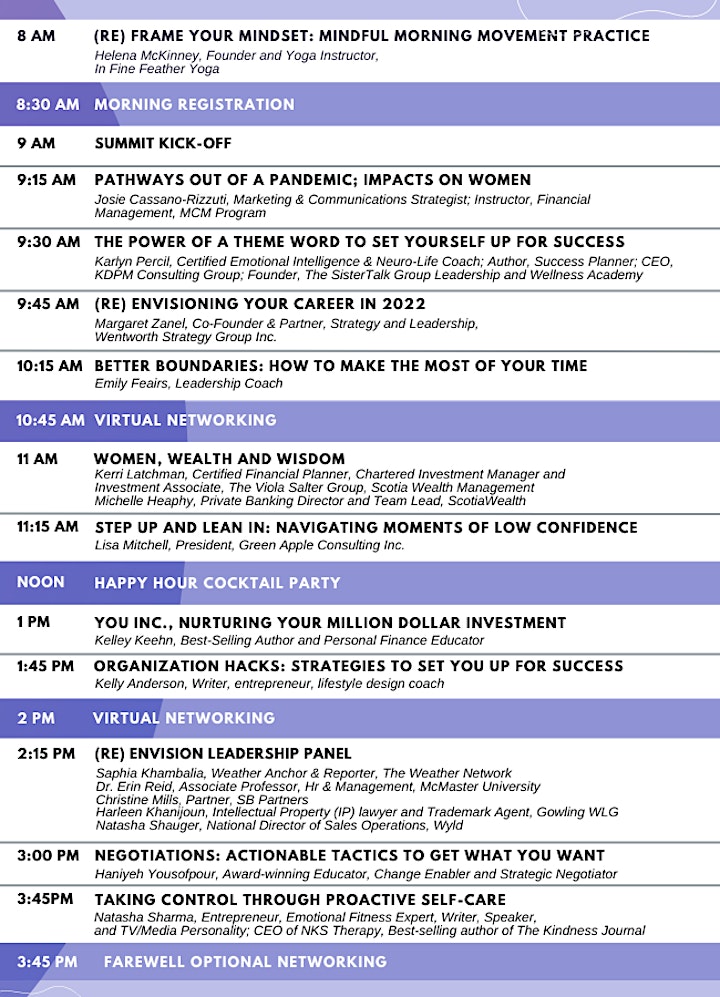 Who Should Attend?
Professionals who identify as women seeking business development and networking opportunities, dedicated professional development time, brand and career upgrades for a digital world, and inspiration for thriving in remote working or post-pandemic environments. All gender identities are encouraged to attend including those who identify as men, trans and non-binary people.
Virtual Venue
Virtual platforms are new to many of us. With the help from our Platform Sponsor, Connect Event Hub, we will be hosting this event virtually using the online platform, Remo.
Remo mirrors an in-person event experience by offering both a "stage view" and "networking hall" where guests can virtually sit down at a table to connect and network.
Haven't used Remo before? Check out the short video below to learn more about using Remo as an attendee, we promise it's worth the learning curve!