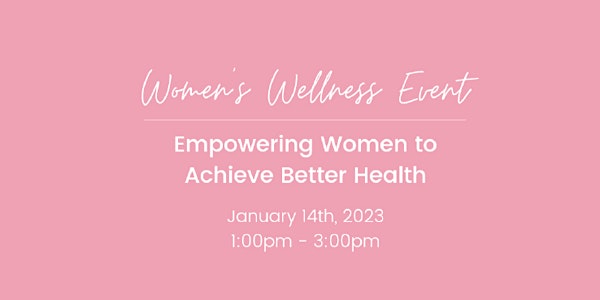 Women's Wellness Event
Join us on January 14, 2023 for the Women's Wellness Event, where we are empowering women to achieve better health!
When and where
Location
Central Corydon Community Centre 1 Sir John Franklin Road Winnipeg, MB R3N 1Z9 Canada
About this event
On January 14, 2023 from 1 - 3pm, join us at Sir John Franklin Community Centre in Winnipeg for an afternoon of health, wellness and inspiration. Featuring motivational speaker and Olympic Silver Medalist Janine Stephens, who will inspire you and help propel you towards your 2023 goals and dreams. Shauna Muldrew, of Infinity Nutrition & Health Coaching, will take you through a workout that will get you sweating and educate you on the importance and benefits of strength training specifically for women. Next Andrea Katz, of Best You Nutrition, will lead you through a nutrition session focusing on hormone health and how the foods we choose can help balance hormones throughout our lives. We will cap off the afternoon with a destress yoga session that will leave you blissfully inspired.
WHO WE ARE:
Janine Stephens:
Born and raised in Winnipeg, Janine Stephens went on scholarship to the University of Michigan where she graduated with her Bachelor of Science in Kinesiology and Movement Science. In her time, the team won two Big Ten championships and were top five finishers at the NCAA Championships. In 2006, she was awarded the Big Ten Conference Sportsmanship Award. 2007 was her first year on the senior national team racing at the World Championships where she placed 5th in the quadruple sculls event which secured a spot for Canada in the 2008 Beijing Olympic Games. She trained hard for 9 months and was able to hold onto her spot in the boat to race in Beijing and placed 8th.In 2010 and 2011, Janine and her team won silver medals behind the Americans in two World Cup races and two World Championship close races. Coming second at the 2011 World Championships also qualified an entry for Canada in the 2012 Olympic Games.After pushing herself to new limits in 2012, her team won a World Cup event in June and was feeling prepared to go for Gold in the London Olympics that year. The team had a phenomenal race the afternoon of August 2nd, 2012 and made Canada proud when they earned the Silver Medal. Janine is only the 5th Manitoban to ever win a Silver Medal at a Summer Olympic Games.Janine moved home to Winnipeg after her 11 years away pursuing her rowing. She and husband, Matt, have twin girls. She is now the head coach for the Manitoba Rowing Association helping to coach athletes ages 15-26 to be the best versions of themselves in rowing and in life.
Shauna Muldrew:
Shauna Muldrew is a registered Health Coach and Personal Trainer, with over 10 years of experience in the health and fitness industry. As a mom and business owner of Infinity Nutrition & Health Coaching, she can relate to the everyday challenges around healthy living.Shauna's passion for health and wellness was ignited in 2017 when she went through her own weight loss journey, and then again in 2021 with her postnatal transformation.Shauna specializes in strength training for women, and believes that every woman should feel strong, confident, and empowered by what their bodies are truly capable of.
Andrea Katz:
As an Integrative Nutrition Health Coach with Best You Nutrition, Andrea's goal is to turn on the spark inside you to find a love for nutrition and health that you have never found before. We are all our own best health advocates. After losing her mom in 2013 to a horrific battle with cancer, something was sparked in her to learn. She wanted to learn more about how our digestive system is the key to health; to learn about how we can strengthen our immune systems with food; to learn how food and lifestyle can lead to longevity. This thirst for knowledge and spark she has found is now how she coaches.
In her early 40's she was blessed to give birth to a beautiful, healthy and happy baby girl. At her first appointment with the OBGYN, she said, "What matters is how healthy you come into and stay in during your pregnancy". Words she will never forget. No matter what your health goal or dream is, you CAN achieve it. Let Andrea help guide you in the direction of your goals and make magic happen.
Barb Bottle:
Barb Bottle is a dance teacher, choreographer, artist, and Yoga teacher located on Treaty 1 territory (Winnipeg, Manitoba). Barb has over 40 years of experience teaching dance, and over 400 hours of Yoga and meditation teacher training in both the Modo and Abhyasa styles.Barb's goal is to share the brilliant benefits of the Yoga practise on and off the mat to help folks find health through contentment, and to get in touch with their higher self.
*You will be added to the newsletters of Infinity & Best You Nutrition upon sign-up for this event to help you live your healthiest best life!