About this Event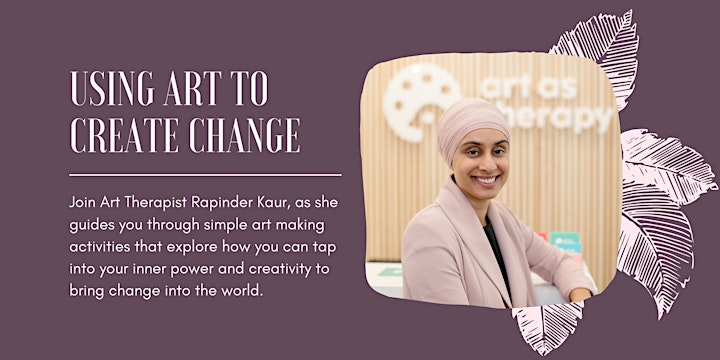 Session 1: Using Art to Create Change with Rapinder Kaur
Wed. July 22 | 3:00 pm - 4:00 pm
Rapinder Kaur is a Registered Psychotherapist, Art Therapist, public speaker, facilitator, clinical supervisor, board member, and founder of Art as Therapy, a community based therapy practice. She has worked with children, teens, adults and parents for 23 years and is passionate about supporting her clients to tap into their innate creativity, believing they have what it takes to manage and overcome even the most difficult of life's challenges. She also supports organizations with system change work by offering diversity, equity and cultural humility workshops and training.
No previous art making experience required. For this virtual expressive arts workshop you will only need access to basic art materials; a couple of sheets of paper, and any of the following: markers, pens, pencils, pastels and or simple paints. Other options include: Old magazines, newspapers, scissors and glue.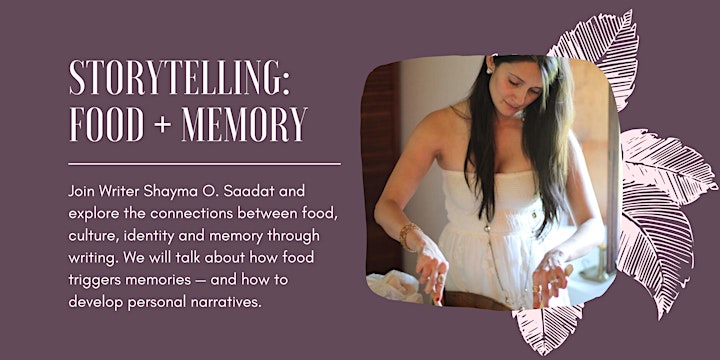 Session 2: Storytelling - Food + Memory with Shayma O. Saadat
Thurs. August 6 | 3:00 pm - 4:00 pm
Shayma O. Saadat is an internationally published food writer (CBC, BBC, New York Times, Globe and Mail, Toronto Star, among others) whose work focuses on culture and identity.
In this 45-minute workshop, you will bring your ideas, your pencil and journal (or your laptop), and share your experiences of the world through the lens of food.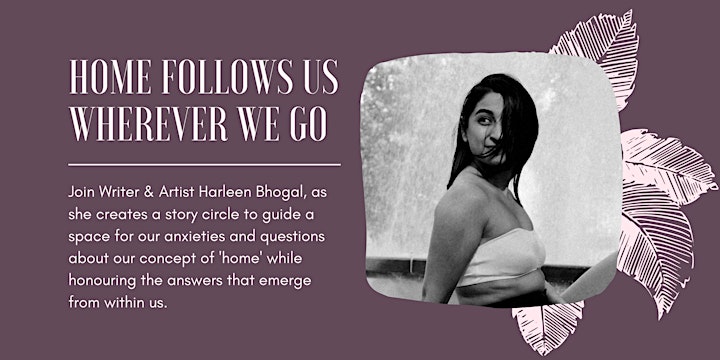 Session 3: Home Follows Us Where We Go with Harleen Bhogal
Wed. Aug. 12 | 3:00 pm - 4:00 pm
Harleen Bhogal is a South Asian writer, artist, and educator. She uses arts-based approaches combined with feminist and anti-racist principles to create safe and loving spaces that facilitate collective healing and transformative change.
In this story circle, we will create space for our anxieties and questions while honoring the answers that emerge from within us.