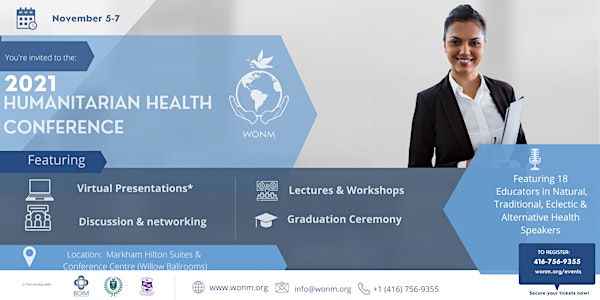 WONM 2021 International Humanitarian Health Conference
16 World Authorities in Natural, Traditional, Eclectic & Alternative Health: Understanding the Future & the Amazing Opportunities Ahead!
Refund Policy
Contact the organizer to request a refund.
Eventbrite's fee is nonrefundable.
About this event
Dear Esteemed delegates,
It is an honour and a pleasure for me to take this opportunity to welcome you to the World Organization of Natural Medicine, two thousand and twenty-one "Virtual" International Humanitarian Health Conference.
We have chosen the theme of "Stewardship" to reinforce the organization's mission to provide access to traditional healthcare geared towards under-served people and promote humanitarian values through education.
Due to the changing times that we are experiencing, we, as practitioners, are uniquely positioned to influence the health outcome of millions of our fellow humans worldwide. We are unstoppable; we have no boundaries. The world is our clinical department, and our healing systems are challenging yet rewarding; we go beyond ordinary emergency medicine to lifestyle medicine, self-care, and humanitarian health.
The expected outcome of the conference is consistent with WONM'S goal, which is the attainment by all people of the world to a high level of wellness in mind, body, and spirit through effective delivery of traditional natural, integrative, and humanitarian medicine techniques and education.
Our workshop facilitators will provide you with three days of education and motivation to move you to new dimensions, obtaining continuing education credits, opportunities for new income streams, and, most of all, make a difference to the sufferings of humanity due to ignorance.
I am looking forward with pleasant anticipation to meeting you at the conference.
Dame Dr. Sheila McKenzie, Ph.D., IMD, DHS
President and our conference team
Meet Our Presenters
Dame Dr. Sheila McKenzie, RDH, Ph.D., IMD, DHS
Sir. Dr. Gerald Smith, DDS, IMD, DHS
Dr. Jay Vanden Houvel , PhD, IMD, DHS
Dr. Thomas Lodi, MD, IMD, DHS
Dr. Robert Lyons, Ph.D., IMD, DHS
Dr. Endre Mathe, Ph.D., MD, DHS
Dr. Joe Colombo, Ph.D., DNM, DHS
Dr. Anthony Sims, DDS, IMS, DHS
Dr. Troy Bennett, DTCM, IMD, DHS
Dr. Akbar Khan, MD, IMD, DHS
Sir. Dr. Stanley Ngui, PhD. IMD, DHS
Debbie Irwin, RDH, IMP, PHS
Dr. David Sloan, Ph.D., DNM, DHS
Professor George Grant, Ph.D., IMD, DHS
Dr. Steven Horne, MH, DNM, DHS
Dr. Scarlett Antaloczy, DTCM, Ph.D., IMD, DHS
Brian Gangel IMP, DHS, - WONM Conference Chair
Presenters at the WONM conference are not responsible for any advice, treatment, diagnosis, or any other information or communication you choose to follow without consulting a qualified health care provider or professional about your condition.
Note: there are NO REFUNDS for this conference. For more details, please visit www.wonm.org.