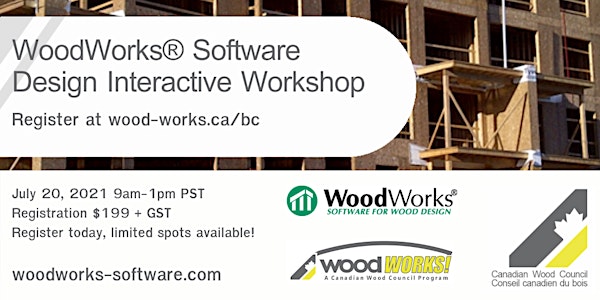 WoodWorks® Software Design Interactive Workshop
The WoodWorks® 2020 Software is a structural engineering software package developed to simplify and enhance the wood design process.
Refund Policy
Refunds up to 7 days before event
Eventbrite's fee is nonrefundable.
About this event
WoodWorks® Software Design Interactive Workshop
Virtual ZOOM Workshop - limited to 60 participants!
Tuesday, July 20th, 2021
9am-1pm PST
Registration: $199.00 + GST
Workshop Abstract:
The WoodWorks® 2020 Software is a structural engineering software package developed to simplify and enhance the wood design process. It allows designers to experiment and explore the feasibility of using wood in structural applications following the NBC 2015 and the CSA O86-19/14. This ½ day workshop includes a presentation that will discuss the capabilities of WoodWorks® Sizer, WoodWorks® Connections, and the Database Editor. Attendees will also be able to participate in designing wood members and connections by utilizing the WoodWorks® 2020 Software following step-by-step examples presented by the instructors.
Registered attendees will be provided with temporary access to WoodWorks® 2020 Sizer and Connections to work through the provided examples and to gain hands-on experience and training.
SEABC Members receive 10% off
Learning Objectives:
At the end of this workshop, participants will be able to:
Use WoodWorks® Sizer to size wood beams, joists, rafters, purlins, columns, wall studs and CLT panels individually or as part of the whole structure.
Use WoodWorks® Connections to design wood-to-wood, wood-to-concrete, and steel-to-wood connections with bolts, nails, wood screws, lag screws, rivets and shear plates.
Add or select materials in the editable database of sawn lumber, structural composite lumber, and steel materials.
Topics Covered in this Workshop:
WoodWorks® Sizer
• Concept Mode:
o Automatic load transfer between structural members
o Transition from concept mode to beam/column mode
• Beam Mode:
o Switch between Metric/Imperial unit system
o Range of materials such as: sawn lumber, built-up, glulam, CLT, SCL, steel beam
o Model single-span, multi-span, cantilevered, oblique or inclined members
o Different load types and distributions
o Automatic design for patterned loading and concentrated live loads
o Points of Interest
o Analyze all load combinations
o Generate shear, bending, deflection diagrams
o Design for bending, shear, deflection, vibration and fire resistance
o Design for bearing, notches, and Simpson Strong-Tie beam and joist hangers
• Column Mode:
o Model wall studs, columns, CLT walls
o Specify intermediate lateral support and end support (fixed, pinned)
o Add concentric or eccentric compression and lateral loads
o Design for wood members under compression, tension and combined axial and lateral loading
WoodWorks® Connections
• Post and beam connections: beam-to-beam, beam-to-column, column-to-base
• Lapped shear connections: wood-to-wood, wood-to-steel, wood-to-concrete
• Specify details of main and side members (diagram)
• Moisture content
• Treatment (fire and preservative incised)
• Load duration factor
• Connection details
• Results report
Database Editor
• Add proprietary materials
• Edit geometric and material properties for existing materials
Register now as space is limited!
WHAT TO BRING:
• Attendees are required to pre-load a computer/laptop with WoodWorks® 2020; after registration confirmation, you will be provided with the download instructions and free two-week software license 7 days in advance of the session. It is also highly recommended to have a second monitor set up to be able to work on the software and see the webinar at the same time.
Instructors: Canadian Wood Council Technical Staff
Program: Sizer
Presenter: Yang Du, M.A.Sc., E.I.T.
Title: Technical Service Specialist – Structural Engineering
Bio: Completing a Bachelor of Civil Engineering degree in Shanghai University (China) in 2013 and a Master of Applied Science degree in Civil Engineering at University of Ottawa in 2016, Yang joined the Canadian Wood Council in 2017 as a Technical Service Specialist. Since joining the CWC, Yang's main responsibilities have included developing and testing the WoodWorks® software, updating the technical content of CWC publications such as the Introduction to Wood Design and the Wood Design Manual.
Program: Connections
Presenter: America Lopez-Molina, M.A.Sc., E.I.T.
Title: Technical Service Specialist – Structural Engineering
Bio: America Lopez-Molina is a member of the Canadian Wood Council. She is a technical service specialist in the structural engineering division. America completed her Bachelor Degree (B.A.Sc.) and Master of Applied Science (M.A.Sc.) in Civil Engineering at the University of Ottawa. As a technical service specialist, America assists in the testing of new software releases and provides technical support to WoodWorks® Software users. She also assists in CWC's participation of the building code and standards and structural engineering related initiatives.
Cancellation Policy:
Cancellations must be made a minimum of seven business days prior to the event. A $50 administration fee will apply to all cancellations. Cancellations made less than seven business days prior to the event will not be refunded; however, a paid registration is transferable to another individual at any time.