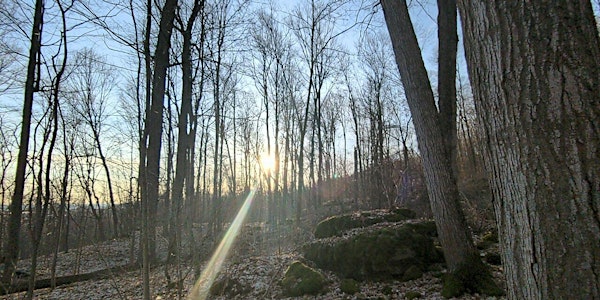 Woolverton Conservation Area (Bus Ride Included)
Join us on this last-out-of city bus hike through 3 conservation areas!
When and where
Location
Asquith Ave (One Block North of Bloor-Yonge TTC Station) Asquith Avenue Toronto, ON M4W 1J6 Canada
About this event
Pick Up and Drop Off  Point for Bus Passengers: Asquith Ave (one block north of Bloor-Yonge TTC Station)
Start Point of Hike: 175 Woolverton Road, L3M 4E7 (Woolverton Conservation Area)
End Point of Hike: 86 Jones Road, Stoney Creek, ON M4M 2Z8
Length: 9 km
Pace of hike: 4km per hour - Moderate
Difficulty: Intermediate
Family-friendly:(suitable for young people 17 and under) Yes
Stroller-friendly: (paved trails accessible for strollers) No
Dogs permitted: No
Open to people who want to drive to the start point to meet the group: No - this hike is only open to those travelling with us by bus
Requiring hiking boots: Yes
Requiring crampons/ice cleats: No
Requiring walking poles: Helpful but not essential
Join us for our last out-of-city hike of the year! We will be walking along a trail through three conservation areas - Woolverton, Winona, and Vinemount. We'll have an opportunity to walk through wooded areas and look out at a scenic view of the Stoney Creek area. We'll stop at a local farmers' market before heading back to Toronto.
There will be no dropout points for those who want to end the walk early so it is essential that attendees can comfortably walk for 3 hours on hilly terrain and can keep up with the group who will be walking at a moderate, energetic pace.
Things to note:
- The trail will be rocky, hilly, with a number of large stone steps so good walking shoes with excellent tread (e.g. hiking boots) are a must.
- Hopefully the trails will be free of ice, but if there is any snow in the days before the hike, crampons will be needed.
- A section of the trail walks along the escarpment where there is a sharp drop a few feet away. While the trail is safely far from the edge, those with a severe fear of heights may find that part of the trail challenging
Transportation for this trip is supported by Merrell Canada and provided by Parkbus' NatureLink program! NatureLink works to provide subsidized transportation for communities to explore outdoor spaces, learn, and connect with each other. ParkBus and Merrell have generously supported the walk, which allows us to offer it at the highly discounted rate of $20 per person for the hike and bus ride.
Let's Hike T.O. is a hiking community open to everyone with a focus on newcomers, people of colour, and young adults aged 20-40. All are welcome on our walks.
What To Expect
Hike leader: Camara (she/her) and Liz (she/her)
Registration fee: ParkBus and Merrell have generously supported the walk, which allows us to offer it at the highly discounted rate of $20 + Eventbrite fees per person for the hike and bus ride. Though if you cannot afford it, please contact us at letshiketo@gmail.com to request a complimentary registration based on your circumstance.
COVID-19 safety: Hikers will be expected to keep their masks on during the bus ride. While hiking, we will try to keep socially distant where possible and to wear masks when 2 meters distance is not possible on the trails.
Limited tickets: This bus hike is restricted to 44 registrants. Tickets will be provided on a first-come, first-serve basis and are non-refundable.
Pre-hike email: Registrants will receive additional details by email the day before the hike, such as what to bring on the day, what to wear, etc.
Weather precautions: The hike will take place regardless of rain, wind, or snow so please dress accordingly! We will only cancel or postpone the hike if weather conditions are considered extreme or dangerous, in which case registered hikers will be informed 48 hours in advance.
Questions? Email LetsHikeTO@gmail.com