Event Information
Location
Hôtel Wingate Dieppe Hotel
69 rue du Marché
Dieppe, NB E1A 9K3
Canada
Refund policy
Refunds up to 30 days before event
Description
WORK OF HEART 2018
Dieppe, New Brunswick, Canada
---
Do you ever feel like you're living a life that wasn't meant for you?
Are you looking for happiness and purpose but find yourself tired, stressed and overwhelmed?
Do you want to feel a deeper connection to the world around you but feel stuck and just not sure where to start?
Work of Heart was created with exactly these questions in mind.
WORK OF HEART TALKS - $97
Saturday, February 24th (9:00am to 3:30pm) is Work of Heart Talks. This will be an incredible day packed full of inspiration and motivation to get you back on track to the best YOU possible.
You'll hear real people sharing stories about listening to their hearts. You'll be empowered to live a life you love ... whatever that looks like (with all the messy bits included!) You will learn lessons and strategies that will help you live a more positive and meaningful life. We want to help you reflect, take charge and restore your mind, body and soul.
WORK OF HEART WEEKEND - $249
(Limited tickets available)
Friday, February 23rd (6:00pm to 8:30pm)
Saturday, February 24th (9:00am to 3:30pm)
Sunday, February 25th (9:00am to 11:30am, Optional Yoga 12:30pm to 1:30pm)
For those who are ready to dig deeper, Angela Harris, creator of Work of Heart, will be offering this new Work of Heart Weekend program to guide you step by step and to have you walk away with a realistic plan to work towards living your best life.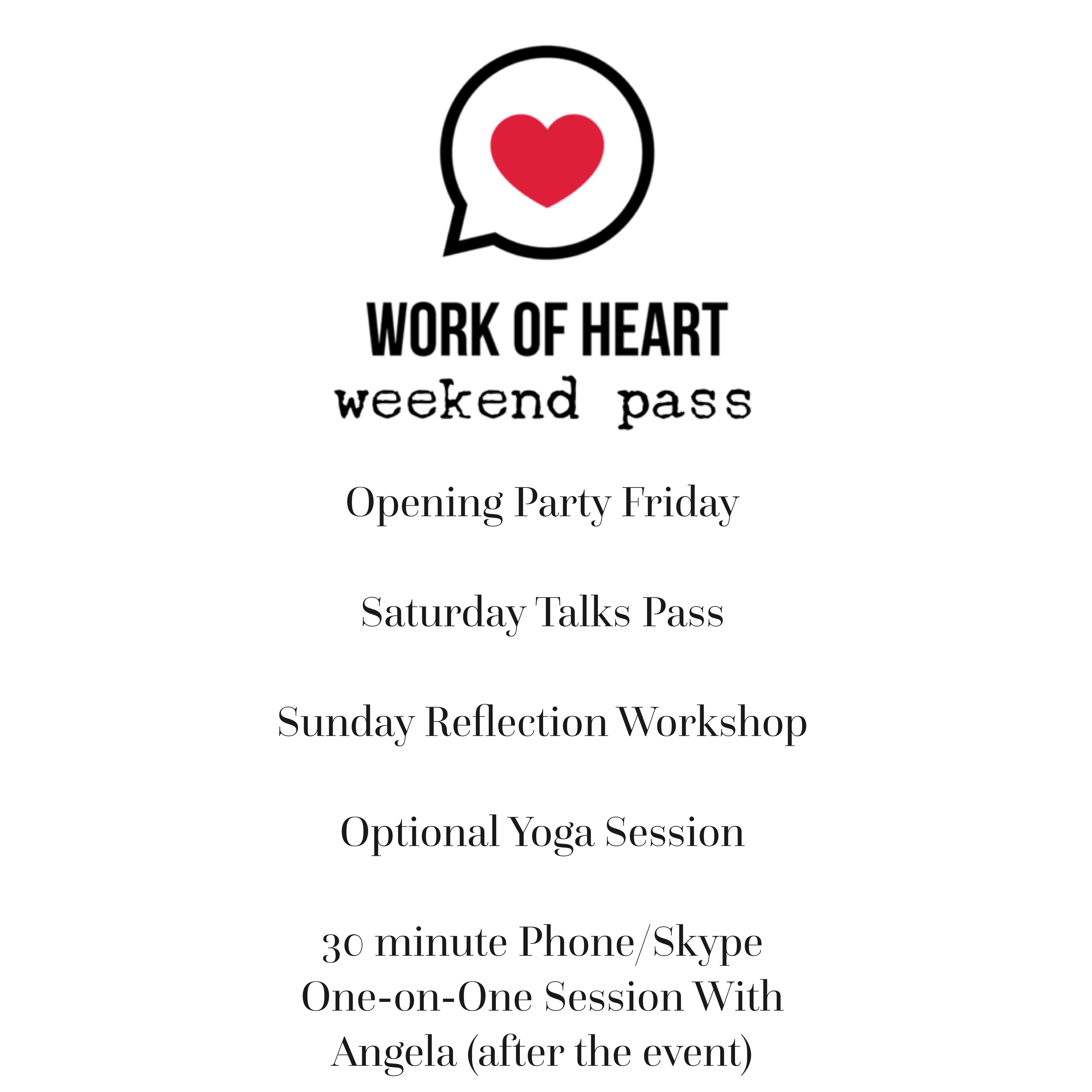 So whether you'd like to join us for Saturday, or for the whole weekend, we can't wait to meet you and to help you on your path.
Feel free to dress however you'd like; whether that means full on glitter and sequins or yoga gear for you! And please come with an open heart and mind. Be prepared for some big AHA moments and to walk away ready to make change.

So excited to share our journey with you ... Get your tickets today to join the Work of Heart 2018 tribe.
Live a life you love. Start now.
---
For more information, contact info@workofheart.me
Date and time
Location
Hôtel Wingate Dieppe Hotel
69 rue du Marché
Dieppe, NB E1A 9K3
Canada
Refund policy
Refunds up to 30 days before event