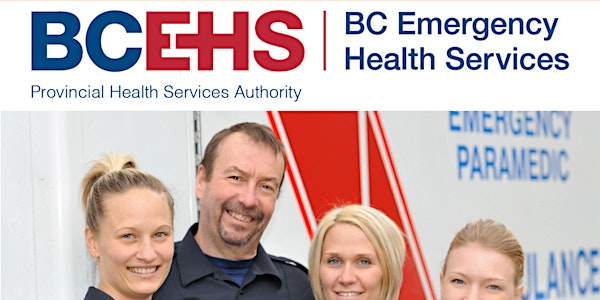 WorkBC Employer Forum: BC Emergency Health Services
BC Emergency Health Services are hiring Paramedics and Dispatchers. Learn more about these exciting and rewarding careers!
About this event
NO REGISTRATION REQUIRED! Join us here at 1:00
BC Emergency Health Services provides pre-hospital emergency services and inter-facility patient transfers throughout the province and oversees the BC Ambulance Service and BC Patient Transfer Services. A career with BC Emergency Health Services is an exciting opportunity to provide a vital service to the residents of B.C. and to make a positive difference in the lives of others. Career opportunities exist for Medical Responders, Paramedics, Call Takers and Dispatchers. BCEHS offers:
BCAS/CUPE Employee Benefits Plan
Wide range of training and continuing education opportunities
Bursary Programs such as the Emergency Medical Assistants Education Fund Award
Commitment to employment equity, encouraging all qualified individuals to apply
Learn more about this exciting opportunity to begin your career with one of BC's highest regarded employers. You'll hear a fulsome description of the roles and tips on how you can craft the most effective application. Register today for this free event!
Webinar link for the event will be emailed to registrants in the days leading up to the event.
WorkBC is proud to support the recruiting efforts of Employers of Choice and hope that this information is of value to Vancouver Island's job seekers.
If you're looking for work, visit APPLY.WORKBC.CA today to give your job search the WorkBC Advantage!