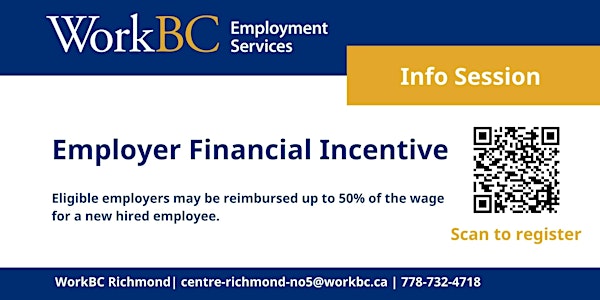 WorkBC Richmond Employer Financial Incentive Info Session
Explore how WorkBC Richmond can assist you as an employer.
About this event
What is Employer Financial Incentive?
Leverage on government funding while hiring for additional talents. WorkBC Richmond Wage Subsidy Program could reimburse up to 50% of your new hire's wage; this financial incentive could offset the cost of training for your team. Whether you want to re-hire laid-off employees or hire new employees, you are eligible for this incentive at no cost.
Explore how WorkBC can assist you as an employer.
*Wage subsidy -Eligible employers may be reimbursed up to 50% of a wage subsidy candidate's wages for the duration of training.
*Job Fairs and Employer Information Sessions
*Hiring individuals from diverse background with different skills and abilities
It is an online event, see you on November 9 at 10 am.
Once the registration is complete, You will receive a meeting ID and password via email 24 hours before the event.
For more info please email us at centre-richmond-no5@workbc.ca
S.U.C.C.E.S.S. may use Eventbrite to collect your personal information for the purpose of managing registrations for the event as well as future communications. If you choose to use Eventbrite to register for this event, please note that Eventbrite will collect your IP address, event responses, name and contact information, and that this information will be stored and may be accessed outside of Canada. By clicking on the register button, you are consenting to your personal information being disclosed and/or potentially accessed outside of Canada with immediate effect.
If you do not want to register for the event using Eventbrite, please contact the event organizer directly at nikhil.thomas@workbc.success.bc.ca
You can view the S.U.C.C.E.S.S. privacy statement per https://successbc.ca/privacy/protection-of-personal-information/.