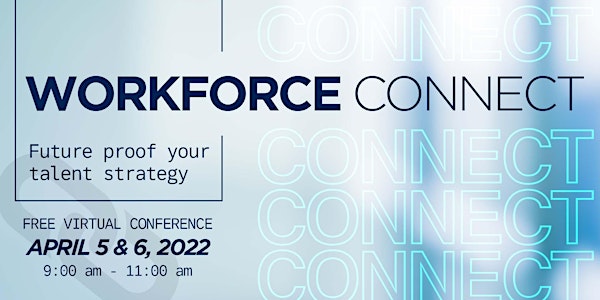 Workforce Connect Conference 2022
Join us on April 5th & 6th (9am-11am both days) for 2 mornings of fresh ideas & proven resources to build & retain your workforce!
About this event
Join us for two mornings of fresh ideas, proven resources and new connections to build and retain your workforce. Learn and network with industry leaders and leave with new ideas that will inspire innovation at your own organization.
Key topics include strategies for inclusive workplaces, best practices for talent attraction, pathways needed to prepare for this new world of work, future proofing learning and development and more!
**The add calendar function will display the event in your calendar over the course of 2 days. Please note the scheduled time is 9am-11am on April 5th and 9am-11am on April 6th**
Who should attend?
This event is designed for business leaders, entrepreneurs and human resource professionals across sectors including manufacturing, tourism, agriculture, tech and more!
What's in store for you?
- Two, workforce themed days of engaging conversations and best practices sharing. Day 1 focuses on the future of the workforce, and day 2 focuses on inclusivity and employee education & development
- Virtual Networking Opportunities
-Keynote presentations by fantastic keynote speakers Andrew Au and Dr. Lisa Belanger
- Virtual roundtable discussions with other local leaders to share best practices
- Presentation from World Education Services on strategies for tapping into immigrant talent
Featured Speakers
DAY ONE: Andrew Au, Global Thought Leader on Digital Transformation and Culture Change
Referred to by Forbes as a "digital transformation expert", Au helps organizations respond to the new culture and nature of work. Through his innovative work, he was the youngest person to be inducted into the Entrepreneurs Organization at the age of 22. He is among the few to be named to Forbes' "30 Under 30" list and has received over 50 domestic and international awards for business innovation and thought leadership. What makes Au's perspectives unique is that he doesn't just study digital transformation and culture change — he makes it real for the largest organizations in the world, every day.
Au has delivered live, virtual, and pre-recorded keynotes for leading organizations such as Microsoft, Rogers, Canada Life, Mitel, Harley Davidson, and a wide variety of industry associations. He shares his dynamic perspectives on leadership and emerging technologies with media including Forbes, Business Insider, Tech Insider, Bloomberg, BNN and the National Post.
DAY TWO: Dr. Lisa Bélanger, Behavioural Change Expert | Researcher
An organization's greatest asset is its people. Dr. Lisa Bélanger is an award-winning researcher who helps leaders and teams optimize performance, productivity, and innovation through leading-edge scientific research. Accessible and easy to understand, Bélanger's shares practical strategies that allow for immediate implementation of habits, skills, and work design that result in long-term and sustainable happiness, productivity, and overall well-being.
With a PhD in behavioural medicine, Bélanger is the CEO of ConsciousWorks, a consulting firm that supports leaders and teams in maximizing their mental capacity and performance. She is also an executive MBA and a certified exercise physiologist and high performance specialist.
Check out the Workforce Connect Blog Posts!