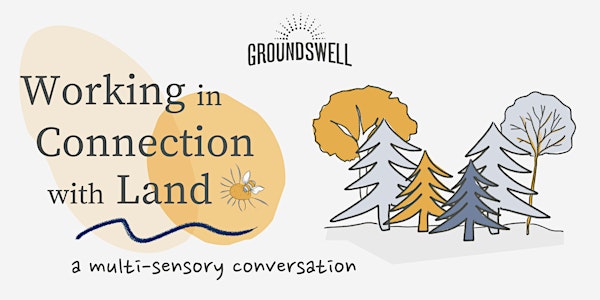 Working in Connection with Land: a multi-sensory conversation
Under capitalism, "Working for a living" actually kills life on Earth. How can we connect with the land through our work in ways that heal?
Refund Policy
Contact the organizer to request a refund.
Eventbrite's fee is nonrefundable.
About this event
Land is teacher, land is home, land is law, and we can learn so much about how to be in good relationship with ourselves, with each other, and with our work, from the land. But unless people get dirt under their fingernails at work, we rarely talk about the land in relation to how we "make a living". We believe this missing piece is crucial if we're going to resist harmful ways of working and create livelihoods that support us and the Earth to thrive.
Join us and special guests: T'uy't'tanat Cease Wyss, (Skwxwu7mesh, Sto:lo, Hawaiian, Swiss) educator, interdisciplinary artist and Indigenous ethnobotanist; Eman Salem, documentary producer, DEI corporate facilitator, culture consultant, public speaker, and meditation facilitator; Toonasa Luggi, photographer, art education specialist and curator; and design researcher Jihyun Park. (Read their full bios below.)
🎬 Speaking of Eman being a documentary producer: you'll get a special sneak peak of their film, IronSelf, during the event! IronSelf is premiering at The Vancouver International Mountain Film Festival in February 2022! 🏔️
In this virtual event, you're invited to imagine and envision with all your senses: What does working in connection to land feel, smell, taste, look, and sound like to you? How can connecting to land help us build alternative futures of work for ourselves and the communities we belong to? Come to imagine how we can work in good relationship with our bodies, the soil, the water and all beings belonging to Mother Earth.
You'll experience a multi-sensory conversation celebrating a connection to land that guest speakers are already practicing in their livelihoods. You're invited to create your own multi-sensory environment while you attend: surround yourself with plants, pets, music, food, art, scents, textures, people - whatever makes you feel easeful, calm, and connected.
Your hosts for the event are Daniela Guerrero-Rodriguez, Groundswell's Director of Education, Paola Qualizza, Groundswell's Director of Ecosystem Development, and Samita Manhas, Groundswell's Director of Programs.
- - - - - - - - - -
Land and Location
Groundswell is situated on the stolen and occupied territories of the xʷməθkwəy̓əm (Musqueam), Skwxwú7mesh (Squamish), and səlil̓wətaʔɬ (Tsleil-Waututh) Nations. We will learn where each of our speakers are joining us from during the event, and we also invite you to share about the land and territories where you are situated.
- - - - - - - - - -
Accessibility
This event will be happening via Zoom Webinar. Once you register for the event, you will receive the link to join.
Live captioning will be provided during the presentations. Live captioning is sponsored by Community Futures - Entrepreneurs with Disabilities Program.
All are welcome and if you are able to, you have the option to make a donation. All proceeds will go towards future events.
----------
Featuring special guests:
Eman Salem (she/they)
Eman is an Afro-Queer Egyptian settler, a documentary producer, an empowerment coach, public speaker, meditation teacher and DEI facilitator. She uses the art of compassion and vulnerability to foster radical system change, which leads us to creating a more just, beautiful, joyful, and magical human experience for all. She creates spaces for authentic and raw dialogue, learning and reframing for the individual and the collective. After 10 years in the corporate world, she shifted her focus to building a strong and compassionate community through her business IronSelf and her upcoming adventure documentary IronSelf Movie.
(In the photo below, Eman is wearing a black, off the shoulder shirt. She is smiling and looking at the camera. They have light brown skin, brown eyes, and curly, asymmetrical short hair.)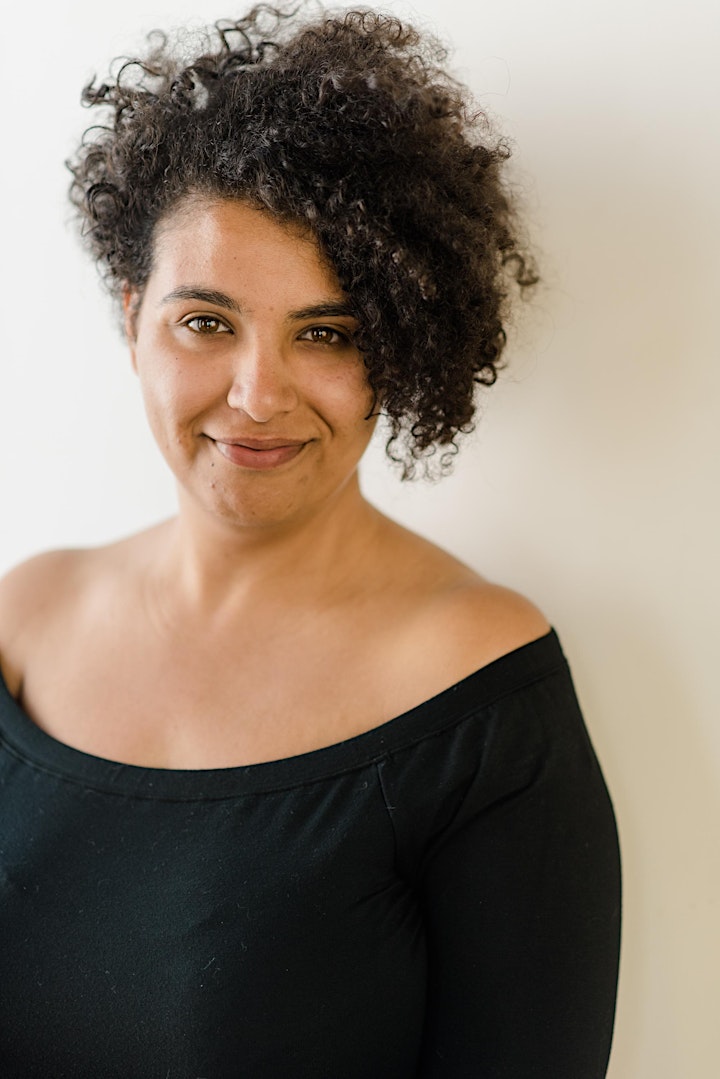 T'uy't'tanat Cease Wyss (she/her/they/them)
T'uy't'tanat Cease (Skwxwu7mesh, Sto:lo, Hawaiian, Swiss) is an educator, interdisciplinary artist and Indigenous ethnobotanist engaged in community based teaching and sharing. Throughout Wyss's 30 year practice, Wyss's work encompasses storytelling and collaborative initiatives through their knowledge and restoration of Indigenous plants and natural spaces. Wyss has been recognized for exchanging traditional knowledge in remediating our relationship to land through digital media, site-specific engagements and weaving. Wyss has participated and exhibited at galleries, museums, festivals and public space such as Vancouver Art Gallery, Morris, Helen Belkin Art Gallery, Contemporary Art Gallery and the PuSh Festival to name a few. Their work can be found in various collections such as the National Library of Canada, Special Collections at the Walter Phillips Gallery, and the Vancouver Public Library. They have lead the transformation of Semi-Public (半公開) during their Fellowship at 221a and they are the 2021 ethnobotanist resident at the Wild Bird Sanctuary. They have assisted in developing an urban Indigenous garden currently showing at the 2021 Momenta Biennale in Montreal.
(In the photo below, Cease is standing in a lush garden rubbing rosemary branches between her hands. Cease is wearing a cream coloured knit toque, black sweatshirt, blue jeans, and thigh high black boots. She has hair just past her shoulders that is grey, pink, and mauve, and has light brown skin.)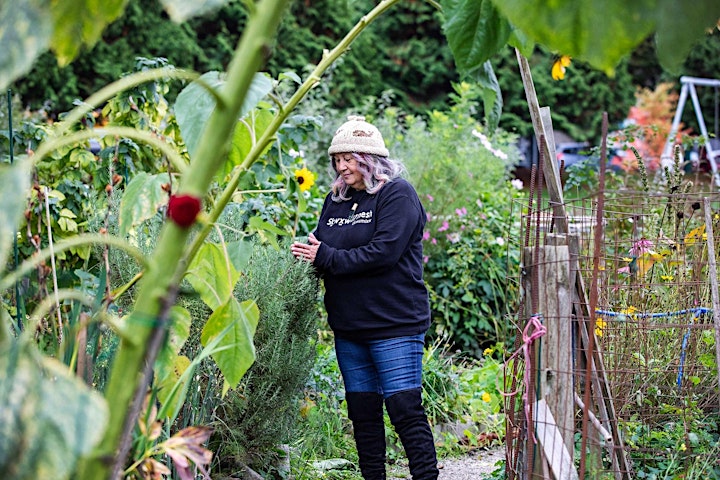 Toonasa Luggi (they/she)
Toonasa is Dakelh from her father's side and Wetsuwet'en on her mother's side, and is a member of the Frog clan through her mother. Her family home is in the community of Stellako, located in British Columbia's northern interior. Toonasa moved to Vancouver in 2010 to attend post-secondary and graduated from Emily Carr University of Art + Design in 2014. Throughout the years, she has worked in indigenous communities with youth in various capacities, and is currently bringing both her professional and personal experiences to the education programs at the Bill Reid Gallery.
Jihyun Park (she/her)
Jihyun Park is a design researcher who explores community-based sustainability, ecology, and decoloniality through interrogating the problems in the modern perspective that is linear, human-centred, and dualistic. She has been developing an exploratory design practice that uses reflective objects, visualization, storytelling, and wayfinding as thinking/speculating/reflecting tools to provocate questions and shift perspective to be more relational, ecological, and pluriversal with nature and land.
She studied media, communication design, and psychology in South Korea and had worked in the design/art industry as a graphic/industrial designer and interactive/media artist for many years. Through the interdisciplinary master's design program at Emily Carr University of Art + Design, she integrated her diverse experiences with the study of sustainability and anthropology. Currently, she has been expanding her research into co-creative, participatory, and speculative design fields in order to invite community members and experts from diverse disciplines into co-design processes for local sustainability.
(In the photo below, Jihyun is wearing a dark green and black coat and black pants. She has chin length back hair and light skin. She is standing in a park, under a maple tree. There is a string tied to a tree branch with charcoal at the end of it, and Jihyun is holding a sketchbook up under the charcoal.)