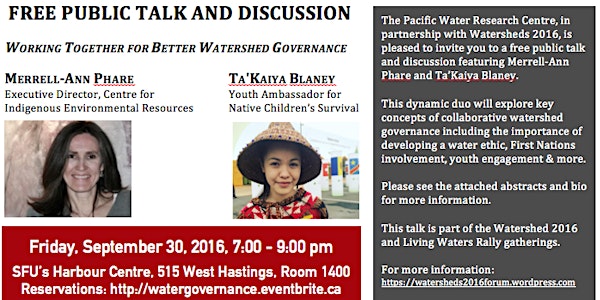 Working Together for Better Watershed Governance Free Public Talk
When and where
Location
SFU Harbour Centre 515 West Hastings, Room 1400 Vancouver, BC Canada
Description
Invitation
The Pacific Water Research Centre, in partnership with Watersheds 2016, is pleased to invite you to a free public talk and discussion featuring Merrell-Ann Phare, executive director, Center for Indegenous Enviromental Resources and Ta'Kaiya Blaney, Youth Ambassador for Native Children's Survival.
This dynamic duo will explore key concepts of collaborative watershed governance including the importance of developing a water ethic, First Nations involvement, youth engagement & more.
~~~~~~~~~~~~~~~~~~~~~~~~~~~~~~~~~~~~~~~~~~~~~~~~~~~~~~~~~
This talk is part of the Watershed 2016 and Living Waters Rally gatherings. For more information: https://watersheds2016forum.wordpress.com
~~~~~~~~~~~~~~~~~~~~~~~~~~~~~~~~~~~~~~~~~~~~~~~~~~~~~~~~~
Abstract: Working Together for Better Watershed Governance
Merrell-Ann Phare, Executive Director, Centre for Indigenous Environmental Resources
Drawing on two of her key publications "Denying the Source: The Crisis of First Nations Water Rights" and "Ethical Water: Learning to Value What Matters Most," Merrell-Ann Phare will describe injustices towards Indigenous peoples around water that have to change and a fundamentally different mindset that is needed. She will elaborate on what a collaborative governance approach to watersheds offers as a necessary new way of thinking and doing that leads to better ways of working together for our common water future. She will highlight forward-looking aspects of watershed co-governance that have been implemented in the historic Mackenzie River Basin Agreement, which is a leading Canadian example.
Bio: Merrell-Ann Phare, B.A., LL.B., LL.M, is a lawyer and author. She is Chief Negotiator on behalf of the Government of the Northwest Territories in their negotiation of transboundary water agreements in the Mackenzie River Basin and in negotiating Thaidene Nene national and territorial parks. As Founding Executive Director of the Centre for Indigenous Environmental Resources (CIER), she has worked to assist First Nations in addressing many environmental issues they face. Merrell-Ann is legal counsel and advisor to a number of Indigenous and other governments and organizations and regularly speaks on topics addressing environmental issues, Aboriginal rights, and governance.
Abstract: Chasing our Water Future
Ta'Kaiya Blaney, Youth Ambassador for Native Children's Survival
When they say it takes a community to raise a child, it also takes an environment. A majority of today's youth are not exposed to nature, creating a generation that is disconnected from the environment. Once disconnected, you lose a sense of caring. In response, Ta'Kaiya promotes unity and turning the world upside down through an "Earth Revolution," which is a youth movement named after one of her songs. Earth Revolution is focused on empowering and inspiring youth and supporting them in their chase for their future. She feels that as humans, it is our responsibility to help the earth. We all need to take steps towards a clean and healthy future regarding animals, humans, plants, and ecosystems. In Ta'Kaiya's words, "These visions and aspirations for a bright and beautiful future are more than dreams, they are missions. It is one thing to chase your dream, it is another to chase your future."

Bio: Ta'Kaiya Blaney, whose name means 'Special Waters', is a recognized voice of Indigenous wisdom at Summits, and Gatherings around the world. She is an advocate for Indigenous youth, environmental justice and Indigenous Peoples' rights internationally. Originating from the Sliammon First Nation, 15 year old Ta'Kaiya has been an environmental activist since she was 8, speaking with a power that far surpassed her years. She is a United Nations representative for Youth in Canada and was the youngest person to address the UN in NYC at the age of 13, which required special permission from the UN Secretary-General's Envoy. Ta'Kaiya is also an actress, musician, keynote speaker, youth ambassador, and song writer. Her singing, song writing, and acting reflect her concern for the future of the planet, especially the preservation of marine and coastal wildlife. Many elders say she is an old soul and the Ancestors speak their message through her.