Working with Cattle, Working with People - How to get along
Good stockmanship means getting your cows to buy into your ideas in a low stress environment.
About this event
Join Dylan Biggs to better understand cattle behaviour and how to apply low stress handling techniques on your farm/ranch. Included is a day and a half of classroom & hands-on, in-field sessions on cattle handling.
Good stockmanship is more than how we work with cattle; it's also about how we work with people on our team. As it turns out, effective herding dynamics is as applicable around the kitchen table as it is in the field.
In The Human Element segment of the workshop, David will apply the principles Dylan showcases through stockmanship to human relationships in the family, on the farm and with the general public.
Learn how to:
Build trust and respect – the foundation of all relationships.
Convince others to agree with your ideas.
Create healthy relationships in a low stress environment.
Constructively manage conflict and stress when things go wrong.
Create calm, voluntary responses in your human relationships.
Workshop Details
Dates: October 4 & 5, 2021
Time: 8:30am to 4:00pm both days
Location: Classroom sessions are at the Stockmen's Library in the Cochrane RancheHouse (meet there on the first day). Field sessions are at Whiskey Ridge Cattle Co.
Ticket Price: $120.00 for FFGA Members, $140.00 for Non-Members plus GST. Cost includes lunch on both days.
Meet the Presenters
Dylan Biggs with TK Ranch - Low Stress Cattle Handling
David Irvine, the Leader's Navigator- The Human Element
**Please note that we are offering this workshop under the Restriction Exemption Program. You must provide proof of vaccination or a negative COVID-19 test (within the last 72 hours) to attend**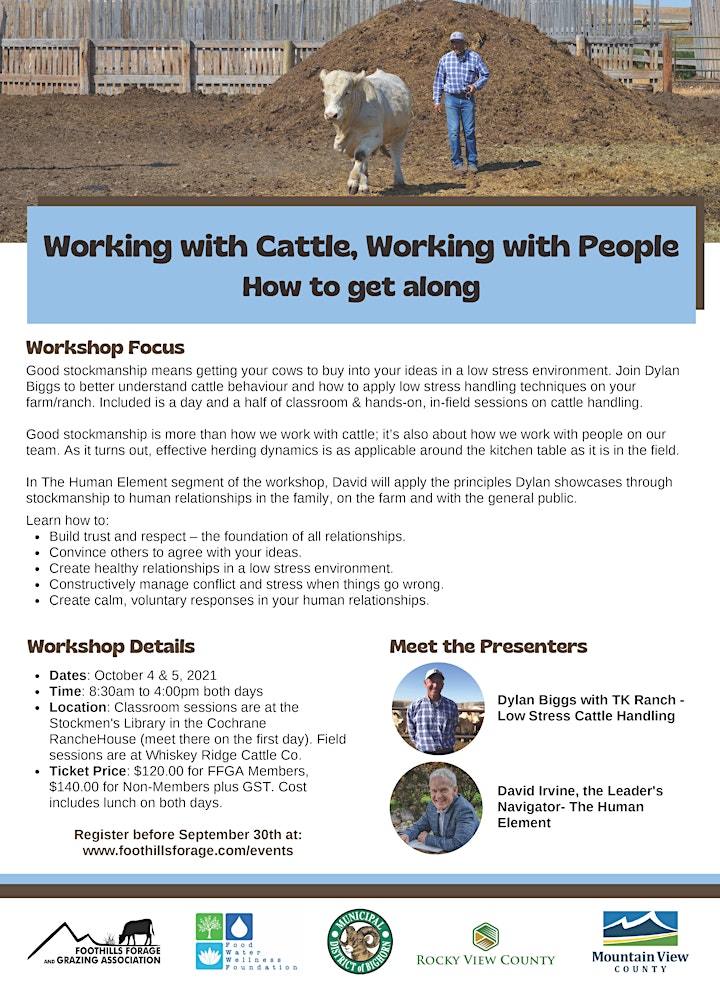 Organizer of Working with Cattle, Working with People - How to get along
The Foothills Forage & Grazing Association is a non-profit producer driven group that addresses issues, ideas, and innovations for forage and livestock producers in south central Alberta. FFGA strives to bring practical information and production strategies to producers by hosting demonstration projects, events and workshops, hands on days as well as networking with like-minded producers and sharing information through our monthly newsletter and social media.