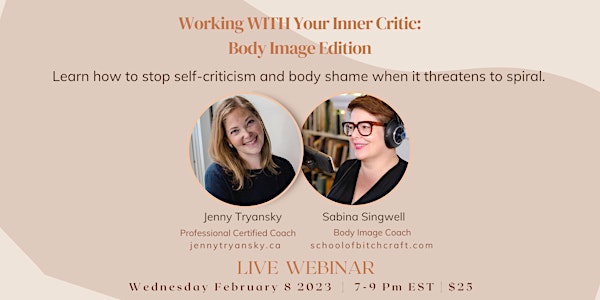 Working WITH Your Inner Critic: Body Image Edition
Learn how to stop self-criticism and body shame when it threatens to spiral.
By Jenny Tryansky Personal Development Coaching
Date and time
Wed, Feb 8, 2023 4:00 PM - 6:00 PM PST
About this event
Your body is not your enemy, and your inner critic doesn't have to be either!
When self-criticism of your body takes hold, it can be so frustrating ("what's wrong with me?"), energy draining, and seemingly impossible to overcome. It can be doubly painful when you layer on the shame of even having that kind of negative experience of yourself at all.
But you can learn how to work WITH your inner critic, instead of allowing it to work against you.
This workshop will teach you tools for responding mindfully when body criticism takes hold.
You'll learn what happens inside of you when you're caught in a shame and blame spiral, and how to navigate yourself toward self-compassion and kinder, more loving (and truthful!) self-talk.
This 2-hour workshop will include a candid personal story off the top and education/discussion with your 'been there' facilitators - two professional women who practice what they preach and are honest about their own lifelong struggles with body image.
Personal Development Coach Jenny Tryansky and Body Image Coach Sabina Singwell (aka: "Your Body Positive Mom") will lead participants through a dynamic learning experience involving:
Personal reflection and immersive exercises
Practical tools and steps to help you move through challenging moments of body shame and self-criticism
Q&A period with insightful discussion
Special offers for participants to continue their personal work beyond the workshop (zero pressure, we'll just tell you what we do, what we offer, and how we can help!)
***You may even leave with the bonus gifts of more respect, compassion and trust in your beautiful, worthy, whole, human self.
Frequently asked questions
Do I need to share/speak?
Will this webinar be recorded?
Do I need to have my camera on?
What's your refund policy?
If I have any questions beforehand, who can I reach out to?