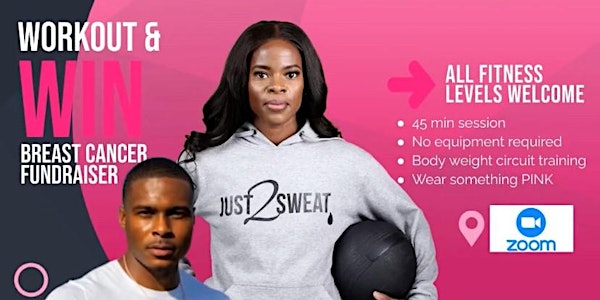 Workout & Win: Breast Cancer Fundraiser w/ Just2Sweat and Muscles Of Steele
Two dynamic Personal Fitness Trainers team up for one online fitness class workout to help raise money to fight breast cancer!
About this event
October is Breast Cancer Awareness Month and 1 in 8 women will be diagnosed with the disease during their lifetime. Recent Canadian Cancer Society stats shows that an estimated "28,600 Canadian women will be diagnosed with breast cancer. This represents 25% of all new cancer cases in women in 2022. 5,500 Canadian women will die from breast cancer. This represents 14% of all cancer deaths in women in 2022." While these numbers are staggering, studies also reveal that Black women are 40% more likely to die from breast cancer compared to white women.
Fact is, there is still no cure for cancer, but we as a community can make a difference in the lives of those on the journey by coming together and working collectively to support and help them have a better quality of life. Empowering them to WIN against the odds.
Please join us virtually on Saturday, October 8, 2022 for a friendly fitness class/fundraiser with personal trainers, Nike Charles founder of Just2Sweat and Tyreke Steele founder of Muscles Of Steele . Be inspired as you workout and sweat alongside our expert trainers, while raising funds for an incredibly courageous woman facing cancer, Jodi-Ann Blackwood Maxwell
100% of the proceeds will be contributed to a GoFundMe fundraiser campaign launched on behalf of Jodi-Ann, a 36 -year-old wife and mom of three young boys, currently battling stage 4 (metastatic) breast cancer. She was diagnosed with the disease in December 2019 when her oldest son was 10 and twin babies were only six months old.
A cancer diagnosis has devastating impacts, wreaking havoc on the whole family and not just the person with the infirmity. And so, money raised from this event will go towards easing the financial burden and distress of living with this disease by supplying basic needs for Jodi-Ann and her family as well as assisting her to gain access to and cover costs of alternative cancer treatment at the Immunity Therapy Center in Mexico.
FULL DETAILS
Wear something PINK as an act of solidarity!!!
This is a beginners to advanced exercise class so ALL levels and ALL ages are welcome and encouraged to participate!
Date: October 8, 2022 at 9:00am -10am
Location: Online on ZOOM
Cost: $25
(Donations Can Also Be Made By Non-Participants)
Workout: 45 minute session will consist of a warm up, body weight circuit style training routine, and a cool down.
No fancy exercise equipment needed, just bring your water bottle & towel!
Upon registration, you will receive a confirmation email. Once the event is closer, you will receive another email with final details.
Refund Policy: Registration is non-refundable as this is a fundraising event with ALL PROCEEDS benefiting Jodi-Ann Blackwood Maxwell and her family.
Thank you for your generosity and let's Workout & Win together to help Jodi-Ann reach for a healthy future!
Disclaimer: By registering for this event, you acknowledge and agree that you are willingly and voluntarily assuming any risk, injuries or damages known and unknown, which you might incur as a result of participating in the fitness class, and agree that HEAL Promotions, Just2Sweat and Muscles Of Steele will not have any liability for such injuries or damages to the maximum extent allowed by applicable law.