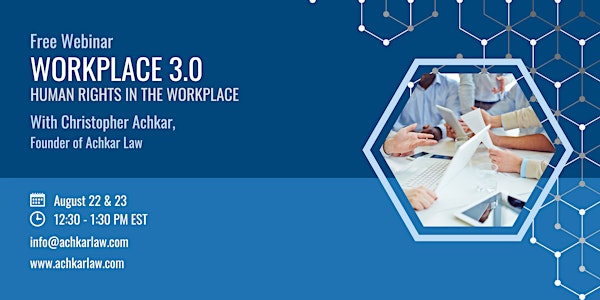 Workplace 3.0: Human Rights in the Workplace
In this installment of our ongoing webinar series, Workplace 3.0, the Achkar Law team will address human rights issues in the workplace.
About this event
Welcome to Workplace 3.0:
On August 22nd & 23rd, 2022, Achkar Law will help startups, medium size employers, and employees adapt to our changing business landscape by discussing crucial information employers, executives, and employees all must know.
This webinar will give employers tips for how to address human rights concerns and defend yourself and your business against potential claims. For employees, the webinar will give you an understanding of your rights in the workplace and how you can make sure they are protected.
The first part of this two-part webinar will address why human rights are important and protected in the workplace. It will give you tips for how to avoid human rights abuses in your workplace.
The second part of this webinar will guide you through human rights legal claims and give you tips for how you might deal with a claim if one ever arises.
Get free, sound advice right from a firm of experienced human rights lawyers!
Some topics that will be discussed:
1. What are protected grounds and protected social spaces?
2. What sorts of human rights complaints are common?
3. How can you defend against human rights complaints?
4. How can you prevent human rights abuses from happening at all?
THE DETAILS
Speaker: Christopher Achkar, Employment Lawyer and Founder of Achkar Law
Date: August 22nd & 23rd, 2022
Time: 12:30 - 1:30 PM EST both days
Location: Online (Zoom)
All those registered will receive the Zoom link before starting. Please email us at info@achkarlaw.com for any questions.
SEE YOU THERE!