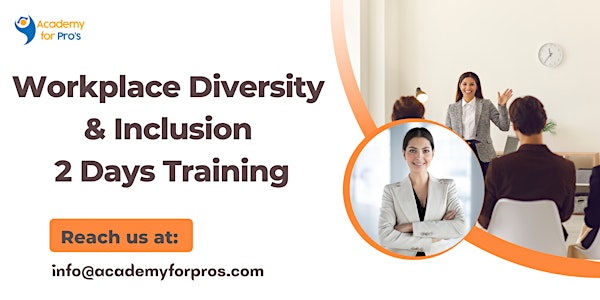 Workplace Diversity & Inclusion 2 Days Training in Grand Rapids, MI
Our classroom training provides you the opportunity to interact with instructors and benefit from face-to-face instruction.
Date and time
Thursday, June 15 · 9am - 5pm EDT
Location
For venue details reach us at: info@academyforpros.com +1 469 666 9332 Grand Rapids, MI 49503
Refund Policy
Refunds up to 7 days before event
About this event
Certificate: Course Completion Certificate Language: English
Duration: 2 Days Credits: 16
Course Delivery: Classroom/ Virtual/ Onsite
Course Overview:
Workplace Diversity & Inclusion Training provides participants with a thorough understanding of their role in creating and promoting a safe and welcoming work environment for colleagues and customers. Ensuring that a corporate organization is aware of cultural and organizational bias can provide the foundation for a diverse and inclusive workplace. Employers have a responsibility to create and promote a diverse and inclusive workplace, but what's more, there is strong evidence to suggest that workplaces that not only participate in, but adopt and encourage diverse and inclusive workplaces have better economic standing and revenue. It behooves an organization to train employees to create and promote, foster and encourage a diverse and inclusive workplace.
Target Audience:
This course is for employers and their employees who wish to adopt and foster a rich, diverse and inclusive workplace. It may be presented as part of on-the-job training for new employees or professional development for existing employees. Employers are encouraged to participate in this training as well in order to fully understand the role of a corporation in relation to diversity and inclusion training, awareness, adoption, and action.
Learning Objectives:
After completing this course, delegates will be able to:
Identify their own biases related to diversity and inclusion.
Understand and be able to articulate the difference between diversity and inclusion.
Understand and create a plan for adopting and incorporating diversity and inclusion in the workplace.
Identify situations in which further discussion and planning needs to take place in their own workplaces related to diversity and inclusion.
Create a plan for taking action after completion of the training.
Agenda:
Module One: Introduction to Diversity & Inclusion
Review of Objectives/ Logistics of Workshop.
Difference between diversity and inclusion.
Activity: Identify opportunities to foster diversity and/or inclusion in the workplace.
Module Two: Understanding Diversity at a Deeper Level
What is diversity and how does it apply to the workplace?
Activity: How to begin developing a diverse workplace today - actions to take.
Module Three: Understanding Stereotypes in the Workplace
Identifying your own stereotypes.
Activity: Review of case studies to identify stereotyping issues in the workplace.
Working with biases in the workplace.
Module Four: How to Break Down the Barriers to become Diverse and Inclusive
Identify barriers and biases.
Activity: How to develop solutions with stakeholders in order to overcome biases in the workplace.
Module Five: Improving Communication Skills in the Workplace
Verbal communication cues and triggers.
How to listen effectively.
Activity: Review of case studies to identify verbal triggers for inclusive behavior in the workplace.
Module Six: How to Improve Non-Verbal Communication Skills in the Workplace
Taking ownership of your communication skills.
How to read others' communication skills.
Activity: Why you shouldn't rely on non-verbal communication during job interviews.
Module Seven: Sensitivity in the Workplace
How much is too much?
Where do you draw the line?
Activity: Accomodation in the workplace.
Module Eight: Discrimination and How to Handle it
What to do if you experience discrimination or have to facilitate issues related to discrimination.
Strategies to prevent discrimination.
Activity: Identify instances of discrimination and create plans for prevention and reconciliation.
Module Nine: Managing Discrimination and Inclusion Complaints
Gather the facts.
Determine solutions for a positive outcome.
Activity: Review of sample sheets and conducting interviews.
Module Ten: Conclusion and Overview
Review of Modules.
Creating a plan for workplace diversity and inclusion goals.
Activity: Discuss and create takeaways for action items.
Prerequisites:
There are no formal prerequisites.
Course Materials:
Students will receive a course manual with presentation slides and reference materials.
Technical Requirements:
For eBooks:
Internet for downloading the eBook
Laptop, tablet, Smartphone, eReader (No Kindle)
Adobe DRM supported software (e.g. Digital Editions, Bluefire Reader)
eBook download and activation instructions
Certification:
Once after the training you receive course completion certificate from Academy For Pros
Note:
However, catering to the demands of busy professionals, our virtual training programs are as effective as face-to-face learning. Reach us at info@academyforpros.com for dates and details of Instructor Led Live Virtual Sessions.
If you would like to get this course customized and delivered exclusively for your group, we have an On-Site Training Option you can reach us at info@academyforpros.com for more details about on-site or corporate training.
Offers:
Groups of 3 people 10% Discount
Groups of 5 people 15% Discount
Groups of 10 people 20% Discount
About the organizer
We deliver training solutions to Corporate, Government Agencies, Public sectors, Multinational organizations and Private Individuals. Our Primary focus is to train in a wide range of areas from IT Technical, Personal Development, Human Resources and Management Courses to Project, Program and IT Service Management.
We have most experienced trainers in the Industry. Our Trainers are highly skilled in their subject areas and are uniquely positioned to provide participants with deep industry experience. They are motivated to transfer knowledge through practical support post and pre-training to provide participants with additional support outside the classroom.