Workplace Dynamics: Choose your own Adventure.
About this Event
Each professional, no matter their position in the company, has the ability to manage the way that other's interact with them. This workshop provides the key tools that professionals need to curate workplace dynamics with clients, staff and colleagues.
Ideal for professionals, entrepreneurs, leaders and managers who are wanting to level-up their core professional skills. During this fundamental two hour session, you will begin to uncover your personal blindspots, and identify how you are unconsciously shaping the way your team sees you and treats you.
Through this workshop you will gain new insight into:
How you are showing up, and how that impacts the people around you
How you are unknowingly creating conflict, a culture of competitiveness, reducing creative thinking, and snuffing out people's strengths
How you are creating or eroding trust and buy-in
You will leave this workshop with some simple, yet critical, tools to:
Choose the way you show up everyday
Get comfortable saying yes and no to yourself and others
Stop unconsciously self sabotaging within a group setting
Identify when you have allowed one of your boundaries to be crossed
Uncover new data and facts about your company and how to solve issues
WORKSHOP FORMAT.
Using hands-on experiential learning, our workshops guide professionals through the process of analyzing how they unconsciously impact their business' ecosystem. No two participants will leave with the same information—each professional will work on their personal core skills.
Not for the faint of heart. This is not a power point workshop—expect to participate in an immersive experience and to be challenged (in a healthy way.)
Workshops are limited in size and fill up fast.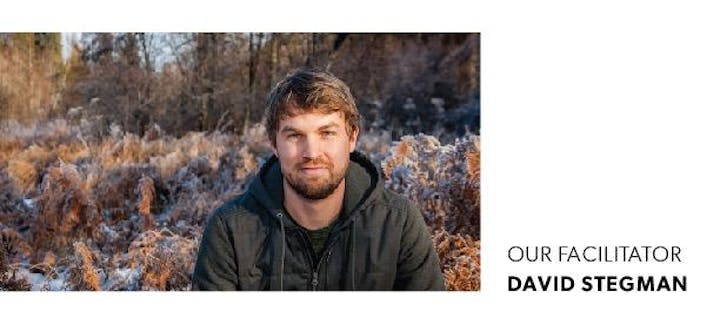 WORKSHOP DETAILS.
Date: Wednesday, November 20th
Time: 6PM-8PM
Bring: a note book to jot down ideas.
The Facilitator: David Stegman is a graduate of the Coaches Training Institute & specializes in group process work and one on one breakthrough coaching.
Inspired by Brené Browns work on courage and vulnerability, David believes great leaders are created by improving their self-awareness and bringing all parts of themselves to the table.
He has extensive experience running group workshops and facilitating retreats throughout Western Canada. He has been instrumental in creating a thriving Men's Community in Nelson, B.C. through his work with the international non-profit organization The ManKind Project.