Description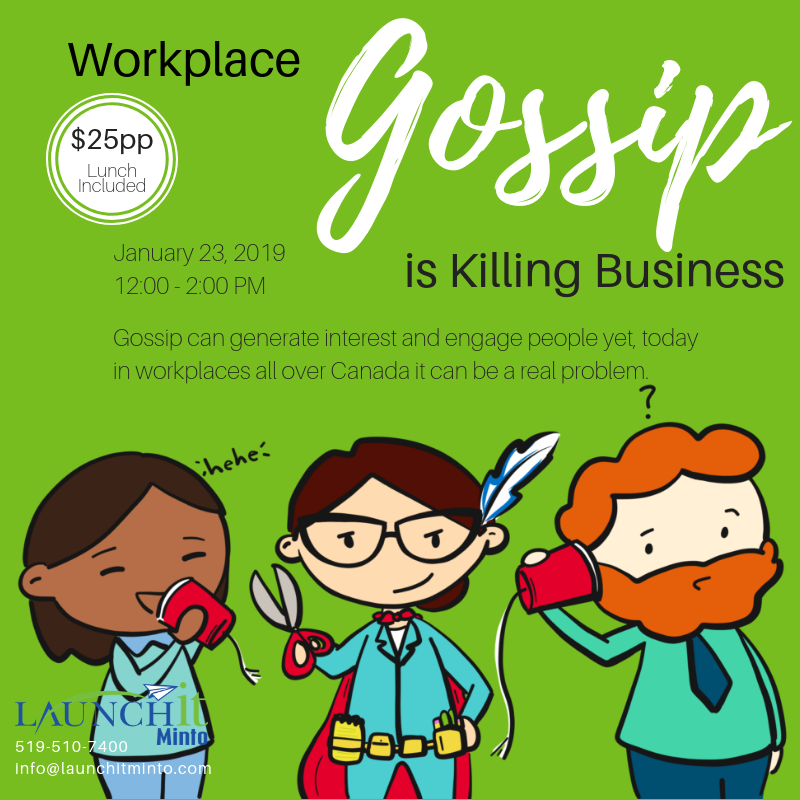 About the Event:
Who gossips to you, will gossip about you. – Turkish Proverb
There is nothing like gossip to generate interest and engage ears and tongues and yet today in workplaces all over Canada it continues to be a real problem. Further to that sociologists generally feel that social media has been a factor and is contributing and feeding workplace bad habit of gossiping.
According the Pew Research Center in the US, gossip is costing organizations and businesses alike, 2.2 billion dollars a year in lost productivity. I'm sure that here in Canada where gossip lives and thrives in every workplace that the financial and personal costs are a major concern …especially in the small business environment where the daily mission is to put forth the maximum personnel effort and realize efficiency out of every dollar invested.
But there are other costs that also impact organizations on many levels…

… increased incidents of interpersonal conflict
… increased turnover of staff / loss of good staff
… increased feelings of distrust of others
… decreased desire to work in team settings
… loss of collaboration between people / hostility towards team members
… increased feelings of frustration and powerlessness
… increased interventions by managers to resolve issues
… gossiping and victimization contributing to be people feeling unsafe at work
… distracting behaviours impacting quality of work and expected levels of service
Gossip has never yielded any positive good. If anything, it corrodes cultures, lowers morale and diminishes the workplace productivity and overall effectiveness. It robs organizations of time – time better spent doing more worthwhile activities. It is something we can all do without. Consequently, and because of an increasing interest in the topic, I am developing and constructing an anti-gossip workshop to define, understand, address and correct workplace gossip.
The target group for this workshop is business owners and managers who have a direct and invested interest in resolving and ending the gossip problem in their workplace.

"Gossip DIES when it hits the ears of someone who possesses a high level of restraint, embraces respect as a personal value and has a dedication to responsibility" - Ty Howard
About the Speaker:
Michael Lewis is Managing Director of Michael Lewis Training, Motivation and Development, a London, Ontario based training and development firm founded in 1994 that specializes in developing and delivering personal and professional development presentations, seminars and workshops to business, non-profit groups and associations and the public sector.
He graduated the University Of Western Ontario with B.A. in 1983, began a career in training in the corporate world and eventually started his own training and development firm in 1994.
Michael Lewis is a very experienced and popular speaker and trainer. He has spoken and / or presented workshop and seminars almost 5800 times in 381 different communities across Ontario. On an average year he expects speak to approximately 20,000 people at about 200 events.