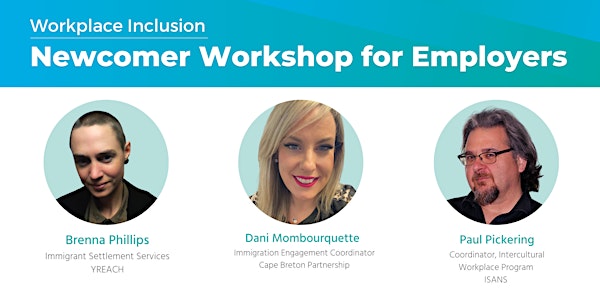 Workplace Inclusion: Newcomer Workshop for Employers
The Cape Breton Partnership invites you to join us on December 13 for Workplace Inclusion: Newcomer Workshop for Employers.
When and where
Location
Eltuek Arts Centre, Gallery 209 170 George Street Sydney, NS B1P 1J2 Canada
About this event
UPDATE: THE IN-PERSON PART OF THIS EVENT HAS BEEN CANCELLED DUE TO THE STORM. IF YOU REGISTERED, YOU WILL RECEIVE A LINK FOR A VIRTUAL WORKSHOP.
The Cape Breton Partnership invites you to join us on December 13 for Workplace Inclusion: Newcomer Workshop for Employers.
Part one of the workshop will include guests from the Cape Breton Partnership and YREACH Cape Breton who will provide employers an overview of supports and services that they can implement to help support their staff that are new to the Island (newcomers).
Part two of the workshop, is an interactive group activity with lots of "aha" moments - led by Paul Pickering from Immigrant Services Association of Nova Scotia (ISANS). This session will help employers take vital next steps, to increase awareness and skills for better retention, especially of international employees.
We look forward to seeing you for a great morning of learning!
Light refreshments will be provided.
About the Speakers:
Paul Pickering, Coordinator, Intercultural Workplace Program, ISANS
The Intercultural Workplace Program at Immigrant Services of Nova Scotia (ISANS) is a fully funded, employer-focused service. Employer with a presence in Nova Scotia receive training and support to hire retain immigrants for the long-term. Intercultural skills, awareness and knowledge, with an Equity, diversity and inclusion foundation form the backbone of the services, which include in-person and virtual workshops, presentations, organizational assessments and HR-related support.
Paul Pickering has been delivering diversity and intercultural-related learning for over 25 years. He is in his 10th year as the Coordinator of the Intercultural Workplace Program at ISANS and has worked with employers across Nova Scotia in all sectors.
Prior to ISANS, Paul worked in England at the National Policing Improvement Agency, ran his own consulting business, and provided learning for employers, community groups and students in South Korea, Czechia, Estonia, Latvia and Greece. He holds a BA in Cultural Anthropology and an MA in Communication Studies, both from the University of Maine, and a Diploma in Lifelong Learning from Cities and Guilds, in London, England. He Immigrated to Canada in 2011, and currently lives in beautiful Mahone Bay with his partner and a wide variety of their children and assorted pets.
Dani Mombourquette, Immigration Engagement Coordinator, Cape Breton Partnership
Dani joined the Cape Breton Partnership in August 2022 as an Immigration Engagement Coordinator. With a Human Resources background specializing in recruitment and selection, Dani is experienced in assisting employees with immigration streams for Permanent Residence. Currently in her role at the Cape Breton Partnership, Dani is supporting local employers in navigating the Atlantic Immigration Program (AIP) and the employment-based streams of the Nova Scotia Nominee Program (NSNP) to enable the hiring and retention of newcomers in Cape-Breton-Unama'ki.
Brenna Phillips, Immigrant Settlement Services, YREACH
Brenna Phillips is a YREACH settlement service provider in Sydney, Nova Scotia.  Her work involves connecting newcomers with resources in the CBRM, bridging the gaps between local communities and families who are exploring the Island for the first time, English language support, school settlement support, AIP settlement support, and welcoming activities such as international potlucks and cooking workshops.  Brenna has lived and worked in Cape Breton for 6 years, and now considers Sydney her home base.  You can find her office at 500 George St, suite 240 in Sydney, or contact her via email at brenna.phillips@halifax.ymca.ca
Agenda:
8:30 a.m.: Registration opens
9:00 a.m.: Welcome and Introductions, light refreshments served
Part 1: Newcomer Service providers support and service overviews
9:10 a.m.: Service provider presentations
10:00 a.m.: Question and Answer period
Part 2: Building and Intercultural Workplace workshop
10:10 a.m.: Paul Pickering, Immigrant Services Association of Nova Scotia (ISANS)
12:00 p.m: Workshop wrap-up
Photography Disclaimer
The Cape Breton Partnership and its affiliated partners, reserves the right to photograph its events, and from time to time we use these photos in our publications. By registering for any of our events, you understand and acknowledge that your photograph may be taken and used, per the Cape Breton Partnership's discretion.