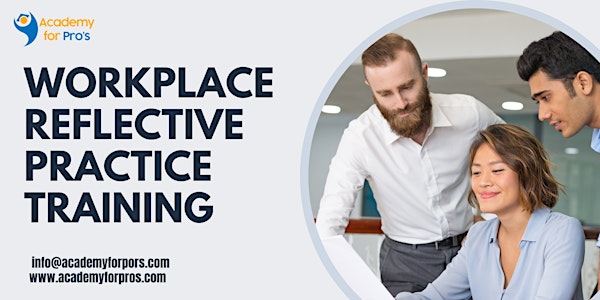 Multiple dates
Workplace Reflective Practice 1 Day Training in San Jose, CA
Our classroom training provides you the opportunity to interact with instructors and benefit from face-to-face instruction.
Date and time
March 10 · 9am - December 22 · 5pm PST
Location
For venue details reach us at: info@academyforpros.com +1 469 666 9332 San Jose, CA 95110
Refund Policy
Refunds up to 7 days before event
About this event
Certificate: Course Completion Certificate Language: English
Duration: 1 Day Credits: 8
Course Delivery: Classroom/ Virtual Live/ On-Site
Course Overview:
Reflective Practice is a theory by which modern and traditional self-improvement ideas can be more clearly defined, refined, expanded, adapted, taught, adopted and applied, for the purposes of personal development, teaching and coaching, and wider organizational improvement. Reflective Practice enables clearer thinking, and reduces our tendencies towards emotional bias.
This Workplace Reflective Practice training is suitable for anyone within an organization and will assist the participants in improving their working practices and increasing business performance. Whether on the shop floor or in the head office, everyone could benefit from the principles within this training.
Course Contents:
Enhance the self-development skills of your employees to help ensure business success.
The process of Reflective Practice has many advantages. It means, as professionals, your employees are keeping up-to-date with the latest thinking and methodologies. Reflection also helps to develop emotional intelligence, particularly if we reflect on feelings, reactions and behaviors. Finally, reflection is the key to improvement for both the individual and the organization.
Essentially, Reflective Practice is a method of assessing our own thoughts and actions, for the purpose of personal learning and development. Reflective Practice is a very adaptable process. It is a set of ideas that can be used alongside many other concepts for training, learning, personal development, and self-improvement. Reflective Practice is mainly concerned with self-development as it enables future personal growth.
The process of Reflective Practice has many advantages. It means, as a professional, you are keeping up-to-date with the latest thinking and methodologies. Reflection also helps to develop emotional intelligence, particularly if we reflect on feelings, reactions and behaviors. Finally, reflection is the key to improvement.
Course Topics:
Introduction and Objectives – Developing an understanding of what Workplace Reflective Practice, how it can help us and what we intend to learn from this information.
Self-Assessment – A questionnaire with discussion review to help participants identify their current thinking towards reflective practice and its implementation.
The Purpose and Benefits of Reflective Practice – Identifying where reflective practice can improve our current working approach and how it can best be utilized for success. Includes a TED Talks video that is used as a case study to identify practical applications of the technique.
Personal SWOT Analysis – Using strengths, weaknesses, opportunities and threats as a personal reflection tool and to help participants establish the basics of personal reflection.
Two Aspects of Workplace Reflective Practice – Reviewing 'Reflection-in-action' and 'Reflection-on-action' and using an exercise to embed understanding of this approach to reflective practice.
Before Reflecting – Highlighting the factors that should be in place before we consider reflection including balancing subjective and objective reflection.
Maintaining Objectivity – Using an activity to help participants understand both the importance of and how to remain objective when reflecting. With a focus on prejudice and assumptions.
Various experts have produced Reflective Practice models to help people use Reflective Practice more deliberately, proactively, and effectively. These course materials explore five models during the course. By studying the purpose and use of each, participants will find that they prefer some to others, and that some models are better used for different situations.
The Simple Model – Understanding the Driscoll and Teh Model of Reflection (What?, So what?Now what?) and how to use it. With a short activity to embed learning.
The REFLECT Model – Learning how to apply the Lawrence-Wilkes REFLECT Model using an activity and exercise.
Experiential Learning – Outlining David Kolb's work on the stages of the learning process and how this can be applied to reflective practice. Using activities to embed understanding.
The Reflective Cycle – Using the Gibbs' Reflective Cycle Model to demonstrate the importance of conclusions and action plans to the process of reflective practice.
Bloom's Taxonomy – Presenting this well-known model to help participants identify how to structure workplace reviews.
Recording Reflections – Helping participants appreciate the importance of recording information and giving them a structure and framework for approaching this.
Summary Activity – An activity that helps pull all of the learning together and reminds participants of the elements they have covered throughout the day.
This course is highly interactive and contains exercises and activities to help keep participants engaged and to ensure learning is embedded.
Course Features:
At the end of this high performing teams training course, you will be able to:
Describe the purpose and benefits of reflection
Identify types of workplace reflection
Learn from experiences
Improve personal and team performance
Use different business models for reflection
Certification:
Once after the training you receive course completion certificate from Academy for Pro's
Who can attend?
Anybody who is interested in learning Workplace Reflective Practice Skills.
Note:
However, catering to the demands of busy professionals, our virtual training programs are as effective as face-to-face learning. Reach us at info@academyforpros.com for dates and details of Instructor Led Live Virtual Sessions.
If you would like to get this course customized and delivered exclusively for your group, we have an On-Site Training Option you can reach us at info@academyforpros.com for more details about on-site or corporate training.
Offers:
Groups of 3 people 10% Discount
Groups of 5 people 15% Discount
Groups of 10 people 20% Discount
About the organizer
We deliver training solutions to Corporate, Government Agencies, Public sectors, Multinational organizations and Private Individuals. Our Primary focus is to train in a wide range of areas from IT Technical, Personal Development, Human Resources and Management Courses to Project, Program and IT Service Management.
We have most experienced trainers in the Industry. Our Trainers are highly skilled in their subject areas and are uniquely positioned to provide participants with deep industry experience. They are motivated to transfer knowledge through practical support post and pre-training to provide participants with additional support outside the classroom.