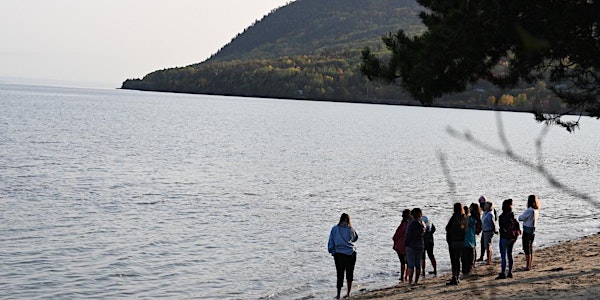 Workshop : À la rencontre du Fleuve Saint-Laurent / Call of the River
Atelier scolaire créatif et instructif sur le fleuve Saint-Laurent
About this event
L'organisme Waterlution et l'équipe du projet À la rencontre du fleuve offrent cet atelier virtuel d'environ 1 heure à des groupes scolaires âgés de 7 à 10 ans (plage horaire pendant les heures de classe). Axé sur l'écologie du Fleuve Saint-Laurent, de l'océan Atlantique et des Grands Lacs, l'atelier fait également le survol de quelques informations historiques tout en faisant mention de la perspective autochtone. L'atelier se termine avec un peu de mouvement (oui, même en virtuel!) et a été conçu pour intégrer l'art afin de sensibiliser le jeune public.
Inscrivez-vous gratuitement! Il suffit de vous connecter à la date et au moment prévu. Si l'horaire ne vous convient pas, contactez laurence.ethier@waterlution.org pour un atelier privé qui répond à vos besoins (également gratuit).
Pour en savoir plus sur le projet: https://waterlution.org/a-la-rencontre-du-fleuve/
_______________________________________________
Waterlution is offering with its Call of the River team this one-hour virtual workshop to school groups aged 7 to 10 (time slot during school hours). Focused on the ecology of the St. Lawrence River, the Atlantic Ocean and the Great Lakes, the workshop also provides an overview of some historical information and some sharing on indigenous perspectives. The workshop ends with a bit of movement (yes, even virtual!) and was designed to incorporate art to educate young audiences.
Register for free! Just log in on the scheduled date and time. If the schedule doesn't suit you, contact laurence.ethier@waterlution.org for a private workshop that meets your needs (also free).
To find out more about the project: https://waterlution.org/a-la-rencontre-du-fleuve/