Workshop and 2018 Annual Meeting of the Canadian Network on Humanitarian Hi...
Description
Schedule:
8:30 Arrival and greetings
9:00 News and exchanges possibilities from international guest, Valérie Gorin

9:45 News and projects from oher members and collaborators

- 10:00 Archivist Chris Trainor (Archives and Research Collections, Carleton University), and Dominique Marshall about the recent Archival Rescue project (by Skype)
- David Webster will talk about preserving and digitizing NGO archives
- Sonya DeLaat about wrapping up the CNHH common virtual exhibit on photographs of refugees
- Dominique Marshall about the news from absent friends
- 11:30 Anne-Emanuelle Birn, Professor of Critical Development Studies and Global Health, University of Toronto, about a project for a special issue of the Journal of Canadian Studies/Revue d'études canadiennes on Critical perspectives on Canadian humanitarian initiatives in the international domain (by Skype)

12:00 Annual meeting, light lunch provided
- 12:45 Cyrus Sundar Singh about film making, art and the history of aid and development
1:00 Meeting with local workers and veterans of NGOs, librarians and archivists

-Yordanos Tesfamariam of the 40 years old Multicultural Council of Saskatchewan, and formerly of Women of Africa in Regina, will present their work.
-Thanks to the Saskatchewan Council of International Cooperation for sharing a copy of their 40th anniversary calendar. You can flip the pages HERE.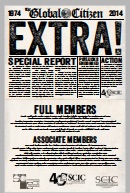 2:30 End of meeting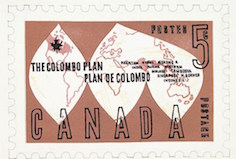 Remember to CNHH members sessions at Congress:
Canadian Historical Association
- Monday, 28, 13:30 – 15:00 ED 561

24. Nuancing narrative. : New Findings and Interpretations in Early Cold War History

Sue Heffernan: The Impact of a Pinetree Radar Base on a Northern Cree Town: Archives, Interviews, and Ethics

Isabel Campbell: The Navy, the Indigenous communities of Hudson Strait and Hudson Bay, and oceanographic research during the early Cold War

Matthew S. Wiseman: And Science Sails North: Research and Colonial Interaction in the Arctic, 1950-1965
- Tuesday May 29, 8:30-10:00 ED 114
44. Histories of Humanitarianism and (Visual) Media - sponsored by the CNHH
Sonya de Laat (McMaster University): "Visual Displacement of Refugees: Lewis Hine's First World War Photographs for the American Red Cross, 1918-1919"
Valérie Gorin (University of Geneva): "Humanitarian Cinema and Visual Advocacy in the 1920s: When Seeing was Believing"
Soenke Kundel (Free University of Berlin/Germany): "Global Media and the New Humanitarianism in the Context of the Vietnam War"
Dominique Marshall (Carleton University) " 'CIDA Brings you the World! 'Children's Reception of Humanitarian Photographs of Children: 1980-2000"

- Wednesday May 30, 8:30-10:00 ED 312
80. Migrations, Foreign Policy, and Ethnicity
Jill Campbell-Miller (Saint Mary's University):"Missionaries, Expats, and Do-Gooders: Canadian Medical Humanitarianism in South Asia, 1950-1968"
Daniel Manulak (University of Western Ontario):'"A Light in the Window': Canada, Race, and South African Apartheid, 1958-1963"
Eriks Bredovskis (University of Toronto): "Careful Memories: The Journeys of Diaspora Latvians to the Soviet Union (1970–1990)
- Wednesday May 30, 10:30-12:00 ED 434
83. War and Society
Michael Petrou (Harvard University):"Melancholy courage and peasant shrewd cunning": the recruitment of Canadians for Special Operations Executive missions in the Balkans during the Second World War"
Jean-Michel Turcotte (Freie Universität,Berlin): «Confirmer la souverainté du Canada à l'aide des soldats d'Hitler! Ottawa, Londres et la question des prisonniers de guerre alllemands, 1940-1943»
Monique C. Dolak (University of Calgary): "'Quite a feather in Canada's cap': Canada's Fight for Representation on the Munitions Assignment Board, 1942"
Ian Germani (University of Regina): "Glory and Sacrifice: The Evolution of Military Honour in Early Modern France"
Canadian Society for the History of Medicine
- Saturday May 25, 15:30-17:00
c.1 Addressing Professional Inequality

"Dr Ray Fletcher Farquharson("Farky") and Equity Issues at University of Toronto Medical School, 1947‐1960" Irving Rosen, University of Toronto
"Ambivalent Diversity: On the Early Stances of the Max Planck Society Regarding Previous Forced Migrants in NorthAmerica, 1948‐1958. Frank Stanisch, University of Calgary
"Aid for Outmigration? The Colombo Plan and Education of Healthcare Professionals fromSouth and Southeast Asia in Canada, 1950‐1968. JillCampbell Miller, The Gorsebrook Institute, Saint Mary's University

For more information, to add an item on the agenda, to indicate which part of the meeting you will attend if you are not there for the whole time, to make arrangements to join by Skype, please:
Contact aidhistory.canada@gmail.com
Thanks to our technician, Kiera Mitchell, U. Regina student (mitchkie@uregina.ca)

Source of the images: "1961 Colombo Plan", Postal History Corner, Canadian Postal and Philatelic History, 8 September 2010. http://postalhistorycorner.blogspot.ca/2010/09/1961-colombo-plan-colombo-plan-for.html