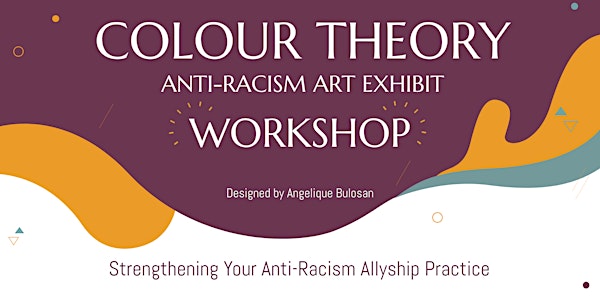 Workshop / Colour Theory - An Anti-Racism Art Exhibit
Develop your anti-racism practice at this free anti-racism workshop that accompanies the Colour Theory Anti-Racism Art Exhibit!
About this event
Join Massy Arts and curator Angelique Bulosan in an online worshop created to strengthen anti-racism practices through self reflection and to connect allyship actions directly to daily life.
This workshop invites participants to have their cameras on to increase safety and accountability for everyone in the virtual workshop. 
This workshop focuses on the art and story of Jade Anais, one of the artists that participated in the Colour Theory Anti-Racism Art Exhibit. Jade's story was voted as the favourite of the Colour Theory artists. 
: :
Zoom Link:
https://us02web.zoom.us/j/82332830354?pwd=RnNwS2pzM0RIMnZXaWlVeHVWWDhrUT09
: :
You're invited to have this Self Reflection Guide during the workshop.
It is not mandatory to have this printed for the workshop because the information on the Self Reflection Guide will be provided, but it might add to the fun!
Link to download:
https://drive.google.com/drive/folders/1QG3oDpqKNjosQeOBRNwleytq6dgvNbPw?usp=sharing
: :
About Colour Theory
The Colour Theory Anti-Racism Art Exhibit was developed out of a series of virtually facilitated discussions with BIPOC artists that explore experiences around racism. 
: :
Experience all the artist's works at:
Massy Arts Society (Vancouver) - October 12th to November 10th
Wilfrid Johns Art Gallery (Victoria) - November 15th to 28th
: :
About the Facilitator
Angelique Bulosan develops and facilitates anti-racism workshops for the community, as well as racial justice and social justice initiatives at their workplace. They are an artist, facilitator, and professional project and program manager. Angelique is part of the leadership team for a peer-led IBPOC mediation group and is the project manager for the BCPS BIPOC Employee Resource Group. Find out more at angeliquebulosan.com