Workshop: Comfort AND Courage You Can't Have Both … or Can You?
Description
Please join us at our June 14th workshop in Victoria with Laurie Hillis!
Comfort AND Courage You Can't Have Both … or Can You?
Polarities have been a part of our lives for years (think Ying and Yang, Extraversion AND Introversion, Work AND Play, Continuing AND Change) and they are often misunderstood as problems to be solved.
What are polarities? They are interdependent pairs of variables, they are energy systems, in short, they are the "AND" we live within daily. Also known as paradoxes, wicked problems, opposite strengths, or dichotomies, polarity thinking offers coaches and leaders a possibility approach through expanded thinking.
In this evening session we will explore the polarity of Comfort AND Courage – one that coaches and leaders may wrestle with daily. How to step into courage without giving up comfort. You'll have an opportunity to build your own Polarity Map and to apply this process to those you support, after the session.
Come prepared to expand your thinking and to coach someone with their map development as well.
CCEU's pending ICF Global Approval.
Our Facilitator - Laurie Hillis, MA, PCC, Coach Super-Visor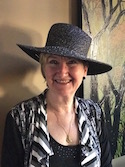 Laurie Hillis, MA, Professional Certified Coach is a senior faculty member at the University of Alberta, in their Centre for Executive Education and the president of Megatrain, a Calgary-based leadership consulting practice in operation since 1992. In recent past she was a faculty member of The Banff Centre, Leadership Division. While there, Laurie was a Program Director for 13 years leading the design and delivery of customized, leadership development programs and she was honoured with the Faculty of the Year Award. Laurie has also been a faculty member at Royal Roads University, Victoria, coaching in the Master of Arts in Leadership Program.
With a well-earned reputation as an excellent interactive facilitator and coach, Laurie blends her practical, workplace experience with academic quests, bringing with her an ability to create a dynamic, positive learning environment. She is an accomplished writer on the topics of Leadership and Emotional Intelligence and has consulted to organizations in the public sector, private enterprise and not-for-profit.
Laurie is a passionate lifelong learner. In the life enhancing work of Dr. Brené Brown Laurie is a Master Facilitator of Brave Leaders Inc. and a Certified Daring WayTM Facilitator-Consultant. Laurie has completed many different coaching certifications In support of her passion for coaching transformation in individuals and teams.
---
We've built in time at the beginning of the workshop for you to connect/reconnect with your coaching colleagues.
We look forward to seeing you there!
Vancouver Island Coaches Association
Events@vicoaches.org
*please note that attendees must be registered in advance to attend this workshop