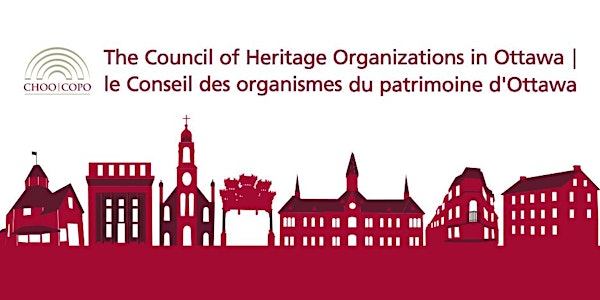 Workshop: Emergency Preparedness for Cultural Institutions | Atelier : P...
Event Information
Location
James Bartleman Centre | Centre James Bartleman
100 Tallwood Drive | 100 route Tallwood
Ottawa, ON K2G 6J9
Canada
Refund policy
Refunds up to 30 days before event
Description

The Council of Heritage Organizations in Ottawa is pleased to present Emergency Preparedness for Cultural Institutions, a Canadian Conservation Institute Workshop.
Date: October 17 - 18, 2018
Time: 9:00 am - 5:00 pm
Location*: James Bartleman Centre, 100 Tallwood Drive, Ottawa, ON K2G 6J9
Cost**: Members $75, Non-Members $125 (Must be registered as a Member as of August 1, 2018)
Council Members will have priority registration until August 3rd.
This 2-day workshop discusses the importance of preparing for emergencies, shows how to form and train an emergency response team, provides guidance in creating an effective emergency plan and offers training in the salvage of water-damaged collections. The workshop is highly interactive and includes lectures, demonstrations, discussions, group exercises and hands-on activities.

*Free parking on-site.
**Cost includes a light lunch for both days. Please inform us of any dietary restrictions.
Participant Learning Objectives:
Identify the principal emergency risks affecting their collections

Develop a written emergency response plan for their institution

Create an emergency response team

Develop the team's decision-making skills using emergency scenario exercises

Salvage water-damaged artifacts and collections

Employ appropriate health and safety measures in the event of an emergency

Identify measures to avoid, block, detect and/or respond to potential hazards.
Participants will receive and learn how to use the digital CCI Emergency Response Planning Workbook, which includes an associated emergency plan template, worksheets, salvage information and related resources. These materials provide a step-by-step guide to assist participants in creating an emergency response program on their own after the workshop that is customized to the needs of their institution.
This training will be delivered in English. Working materials will be provided in both official languages. The facilitators will be able to take questions in both English and French.
The capacity for this workshop is 20 participants. Due to the limited capacity, only one registrant per organization will be accepted at this time. If you wish to be on a waiting list to register an additional organization participant, please contact us at outreach@choocopo.ca.
---

Le Conseil des organismes du patrimoine d'Ottawa a le plaisir de vous présenter un atelier de l'Institut canadien de conservation, Préparation en cas d'urgence pour les établissements culturels.
Date: 17 - 18 octobre 2018
Heure: 9h00 - 17h00
Lieu: Centre James Bartleman, 100 promenade Tallwood, Ottawa, ON K2G 6J9
Coût: Membres $75, Non-membres $125
Les membres auront une période d'enregistrement prioritaire jusqu'au 3 août.
Les deux jours de cet atelier traitent de l'importance de se préparer aux situations d'urgence et montre comment constituer et former une équipe d'intervention d'urgence. L'atelier fournit des conseils pour l'élaboration d'un plan d'urgence efficace et offre une formation sur le sauvetage des collections endommagées par l'eau. L'atelier est très interactif et comprend des exposés, des démonstrations, des discussions, des exercices en groupe et des activités pratiques.

*Le stationnement est gratuit.
**Le coût comprend un déjeuner léger chaque jour. Si vous suivez un régime alimentaire particulier, prière de nous informer avant l'atelier.
Objectifs d'apprentissage :
À la fin de l'atelier, les participants pourront :

déterminer les principaux risques touchant leurs collections dans des situations d'urgence;

rédiger un plan d'intervention d'urgence pour leur établissement;

créer une équipe d'intervention d'urgence;

développer les compétences de l'équipe en prise de décisions à l'aide d'exercices de simulation de situations d'urgence;

sauver les objets et collections endommagés par l'eau;

prendre les mesures de santé et sécurité appropriées en cas d'urgence;

déterminer les mesures permettant d'éviter, de bloquer et de détecter les dangers potentiels et d'y réagir.
Les participants recevront le Cahier de planification des interventions en cas d'urgence de l'ICC et apprendront à s'en servir. Celui-ci comprend un modèle de plan d'urgence, des feuilles de travail, des renseignements sur le sauvetage et des ressources connexes. Cette documentation fournit une marche à suivre destinée à aider les participants à créer eux-mêmes, après avoir participé à l'atelier, un programme d'intervention d'urgence adapté aux besoins de leur établissement.
La présentation sera donnée en anglais. Le matériel de travail sera offert dans les deux langues officielles. Les facilitateurs répondront aux questions en anglais et français.
Il y a une capacité de 20 participants pour cet atelier. En raison de cette limite, pour le moment, nous n'acceptons qu'une inscription par organisme. Si vous désirez vous inscrire à la liste d'attente pour ajouter un participant supplémentaire, veuillez nous faire parvenir un courriel à outreach@choocopo.ca.
Date and time
Location
James Bartleman Centre | Centre James Bartleman
100 Tallwood Drive | 100 route Tallwood
Ottawa, ON K2G 6J9
Canada
Refund policy
Refunds up to 30 days before event