Description
Digifest 2018 Presents:
Explorations In AI: Simple Devices, Complex Behaviours Workshop

Saturday, April 28, 2018 (10 am to 2 pm) at Corus Quay, 25 Dockside Drive
---
Join us for an Introduction to the Explorations in AI: Simple Devices, Complex Behaviours workshop, hosted by Adriana Ieraci, of Get Your Bot On! Robotics Community.
Participants in the hands-on workshop will build their own simple devices using basic electronic parts and craft materials. The device designs will be based on the Braitenberg Vehicles.
Participants will observe how these devices interact with each other, watching how their simple behaviours are combined in a complex system. Participants will then take their devices out to the exhibit floor, observing how the public interacts with it, listening to the language used to describe the device's behaviour and watching the audience's body language and gestures.
Participants can take their device home in order to continue their experiment in human-robot interaction.
Bring your laptop! Only one needed for each team of two.
Agenda
10:00 Welcome and Introductions
10:20 Electronics Workshop and Building
12:00 Break
12:30 Design and Build Your Robot
1:00 test and experiment
1:50 Discussion and Close
2:00 Workshop Wrap Up
Target Audience
Artists interested in physical computing art practice

Technologists interested in the socio-technical implications of AI

Designers interested in designing with AI
Participants will be paired in teams of 2.
---
Partners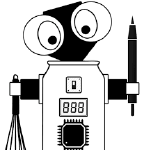 Get Your Bot On! Robotics Community
Get Your Bot On! is a community of roboticists, engineers, designers and hobbyists in the Toronto area.
Leonardo's 50th Celebrations
About Leonardo's 50th Celebrations
50 Years of Celebrating the Community
Almost half a century ago, kinetic artist and astronautical pioneer Frank Malina set out to solve the needs of a community of artists and scientists working across disciplines by using the "new media" of the time: offset print publishing. As a groundbreaking, innovative venture, Leonardo represented a unique vision: to serve as an international channel of communication among artists, with emphasis on the writings of artists who use science and developing technologies in their work. The result was Leonardo, an academic journal for artists with the peer-review rigor of a scientific journal. For 50 years, Leonardo has been the definitive publication for artist-academics, and the field has gained momentum in recent years.
Special thanks to the 50th Anniversary Committee Chair Nina Czegledy.