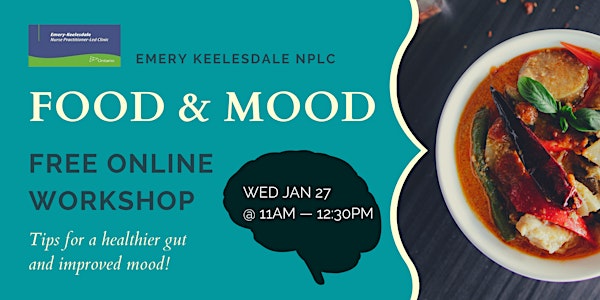 Workshop: Food & Mood
A registered dietitian will teach you how food is related to mood. Learn some tips to improve your gut health and mood!
By Emery Keelesdale Nurse Practitioner-Led Clinic
When and where
Date and time
Wed, Jan 27, 2021 8:00 AM - 9:30 AM PST
About this event
In this free workshop, we will help you:
Understand the relationship between food & mood.
Understand how your choice of food affects your mood, energy levels & overall health.
Understand the gut mood connection.
Understand the connection between food choices, your mood & depression.
The session will be hosted on Zoom. Please register to access the link.
About the organizer
Nurse Practitioner-Led Clinics are a new primary health care delivery model in which Nurse Practitioners are the lead providers. The team at Emery Keelesdale includes Registered Nurses, Registered Practical Nurses, a Dietitian, a Social Worker, a collaborating family physician, and other health care professionals. We offer a comprehensive, accessible, and coordinated family health care service to our community - especially those who do not have access to a primary care provider. EKNPLC has been providing services to Humber Summit in North York West and the Keele & Eglinton area since 2012.