Event Information
Location
188 Nelson St
188 Nelson Street
Vancouver, BC V6B 1A9
Canada
Join us and experience Reconstructive Work, an experiential method that offers the possibility to expand our perception and consciousness
About this event
Due different reasons, we ended up in loops that do not satisfy our needs anymore. These loops can be reflected in your work, you relationships, your additions, your emotions and so on.
Deep inside us, we know that we have to change - that it is not healthy to keep doing what makes us unhappy. But, why is it so tough to break the cycle? Why do we prefer to suffer instead changing?
It takes courage to step out of our comfort zone and navigate what is unknow.
If this topic resonates with you, we invite you to join us and experience Reconstructive Work, an experiential method that offers the possibility of expanding our perception and consciousness.
This experiential workshop is for those who are tired of being in the same loop and are looking for tools to transform and make changes from the inside out.
Information:
Date: Saturday, December 4th 2021
Hours: 9:00 am to 4:00 pm
Venue: 188 Nelson Street,
Vancouver, BC, Canada V6B 1A9
Price: CAD$ 95
Includes: Participation and coffee break
Payment options: E-transfer, Paypal, Eventbrite
Language: English
LIMITED PLACES
Note: Proof of full vaccination is requested (BC government requirement)
REGISTRATION IS REQUIRED
Facilitator:
Lorena Pulido (1986, Barquisimeto, Venezuela)
Lorena is a Transpersonal Coach and Reconstructive Facilitator at the Reconstructive International Integrative Holistic School (RIIHS). She collaborates on two podcasts about consciousness and human development called: Flashlights in the Dark (English) and Gotas de Crecimiento (Spanish). Lorena is also a Journalist with master's degrees in Journalism and Communication. She lives in Vancouver, Canada. @reconstructivesmundo
Questions?
Contact us at:
reconstructivesmundo@gmail.com
+1 (604) 446-9516
Cancellation policy
Please note that if you decide to cancel and would like a return, need to do it 72 hours before the day of the workshop. CAD$ 50 will be take for administration fee.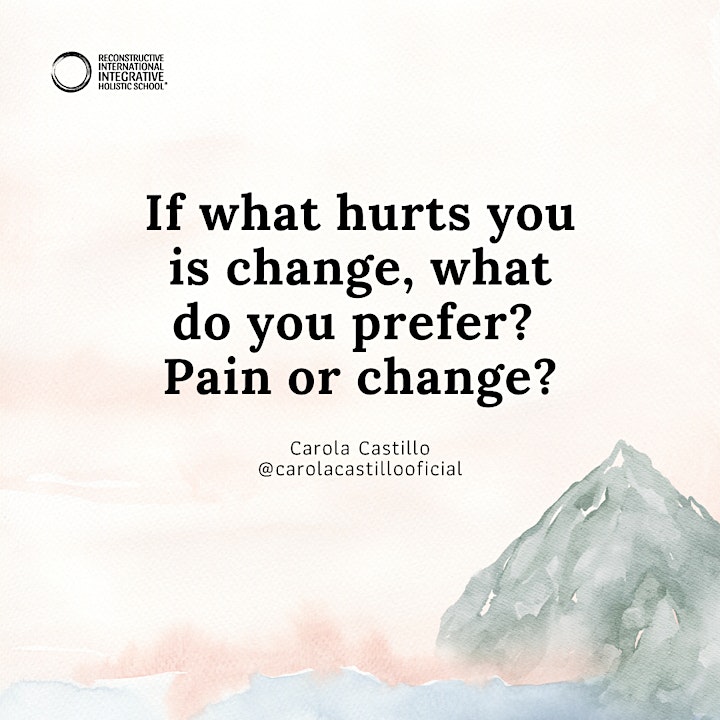 Want to know more about RIIHS and Reconstructive work?
Check out our documentary and website www.reconstructiveschool.com
Date and time
Location
188 Nelson St
188 Nelson Street
Vancouver, BC V6B 1A9
Canada