Join us and experience Reconstructive Work, an experiential method that offers the possibility to expand our perception and consciousness
About this event
Due different reasons, we ended up in loops that do not satisfy our needs anymore. These loops can be reflected in your work, you relationships, your additions, your emotions and so on.
Deep inside us, we know that we have to change - that it is not healthy to keep doing what makes us unhappy. But, why is it so tough to break the cycle? Why do we prefer to suffer instead changing?
It takes courage to step out of our comfort zone and navigate what is unknow.
If this topic resonates with you, we invite you to join us and experience Reconstructive Work, an experiential method that offers the possibility of expanding our perception and consciousness.
This experiential workshop is for those who are tired of being in the same loop and are looking for tools to transform and make changes from the inside out.
Information:
Date: Saturday, December 4th 2021
Hours: 9:00 am to 4:00 pm
Venue: 188 Nelson Street,
Vancouver, BC, Canada V6B 1A9
Price: CAD$ 95
Includes: Participation and coffee break
Payment options: E-transfer, Paypal, Eventbrite
Language: English
LIMITED PLACES
Note: Proof of full vaccination is requested (BC government requirement)
REGISTRATION IS REQUIRED
Facilitator:
Lorena Pulido (1986, Barquisimeto, Venezuela)
Lorena is a Transpersonal Coach and Reconstructive Facilitator at the Reconstructive International Integrative Holistic School (RIIHS). She collaborates on two podcasts about consciousness and human development called: Flashlights in the Dark (English) and Gotas de Crecimiento (Spanish). Lorena is also a Journalist with master's degrees in Journalism and Communication. She lives in Vancouver, Canada. @reconstructivesmundo
Questions?
Contact us at:
reconstructivesmundo@gmail.com
+1 (604) 446-9516
Cancellation policy
Please note that if you decide to cancel and would like a return, need to do it 72 hours before the day of the workshop. CAD$ 50 will be take for administration fee.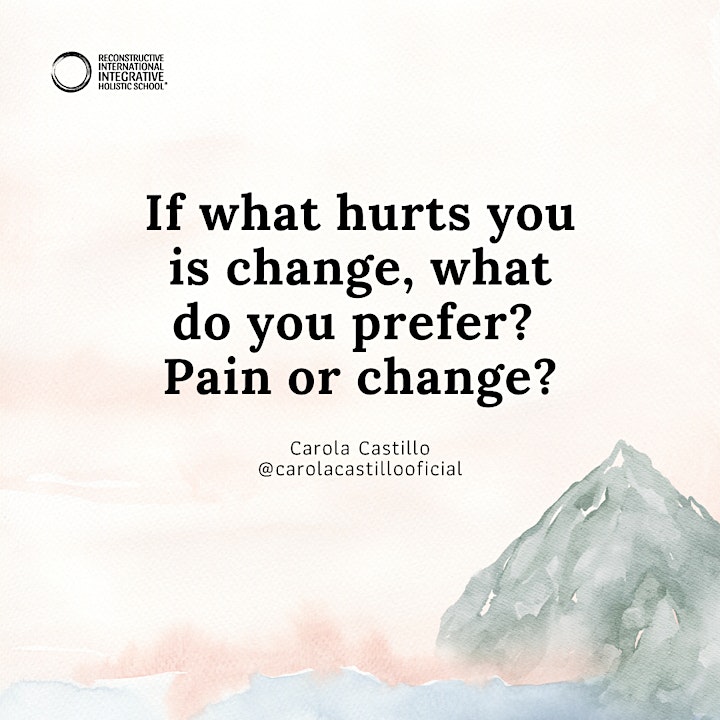 Want to know more about RIIHS and Reconstructive work?
Check out our documentary and website www.reconstructiveschool.com
Organizer of Workshop in Reconstructive - Breaking the Loop
Agreement and rules for participation in workshops, talks, RIIHS Facilitator Lorena Pulido
1. It is not allowed to transfer the ticket to another participant.
2. If for any medical reason, health, war, natural catastrophes, government action or order and conflicts etc. the workshop could not be held, the responsibility of the organizers and Lorena Pulido will be limited to the total refund of the money received except for the management expenses that it may cause.
We are not responsible for any other type of compensation.
3. The participant will release the organizers, Carolina Castillo, Lorena Pulido, consultants or employees from all claims, expenses and obligations derived from any injury or damage to the participant that occurs during the event.
4. We are not responsible for objects left at the event.
5. Minors and pregnant women are not accepted.
6. Participants are not allowed without full payment for the event.
7. We are not responsible for delays due to traffic or cancellation of flights, of the participants that could generate inconveniences.
8. In case of cancellation by the participant, no refund will be made.
We are not responsible for any compensation.
9. We are not responsible in case of cancellation by the facilitator Lorena Pulido, a new date will be rescheduled and announced.
10. We are not responsible for the expenses generated by meals outside the workshop in case of suspending the event.
Exemption and Responsibility Form
1. I accept, understand and state that I have been informed about the fact that "Reconstructive" does not replace medical, psychotherapeutic, psychiatric, or other specialty treatments.
2. I understand that issues of a personal nature may arise in this work, causing unexpected psychological, emotional and physical responses.
3. I take responsibility for the physical, emotional, spiritual or mental symptoms or reactions that arise as consequences of my participation.
4. I assure that I do not currently suffer from any mental or physical impairment that makes it impossible for me to take responsibility for my actions.
5. I release the organizers, facilitators and participants of the work to be done from all responsibility. Including all the staff who work with Lorena Pulido as well as the physical facilities where the event takes place.
6. I have nothing to claim in judicial or extrajudicial headquarters, the organizers, facilitators and participants of this work or any natural or legal person related to it, for any reason.
7. I accept, understand and endorse the content of this release.
8. I understand that it is strictly forbidden to film, record or take any type of image, sound or video during work.
Participation in the workshop given by "Lorena Pulido", called "Experiential Workshop in Reconstructive" does not constitute an authorization nor is it created any type of professional association between the participant and the organizer. With which, the use or exploitation in any form and by any known or unknown means is prohibited, as well as the advertising or promotional dissemination of both the image of "Carolina Castillo"; being understood as her own Image her name, nickname, appearance, signature or any other feature that distinguishes her physically; as well as the brand "Reconstructivas."
In the event of non-compliance by the participant, "Carolina Castillo" may interrupt, through judicial intervention or any other means, the activities that promote and use the "Reconstructive" brand or the image of "Carolina Castillo" itself. Likewise, the participant must indemnify and compensate all damages and losses caused to the organizer and its clients, as well as to any employee, including the payment of all expenses and fees incurred for legal advice and solicitation.