Sales Have Ended
Ticket sales have ended
Thank you for registering for our workshop! See you at the event.
Sales Have Ended
Ticket sales have ended
Thank you for registering for our workshop! See you at the event.
About this Event
Cost
$150 per person – 1-day Intro to Linseed Oil Paint Systems, or
$300 per person – 2-day Advanced Linseed Oil Paint Deep Dive
Please note: Food and beverage will not be provided. Participants are encouraged to bring their own lunch as well as drinks and snacks for throughout the day.
Dates and Duration
Registrants can choose to attend either:
October 23, 2019 (i.e., One day introduction/refresher session)
October 23+24, 2019 (i.e., Advanced & more technical session & surfaces beyond windows)
Where
Bytown Museum and lower locks of the Rideau Canal, Ottawa, ON

with walking visit of Parliament Hill area.


Overview
The October 23rd session is an introduction to linseed oil paint; its history, qualities, and application. A walking visit to Parliament Hill and Confederation Building is planned, where the Allbäck Linseed Oil Paint System has been used.
The October 24th portion has been designed as a deeper look into linseed oil paint systems, with more time allocated for some 'hands-on' practice and discussions with Hans and Sonja Allbäck. You will learn from their nearly 40-year experience in the heritage conservation/restoration field in Europe, from their research and development of their WindowCraft restoration techniques, to their development of a pure linseed oil paint system, to the adoption of their methods and materials by the National Heritage Boards of several European countries who now use the Allbäck approach as the basis for specifications for linseed oil paint. Canadian projects will also be discussed, and an in-depth look at the preservation challenges of the Rideau Canal locks is planned, with a focus on other uses of the linseed oil system and surfaces beyond windows.
Target Audience
The October 23rd session has been designed for persons working on heritage sites and projects. The October 23rd session is open to persons working on and managing heritage places, be they in the federal/provincial/municipal governments, the NHS community, the contracting & consulting community and/or planners, maintenance staff, site and program managers/officers, project managers/officers, design professionals, etc.
October 24th has been tailored to the needs of craftspersons and maintenance workers working on heritage places, and project managers, and design professionals who specify and inspect work. That said, if others are interested in attending, they are most welcome!
Curriculum
The October 23rd session will cover (but may not be limited to):
Comparison of modern paint systems vs. linseed oil paint systems;
Guidance on how to prepare a linseed oil paint project;
An overview of window restoration projects using linseed oil paints, in Canada and abroad;
Service life and maintenance planning;
Dos and don'ts;
Troubleshooting;
including a "hands-on" demonstration, using restoration equipment and applying linseed putty and paints, and a walking visit of the Parliament Hill area.
October 24th will generally cover the same topics as the October 23rd session, giving more time and detail to each topic, and to the maximum extent possible:
more demonstrations of technique,
more 'hands-on' practical exercises, and
more time given to the topics of specification, documentation, testing, etc.
more time to discuss linseed oil matters with Hans and Sonja Allbäck:
Additional focus will be given to the Rideau Canal locks adjacent to the Bytown Museum, where surfaces beyond windows, including particularly unique and demanding applications, will be discussed.
Biographies of Hans and Sonja Allbäck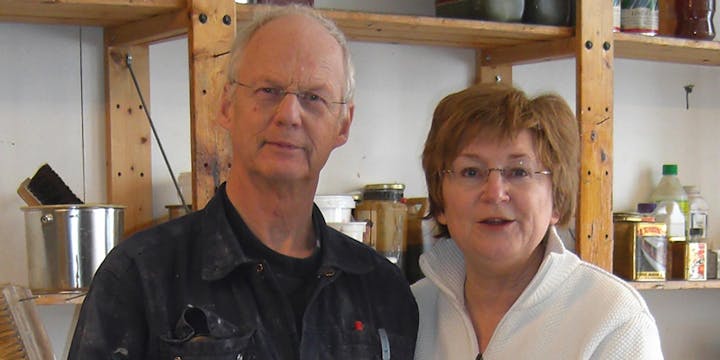 Founders of Allbäck Windowcraft Education and Allbäck Linoljeprodukter AB.
Hans and Sonja Allbäck are the founders of Allbäck Windowcraft Education and Allbäck Linoljeprodukter AB in Ystad, Sweden. They have been at the forefront of reviving traditional knowledge and practices of building restoration and conservation since the early 1980s. In their work, Hans and Sonja have been guided by a couple of simple goals: to work professionally in building conservation without being ill, and to work in harmony with the laws of nature surrounded by their family.
Together, Hans and Sonja have developed the profession of Windowcraft that has gradually spread throughout Europe. Since 1982, through their own project documentation, product development, and education, they have worked to share and promote their innovations. Since 1985 they have run a private school for building care that focuses on the restoration of windows and doors. They have trained more than 250 professional craftspeople from all over Europe, and from 1998, they have also run Allbäck Linoljeprodukter AB, a company committed to developing a whole new generation of high- quality linseed oil products that are high-performance, eco-friendly, beautiful, and cost-effective.
Hans and Sonja have a body of research published in the Journal of Architectural Conservation, and are highly sought-after consultants, working on many of the highest profile projects in Europe, including Palace of Versailles. They now find themselves at the forefront of the sustainable building movement, achieving recognition as the only linseed oil paint company in Sweden with the highest environmental classification. As such, they were invited to represent Sweden at the 2015 UN Summit on Climate Change in Paris.
Allbäck's work has spread around the world, including Canada, where their practices and materials are being used on many restoration and conservation projects of cultural significance.
The Host Site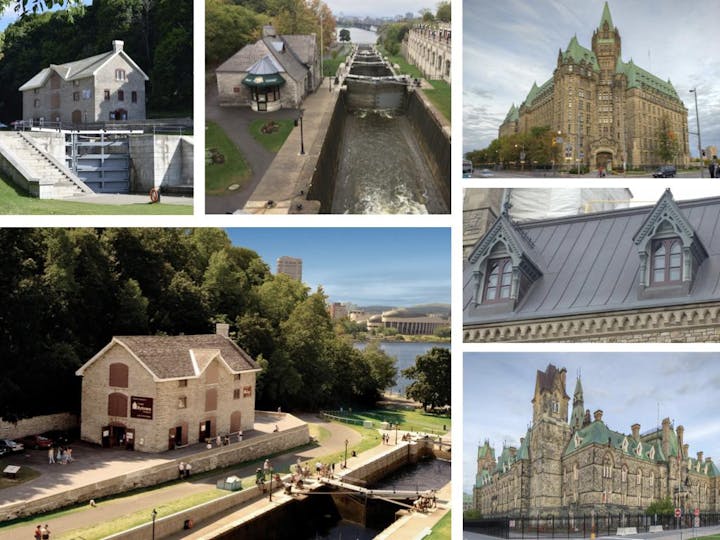 The Bytown Museum in Ottawa is located on the lower locks of the Rideau Canal at the Ottawa River, just below Parliament Hill. Housed in the Commissariat Building, Ottawa's oldest remaining stone building, the museum provides a comprehensive overview of the origins of Bytown and its development and growth into the present city of Ottawa.
The Commissariat Building is a Classified Federal Heritage Building and is part of the Rideau Canal National Historic Site of Canada. It is one of the best examples of the national theme of the military defence strategy for Upper and Lower Canada in the 1820s and the evolution of that strategy over time. The building served as a depot for supplying bulk provisions to many of the construction sites along the northern section of the Rideau Canal, housed offices for Commissariat officials, and provided residential accommodation.
The Bytown Museum was first opened in 1917 by the Women's Canadian Historical Society of Ottawa (WCHSO), a group of some 30 women whose objective it was to advance the study of Canadian history and literature. They had amassed a collection of artefacts and were in need of a more permanent home. In 1951, the women secured the lease to the Commissariat and began the long process of preparing the building for the collection and the move itself. By 1954, the move was complete.
Photos of the Bytowm Museum and Parliament used with permission for the purposes of informing this event.