Workshop on Computational & Mathematical Medicine
Actions and Detail Panel
Workshop on Computational & Mathematical Medicine
Thu, April 20, 2017, 8:15 AM – 3:30 PM AST
Description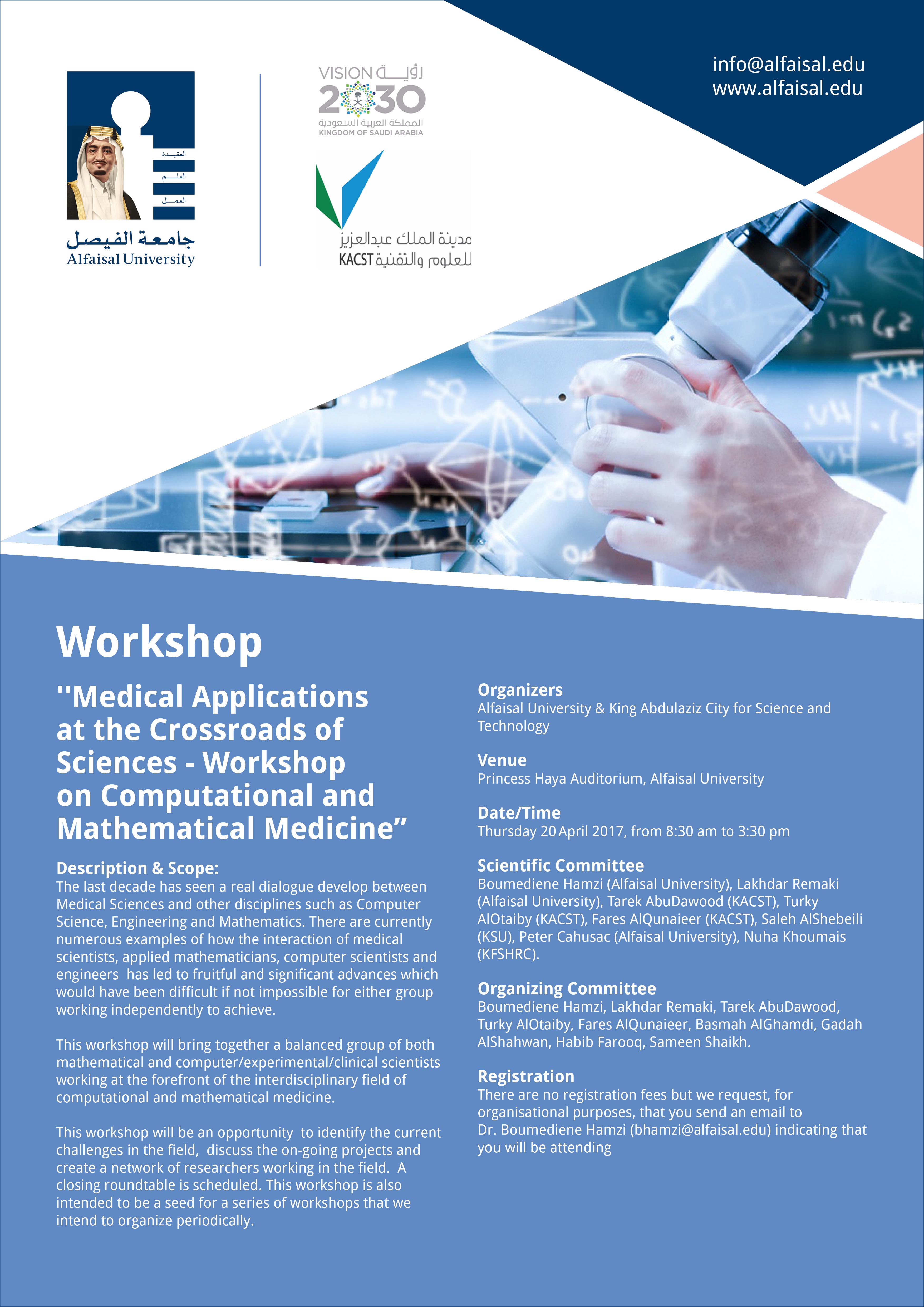 Agenda:
8:15am-8:45am: Breakfast and Registration
8:45am-9:00am: Matheus Goosen (Alfaisal University) – Interdisciplinary research through Integration of Social, Economic, Environmental, & Governmental Factors.
9:00am-9:15am: Khaled AlKattan (Alfaisal University) – Medicine Today, a Multidisciplinary Approach.
9:15am-9:45am: Nuha Khoumais (KFSHRC) - Breast Cancer Detection: Challenges & Promises
9:45am-10:00am: Tarek Abudwood (KACST) - Breast Cancer Detection and Classification
10:00am-10:15am: Vahe Poghosyan (KFMC) - Magnetoencephalography (MEG) – State of the Art in Neuroimaging
10:15am-10:30am: Lakhdar Remaki (AlFaisal University) - On Some Image Processing Techniques in Biomedical Applications
10:30am-10:45am: Coffee break
10:45am-11:00am: AbdulMajeed Mohammed (AlFaisal University) - Mathematical Models for Biomedical Devices
11:00am-11:15am: Amro F. Al-Habib (King Khalid University Hospital and Dr. Sulaiman Al-Habib Medical Group) - Spine surgery in the Era of navigation, are we doing better?
11:15am-11:30am: Peter Cahusac (AlFaisal University) - What's the use of Big Data?
11:30am-11:45am: Riyad Alshammari (King Saud Bin Abdulaziz University For Health Sciences) - Data Mining and Healthcare
11:45am-12:00am: AbdAllah Ali (AlFaisal University) - Wireless Sensor Networks and Medicine: Exploitation of Data Correlation
12:00am-12:15am: Saleh AlShebeili (KSU) - Epileptic MEG Spikes Detection Using Amplitude Thresholding and Dynamic Time Warping
12:15am-12:30pm: Majed AlHameed (KFMC) - Mathematical modeling of Brain Plasticity in Epilepsy
12:30pm-12:45pm: Boumediene Hamzi (AlFaisal University) -Kernel Methods for Seizure Detection
12:45pm-3:30pm: Lunch and Discussion Panel
FAQs
How can I contact the organizer with any questions?
Please send an email to bhamzi@alfaisal.edu & hfarooq@alfaisal.edu regarding any question you have.
Do I have to bring my printed ticket to the event?
Yes.
Date and Time
Location
Alfaisal University
Princess Haya Auditorium
Riyadh, Riyadh Province 12714
Saudi Arabia