We will discuss methodological developments to improve the measurement of impact in complex, integrated systems research.
About this event
The CGIAR Research Programs on Water Land and Ecosystems; Forests, Trees and Agroforestry; Policies, Institutions, and Markets; as well as SPIA, the Standing Panel on Impact Assessment of the CGIAR, will co-host a three-day virtual workshop.
The workshop will take stock of existing and new methodological developments of monitoring, evaluation and impact assessment work, and discuss which are suitable to evaluate and assess complex, integrated systems research.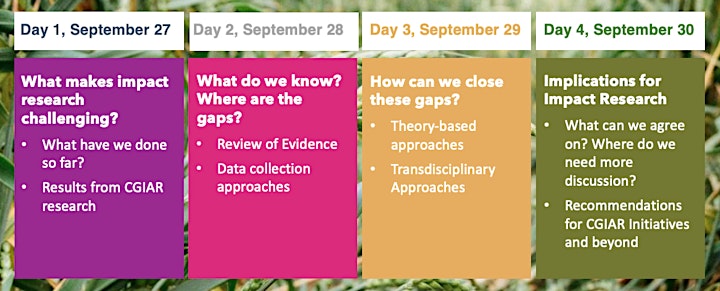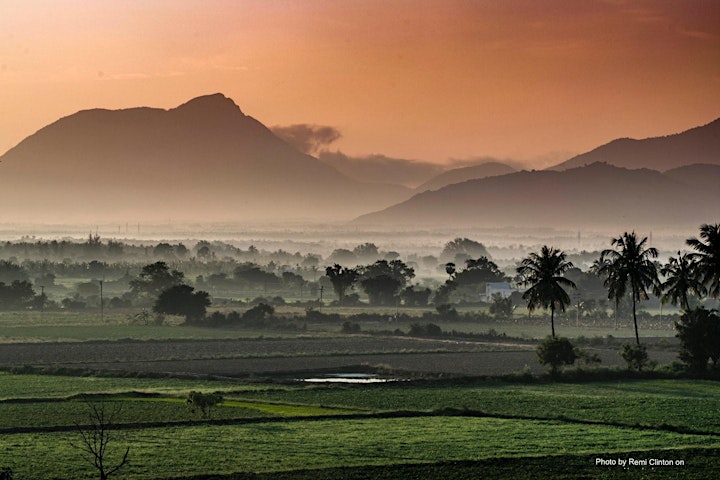 Confirmed Speakers
Holger Meinke, University of Tasmania & ISDC
Professor Holger Meinke is internationally renowned for his leadership and research in agriculture, food systems and climate risk management. He chairs the ISDC, a standing panel of experts appointed by the CGIAR's System Council to serve as independent advisors. He held senior leadership positions at both Wageningen University (2007-2011) and the University of Tasmania (2011-2021), where is now Adjunct Research Professor for Global Food Sustainability and continues to supervise PhD candidates. Holger has published extensively in disciplinary and transdisciplinary journals.
James Reed, Center for International Forestry Research (CIFOR)
James Reed is a researcher in the theme 'Sustainable Landscapes and Food Systems' at the Center for International Forestry Research (CIFOR). He is interested in inter- and transdisciplinary research approaches that attempt to better understand the dynamics and potential synergies and trade-offs within tropical social-ecological systems. James obtained his PhD from the Lancaster Environment Centre at Lancaster University, UK.
Kathy Baylis, University of California, Santa Barbara
Kathy Baylis is a Professor in the department of Geography at the University of California, Santa Barbara. She joined the department after over a decade in the department of Agricultural and Consumer Economics as at the University of Illinois where she remains adjunct faculty. She earned her PhD in agricultural and resource economics from the University of California at Berkeley in 2003, where she specialized in international agricultural policy and trade. In 2001-2002, Kathy was the staff economist in charge of agriculture for the Council of Economic Advisors in the White House, and in the mid-1990s, she worked as Executive Secretary of the National Farmers Union in Canada. Her research empirically evaluates agricultural, conservation and trade policies and their effect on environmental and food security outcomes.
Brian Belcher, Royal Road University
Brian Belcher is the Ashoka Chair in Research Effectiveness and Professor in the College of Interdisciplinary Studies at Royal Roads University. He leads a research program that is developing theory, methodology and methods for evaluating research in complex transdisciplinary contexts. This work helps to demonstrate the societal value and impact of research and learns lessons to improve future research. He is also a Senior Associate Scientist with the Centre for International Forestry Research (CIFOR) and the Consortium Research Program on Forests, Trees and Agroforestry.
Jeff Sayer, University of British Columbia
Dr. Jeff Sayer is professor of Forest Conservation in the department of Forest and Conservation Sciences at the University of British Columbia. Jeff has had a long career working to conserve tropical nature. He has worked in the field in Africa and Asia and founded and led the Forest Conservation Program at IUCN in Switzerland. Jeff was the founding director general of the Center for International Forestry Research located in Bogor. In recent years he has been based in WWF and IUCN in Switzerland and with James Cook University in Australia before moving in 2018 to Vancouver. Jeff now focuses on studying ways of reconciling nature conservation with improving the livelihoods of people who live in remote forested areas. Jeff has worked in many parts of the tropical world but focuses now on Indonesia where he has a special interest in the islands of Wallacea, the forests of North Kalimantan and the peat swamps of Eastern Sumatra. Jeff has published several books and many research articles.
Organizer of Workshop on Measuring the Impact of Integrated Systems Research