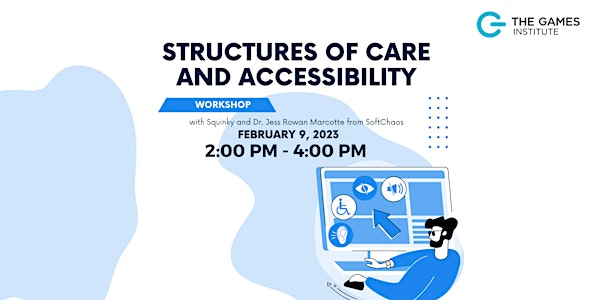 Workshop on Structures of Care and Accessibility
A workshop exploring how structures of care and accessibility can help teams create inclusive work! Registration is required.
Date and time
Starts on Thu, Feb 9, 2023 11:00 AM PST
About this event
This is a free, virtual event! Registration Required
To effectively design games with marginalized perspectives in mind, the representation of people from those marginalized groups, both in terms of content and who gets to be on the development team, is absolutely vital. Yet, representation alone can only go so far: to truly decolonize game development, it is not enough to just have marginalized people on one's team, but also to structurally transform said team's working conditions to ensure equity for all members, and to not simply replicate the usual hierarchical power structures. In this workshop, members of the worker cooperative game studio SoftChaos will discuss how building structures of care and accessibility into the team's day-to-day working environment can strengthen the creative process of developing games, and will lead participants in interactive exercises to inspire them to bring similar ideas to their own work contexts.
About the speakers:
D. Squinkifer, aka Squinky, is a transgender and neurodivergent new media artist based in Montreal, with a background in game development and performance. They hold an MFA in Digital Arts and New Media from UC Santa Cruz and were recognized as part of Forbes' 30 Under 30 in Games in 2015. They are one of three cofounders of SoftChaos, a worker-owned cooperative studio that designs experimental videogames, tabletop games, larps, art installations, and interactive performances.
Dr. Jess Rowan Marcotte (they/them) is a queer, mixed Mi'kmaw and white European settler game designer, writer, maker and Doctor of Philosophy (Critical Interaction Design, Individualized Program) who was born and lives in Tiohtià:ke (Montreal). Their work focuses on interactive experiences of all sorts, including hybrid games and alternative interfaces, video games, larps, tabletop games, and more. They are the lead co-organizer of the Queerness and Games Conference (QGCon) and one-third of SoftChaos, a worker's co-op that designs intimate, vulnerable interactive experiences
Registration Required.
Online link to the event will be provided only to registered participants.
About the organizer
The Games Institute conducts research into the past, present, and future of digital games. With a research network joining multiple universities and multiple industry partners, we explore the human side of games and game-related technologies and interactions, with the constant goal of understanding the compelling user engagement that games deliver in fields ranging from entertainment, education, health, and business.