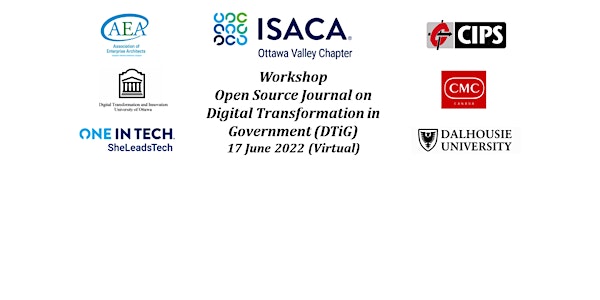 Workshop - Open Source Journal for Digital Transformation in Government
The Workshop's goal is to determine whether there is interest in creating an Open Source Journal on Digital Transformation in Government
About this event
The aim of the journal is to promote and improve the success of enhancing the quality of government leveraging digital technology.
The Workshop's goals are:
to determine whether there is interest in creating a multi-disciplinary Open Source Journal on Digital Transformation in Government.
to get together an editorial team to start the journal
The Journal is envisaged to:
address all aspects of Digital Transformation in Government (DTiG)
be freely available and accessible (not behind an enterprise paywall)
include both peer-reviewed and non-peer reviewed articles
increase research, best practices and lessons learned from DTiG sharing and collaboration amongst public sector, academia and private sector.
For attendees who wish to make a presentation please contact rweisman@uottawa.ca .
The workshop is a select extension of the Digital Transformation in Government set of annual conferences found at www.digitaltransform.ca/2022/
Registrants will be sent a Zoom meeting invite.