OPTIMUM NUTRITION for Pain & Inflammation
About this event
We are happy to welcome Alice Park (CNP) into the Cedar Springs Chiropractic team.
On Wednesday, October 27, 2021 at 6PM, Alice will be hosting an online workshop on Optimum Nutrition for Pain and Inflammation.
At Cedar Springs, we understand the importance of a holistic approach to healthcare and believe nutrition and lifestyle to be an essential part of everyone's healing journey so we hope you will join this FREE workshop to learn about:
Biggest signs of chronic inflammation
Six root causes to determine your healing plan
Five simple steps to healing inflammation immediately
Potential implications and bio-individual considerations
There will be a chance to ask questions. Word on the block is that there will also be a prize draw. Alice will draw a name out of everyone who registers for a FREE initial consultation (valued at $199).
For anyone who cannot make this date and time, we still encourage you to register to receive the recording of this workshop.
Please let us know if you have any questions. We look forward to seeing you at the workshop!
- Cedar Springs Chiropractic
-------------------
More information about Alice
Alice has a wealth of knowledge and extensive experience helping people reach optimum health through better nutrition and lifestyle. She is a Certified Nutritionist who particularly values an individualized approach to helping her clients reach their full potential.
Through 1:1 nutrition & lifestyle counselling, Alice helps people to:
Decrease inflammation by finding the root cause and coaching people through food & lifestyle changes
Heal the gut and support digestion (e.g., bloating, gas, constipation, diarrhea, IBS)
Reverse insulin resistance and become metabolically flexible (especially for conditions such as PCOS, ADHD, Alzheimer's, Diabetes Type 2, fatty liver)
Balance mood, manage anxiety/depression and improve sleep
Put autoimmune conditions into remission
Relieve allergy symptoms
Balance hormones (for fertility, optimum thyroid & adrenals function, menopause, etc.)
And more, which you can read about on her website :)
Alice's biggest joy comes from helping people take autonomy over their own health through education and empowerment, which is why she also loves designing and delivering workshops.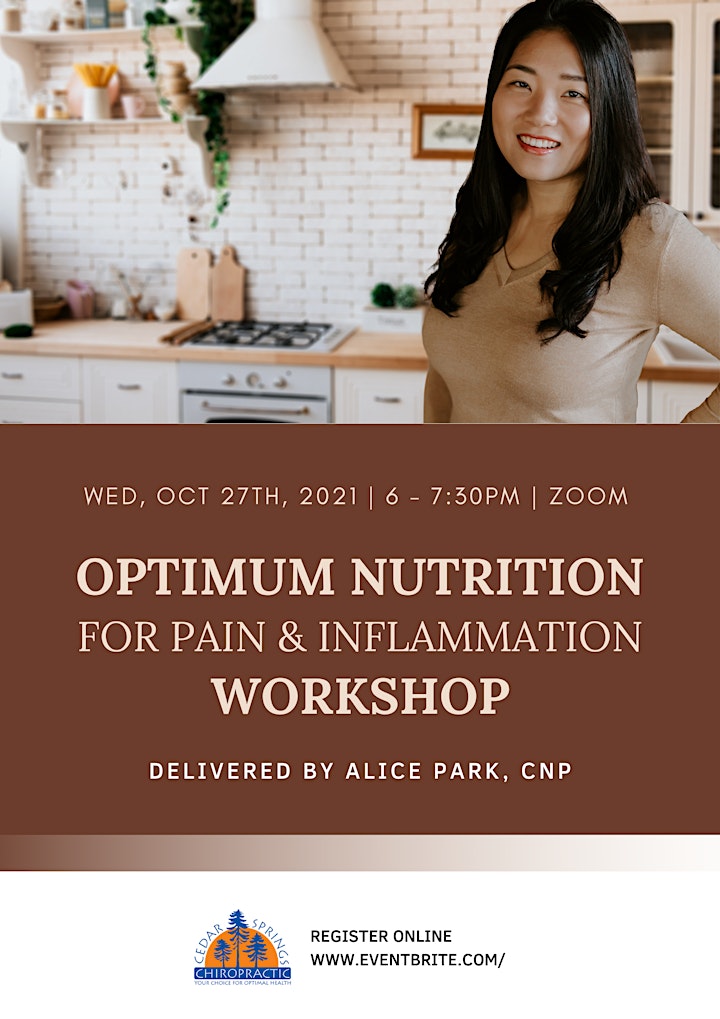 Organizer of [Workshop] Optimum Nutrition for Pain & Inflammation