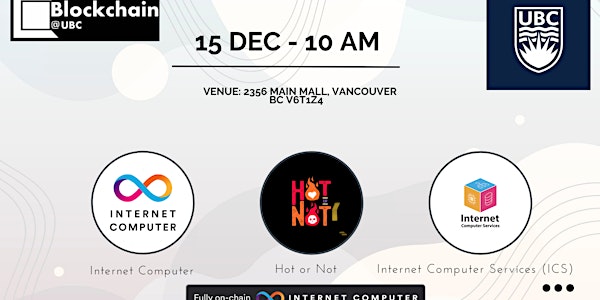 Workshop: the Internet Computer
Introduction to the Internet Computer ecosystem, use cases and technical considerations
When and where
Location
MacLeod (MCLD) - 2002 2356 Main Mall Vancouver, BC BC V6T 1 Canada
About this event
The Internet Computer (ICP) is the first World Computer blockchain, powered by innovations in cryptography and computer science derived from deep crypto research begun in 2015. It is a limitless blockchain that runs with 20,000X more efficiency than the next best, and hosts smart contract code that directly serves web experiences to end users, interacts with Web2, and creates signed transactions that run on other blockchains. It supports end-to-end decentralization, in which traditional IT, such as Big Tech's cloud services, can be completely replaced by blockchain smart contracts.
The Internet Computer is the fastest, high-performance and cost-effective scalable general-purpose blockchain — incubated and launched by the DFINITY Foundation in May 2021. A team of over 200 world-renowned cryptographers, distributed systems engineers, and programming language experts have taken on the massive technological challenge of building, maintaining, and continuously improving a 'world computer' powerful enough to host Web3 dApps, DeFi, games, NFTs, social media, and metaverse projects.
On Dec 15th, Blockchain@UBC will host a workshop on Internet Computer, introducing students and community learners to the ICP. Leaders from ICP will present the ICP ecosystem and emerging use cases and discuss how to engineer solutions on ICP. The event is powered by UBC Blockchain, UBC, Hot or Not, Internet Computer Services & The DFINITY Foundation.
Blockchain@UBC: Is a multidisciplinary research cluster focusing on blockchain technology as a central component in investigating the broader research question "How can emerging technologies be leveraged to benefit Canadians and the world? We engage in both research and education to advance the design, development and adoption of blockchain technologies. Our research initiatives bring academics, industry and community partners, and policy-makers together to explore pressing issues and advance the emergence of blockchain and distributed ledger technologies. Our teaching initiatives span undergraduate, graduate, and executive levels to advance the knowledge and qualifications of students and professionals interested in blockchain and distributed ledger technologies.
Hot or Not: Challenge-based short-video social speculation platform which enables every user on the platform to monetize their time, attention and effort, rather than concentrating the financial rewards amongst the top few creators/influencers on the platform.Is the first Tip-Tok decentralized version, running 100% on-chain in the Internet Computer Protocol.
Internet Computer Services (ICS): Is a web 3 platform where you can build scalable DApps on Internet Computer with ease. Build, manage and ship dApps with just a few clicks. Create, manage and add cycles to your project through the canisters (evolution of smart contract on IC), mint your NFTs, generate tokens and much more…
DFINITY Foundation: The DFINITY Foundation is a not-for-profit organization based in Zurich, Switzerland, and operates research centers in Palo Alto, San Francisco, Shanghai and Zurich.
For this event, we are honored to have Jan Camenisch---CTO at the DFINITY Foundation and Director of the DFINITY Zurich Research Lab---joining us! Jan is a leading scientist in the area of privacy and cryptography and a Fellow of the IACR, IEEE, and ACM. Jan has published over 140 widely cited papers, was granted about 140 patents worldwide, and has received a number of awards for his work, including the 2010 ACM SIGSAC outstanding innovation award, the 2013 IEEE computer society technical achievement award, and the 2018 IFIP Kristian Beckman award. In addition to his role in DFINITY Foundation, Jan also serves on Sovrin's Technical Governance Board. Before joining DFINITY, Jan was a Principal Research Staff Member at IBM Research – Zurich, where he was leading the Privacy & Cryptography research team and was a member of the IBM Academy of Technology.
The detailed agenda is as follows:
• 09:30 am - Opening
• 10:00 am - Introduction to the Workshop Javier Arroyo Ferrer, Special Projects at DFINITY Foundation
• 10:15 am - Jan Camenisch, CTO at the DFINITY Foundation and Director of the DFINITY Zurich Research Lab
• 11:00 am – "Hot or Not" dapp (decentralized Tik-Tok running 100% on-chain), with Co-founders Rishi Chadha / Utkarsh Goyal
• 11:45 am - Break
• 12:15 pm - Dominic Wörner, Solutions Architect at the DFINITY Foundation
• 1:15 pm Internet Computer Services (How to start developing your project on ICP/ Introduction Hackathon), with Founder Ritvick Paliwal
• 2:00pm Closing event
The event is open to the broad blockchain community. In-person attendance is encouraged. However, for those who cannot join in person, we will send you a zoom link a few days before the event.
We look forward to your participation!
Join the Telegram channel: https://t.me/+HQTY4RWsbNcyOTM5