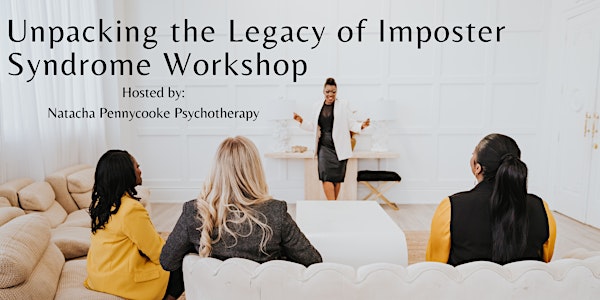 Workshop ~ Unpacking the Legacy of Imposter Syndrome: Fear, Stuck, Doubt
A workshop for High Achieving professionals who are ready to live a big full life, BUT realize that Imposter Syndrome is getting in the way.
Refund Policy
Contact the organizer to request a refund.
Eventbrite's fee is nonrefundable.
About this event
Imposter Syndrome is the awful feelings of fear, worry and self-doubt of being found out as a "fraud" despite your education, experience, talents, skills and accomplishments. These feelings often make people feel small and unworthy, and can lead to feeling powerless and stuck in a situation, job or a relationship instead of feeling happy, finding your joy and living your best live.
Are you ready to kick imposter syndrome to the curb and live your best life?
If you answered YES, then this workshop is for YOU!
This online workshop will create a safe space to help you address how imposter syndrome has been impacting your personal self, professional life and career goals. In this workshop we will explore how fear, self-doubt, and feeling stuck contributes to imposter syndrome.
THE WORKSHOP
This workshop will strive to honour your whole self – including the intersections between cultural, race, religion, gender, environment, and generational influences. The workshop's education, activities and facilitation will be anchored in anti-oppressive, strengths-based, and trauma-informed frameworks to provide you with opportunities to develop more self-compassionate, gratitude and kinder ways to navigate your self-sabotaging criticisms.
THIS WORKSHOP IS FOR YOU IF...
You are feeling stuck in your career.
You want to make a change, but you don't know how.
You are looking for a safe space to be seen and heard.
You are looking for ways to be kinder to yourself.
You will walk away with the following:
Ways to reclaim yourself and space.
A virtual community connection.
Witness the impact of generational trauma on self-doubt and identity.
Get tools on how to start identifying the roots of fear related to our self-criticisms and prioritizing your own voice!
Walk away with insights on how to start integrating self-compassion and gratitude to feel empowered to live a bigger life.
Outline of the workshop agenda:
Education on imposter syndrome and the impact on your life
Exploration on the interconnections between imposter syndrome, fear, feeling stuck, and self-doubt.
Examine how the roots of imposter syndrome could be perpetuated by generational and present influences.
Ways to start developing self-compassion, gratitude and kindness to interrupt negative thoughts and amplify our own voice!
GET YOUR TICKET NOW IF...
You are18+
Feel comfortable in a virtual group environment.
Have a safe space to participate in this virtual group.
Are able to use zoom.
Are excited to share with and learn from others.
You are NOT experiencing any current active suicidal thoughts and behaviors, and/or physical self-harming thoughts and behaviours.
THE INVESTMENT:
Natacha's 40th Birthday Special Pricing
General Ticket: $140 + HST
Includes: 2 hour workshop + bonus worksheets
VIP Ticket: $240 +HST
Includes: 2 hour workshop + bonus worksheets + VIP extra: 40 min 1-on-1 goal planning & next steps strategy session.
**IMPORTANT NOTE: If you have answered NO to any of the above, then this workshop is NOT for you.
If this workshop is not a good fit for you at this time, we advise you to connect to Natacha Pennycooke Psychotherapy (NPP) for individual therapy – click on this link to be taken to the NPP INTAKE FORM to start your 1-on-1 healing journey today.
This workshop is not a crisis group and it is not appropriate at this time for individuals who are having current and active suicidal and physical self-harming thoughts and behaviours.
If you are in crisis at this time, please call on of the distress center numbers below:
Assaulted Women's Helpline
Phone: 416-863-0511/1-877-942-4395
Website: https://www.awhl.org/
#SAFE (#7233) On your Bell, Rogers, Fido or Telus mobile phone
Online Chat: https://www.awhl.org/online-chat
*For anyone who is a survivor of abuse*
Distress Centre
https://www.dcogt.com/
Text: 45645
Call: 416-408-4357
Gerstein Crisis Centre
Website: www.gersteincentre.org
Phone: 416-929-0149
Please call 911 or go to your nearest emergency room, if your suicidal thoughts intensify.
**NOTE: Payment for this workshop is transferable and non-refundable. You may submit your receipt to your insurance provider/extended health coverage for reimbursed, if the services of a Registered Social Worker (RSW) and/or Registered Psychotherapist (RP) are included in your coverage.