About this Event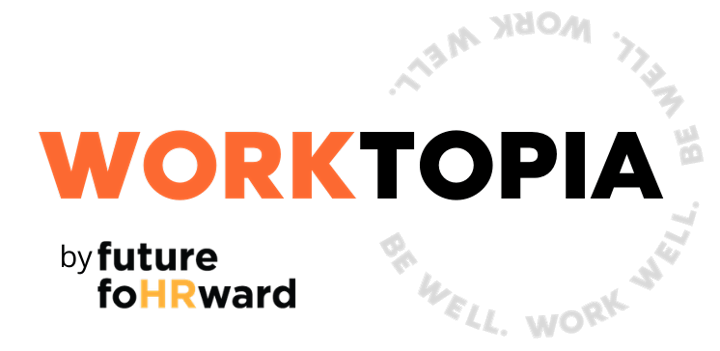 Wellbeing in the workplace has become a hot topic for executives and HR teams in the new world of work. From free yoga to gym memberships, mental health programs and innovative benefit offerings, companies are grappling with how to create healthier workplaces where their people can thrive.
Worktopia is a full day immersive experience for ALL human resources professionals to participate in interactive workshops and activations that will not just show you, but will give you practical takeaways and innovative ideas to bring back to your teams and organisations to effect real change.
This is how work should feel.
So come wind down your week with experiential learning and special treats, optional yoga or meditation, and your choice of speaker-led workshops exploring the themes of mental, physical, and financial well being in the workplace.
Start your day with an optional Meditation or Yoga session, followed by an interactive kick-off.
Gain inspiration for yourself, and your respective organization, through interactive workshops including your morning choice of:
Fun with the Feels: Empathy as Core Skill in the Future of Work, with Bailey Parnell of Skills Camp
Overcoming Life Challenges: using the power of our minds to drive big goals in the face of adversity, with Wendy Thomas of Wendy Thomas Coaching
Emotional Intelligence and Self-management: how to have a growth mindset as a leader, with Samara Zelniker of Mindfulness Matters
and afternoon choice of:
Building resilience is an inside-out job, with Christine Burych of StarlingBrook Leadership Consulting
Organizational Culture and Physical Space: Designing for behaviors that support wellbeing in the workplace, with Pillar Sponsor, Haworth
Financial Wellbeing: reducing financial stress in your workplace, with Pillar Sponsor, Sonnet
Breakfast and lunch will be provided by Calii Love, and many surprises are in store. See detailed agenda for more information.
Dress code: comfortable.
Stay tuned on LinkedIN (@futurefoHRward) and at futurefoHRward.com for detailed agenda and more information.
Special thank you to our sponsors …
Haworth: Physical Wellbeing Pillar Sponsor
Sonnet: Financial Wellbeing Pillar Sponsor
Green Shield Canada: Mental Wellbeing Pillar Sponsor
And our Activation Partners…
Photo Booth by Melanie Schwam Photography