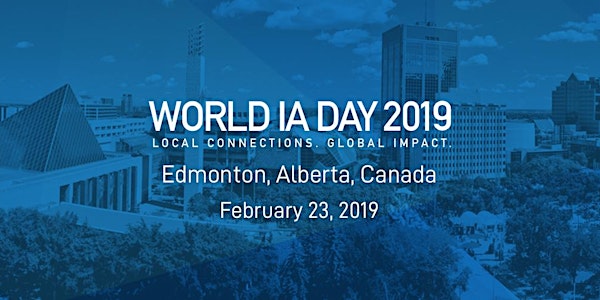 World IA Day Edmonton 2019
When and where
Location
nForm User Experience Consulting Inc 10110 107 St Edmonton, Alberta T5J 1J4 Canada
Description
Celebrate World IA Day Edmonton 2019!
World IA Day is an annual celebration of the field of Information Architecture. nForm is proud to be hosting World IA Day in Edmonton on Saturday, February 23, 2019. This year's theme is "Design for Difference".
---
World IA Day Edmonton Agenda
6:30 pm - Registration
7 pm - Presentations
9:15 pm - Networking
---
Presentations
Skipping the argument – a collaborative approach to planning out IA by

Kayla

Baretta

and Dylan Maclean



Planning out an Information Architecture can be time-consuming and stressful, with endless rounds of iteration and multiple stakeholders pushing diverging viewpoints. In this talk, Kayla and Dylan will walk you through Paper Leaf's battle-tested IA workshop format. Ensuring that all stakeholders are heard and that the process is as quick and painless as possible.
Humanizing the Digital Experience by Jason Buzzell
Higher Ed websites are beasts! With thousands of pages and decentralized publishing, it can be difficult for users to complete tasks or even find the right information. It's just as much a challenge of the central web teams to help keep the websites and digital channels organized and compliant with accessibility requirements and authoritative data sources. What if we started over? How would the design of your homepage, and most importantly, your search box and page look like? Most likely it'd be more focused on people, programs, places and policies than the announcement of a new institute. Find out how accessibility and search/findability are narrowing together and how Higher Ed sites need to minimize their navigation and amplify search (leveraging existing metadata for voice, text, etc...) in the 2020s and beyond. Letterkenny GIFs included.
Universal Design for Information Spaces by Carrie Anton
As we build systems and information structures we unintentionally omit some users from fully engaging with our creations, just as when we built physical structures and spaces pre 1980s. The Universal Design movement dates back to the 1960s and is defined by building ramps and doorways, and begins the movement for legislation that explains the rights of people experiencing accessibility barriers to spaces, information, and technology. In an age of information and more knowledge than ever before, we may still be missing the mark when it comes to information spaces. The UD movement of 60 years ago is still relevant in online learning, breaking down barriers, and enabling everyone to use and interact with our e-spaces. This presentation will bring us up to date and present considerations in order to break down access barriers in our information architecture.
---
Meet the Speakers
Kayla Baretta
As a Team Lead at Paper Leaf, Kayla manages her team and clients' projects which often includes leading various workshops and drinking a lot of coffee. Prior to joining Paper Leaf, Kayla worked at web agencies, ad agencies and non-profits. More importantly, she is usually followed around by a cute dog named Lydia.
Dylan Maclean
Dylan hails from MacEwan University's Design Studies program; his love of typography and design systems translates to beautiful layouts and websites.
He's a true design thinker, able to understand and plan user flows alongside designing the user interface. Plus, he's so Canadian that one time he started his truck using a frozen hockey puck in a ski hill parking lot. True story.

Jason Buzzell
Jason is currently the Director of Digital Communications at the University of Nebraska at Omaha (UNO), BS'05. His team works on digital governance and products that enhance the digital experience for visitors to UNO through a consistent, efficient brand experience. Jason's previous work includes being a Digital Strategist at the University of Alberta, MA'15, and a Web Business Analyst with the Alberta Motor Association. A curler, ball player and novice hockey coach, Jason grew up just outside Edmonton and is passionate about promoting the growth in Edmonton's digital strategy scene near and far.

Carrie Anton
Carrie is a passionate advocate for persons with disabilities. She is the Coordinator of the Athabasca University Access to students with Disabilities office. Carrie is an Assistive Technology Specialist, published researcher, teaches and helps people to embrace all kinds of technology and accessibility tools. Carrie is an informative and motivating speaker when talking about equity of access to education, employment and sport.

Please note: There is no charge to attend this event, but registration is required.