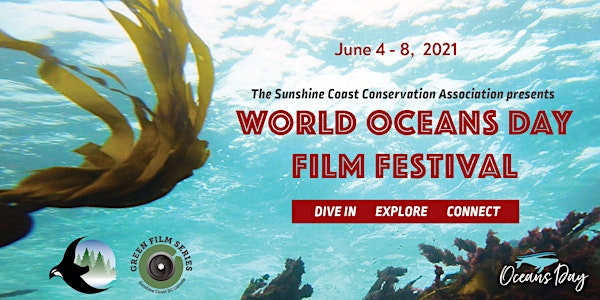 World Oceans Day 2021 Film Festival June 4- 8, 2021
The Sunshine Coast Conservation Association presents World Oceans Day 2021: DIVE IN - EXPLORE - CONNECT.
About this event
Feature Films | Lots of short films | Webinars
All events are free. Visit the Festival website for details about all the events.
Register for this event to receive links to watch the films and to access the webinars.
Questions? contactus@worldoceansday-scca.ca
Watch films
Please register so that we can send you a link to where you can watch films anytime during the festival June 4-8. Our program includes feature-length films and many short films.
To the Orcas with Love
Our Oceans: A journey of Discovery
The Whale and the Raven
Artifishal
Fish & Men: The High Cost of Cheap Fish
This Living Salish Sea
Join the webinars
Register for the zoom webinars so that we can send you a zoom invitation. Visit the festival website for details about the webinars.
Friday June 4, 12pm - Southern Resident Killer Whales
Saturday June 5, 7pm - Forage fish: More than just some Little Fish
Sunday June 6, 3pm - Fishing on the Sunshine Coast: Past/ Present/ Future
Sunday June 6, 7pm - What are Streamkeepers?
Monday June 7, 7pm - Eel Grass: Amazing Meadows of the Sea
Tuesday June 8, 7pm - We recommend the webinar organized and presented by the Howe Sound Biosphere Initiative: Glass Sponge Reefs and the Amazing Underwater World in Howe Sound. Please register for that webinar on their website.
This event, presented by the Sunshine Coast Conservation Association (SCCA) is produced in collaboration with the Green Film Series (Rhizome Up! Media Society). The SCCA gratefully acknowledges the funding support from the District of Sechelt for this project.
Support the work of the SCCA
Please consider making a donation to the Sunshine Coast Conservation Association to help with the Association's work to protect biodiversity. (Canada Helps page)
Sign up for SCCA email news. Join us! Become an SCCA member!
We are grateful to live and work in the territories of the Skwxwú7mesh, shíshálh, Tla'amin, Klahoose and Homalko First Nations.