World Partnership Walk BC team presents a "Green" Escape Room team challenge to raise awareness & funds for communities in Africa and Asia
About this event
"Green themed" Virtual Escape Room challenge
World Partnership Walk (WPW) supported by the University of Victoria & our event sponsors is excited to engage BC's Corporate, Post-secondary, and Tech sector in a "Green" climate action virtual escape room challenge to raise awareness and funds in support of global development focused on health care, education, and rural & economic development.
Why do it?
Do good and have fun! Build team spirit while supporting global development and pandemic relief projects in Africa and Asia.
Learn about climate issues!
Bragging rights! Who can escape the fastest? Compare your skills to other Fortune 500 company teams!
When: Thursday Nov. 18th from 2:00 pm - 3:30 pm.
Program:
1. Welcome and Intro to World Partnership Walk (15 min)
2. Escape Room team setups and instructions (5 min)
3. Escape Room Challenge (45 min.)
4. Team awards and sponsor recognition (10 min)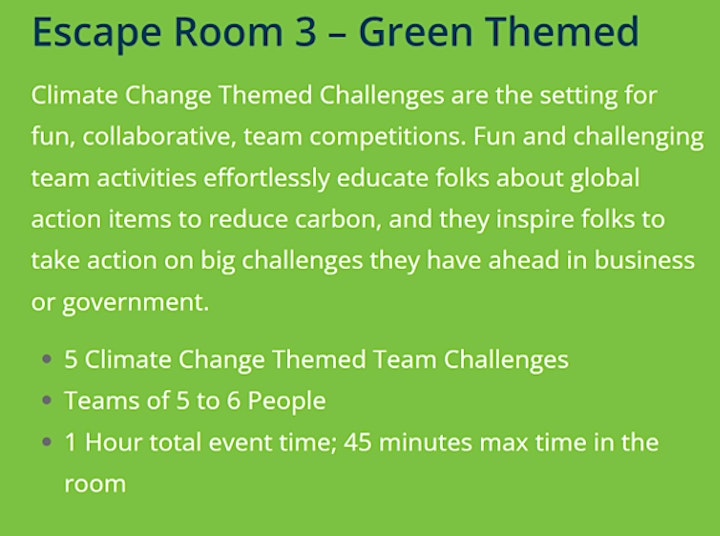 Registration:
Cost: Free!
Click on the "Register" button to register individually or as a team.
Register as a team of 4 to 8 persons or as an an individual. Individuals with no team name will be placed on a team during the event.
A Zoom virtual session link will be provided to all participants prior to the event.
Compete for the fastest team trophy and other prizes!
Go to the www.worldpartnership.com website and join us as we take you on a Virtual Voyage and showcase the development work we do.
Register and form a WPW team on our website
Register and Join / Create a WPW team
Donate to WPW using the link below and get a charitable tax receipt.
Donate to or Join the University of Victoria WPW Team
All proceeds of this event will be donated to the World Partnership Walk. So please donate generously if you can!
Platinum Sponsor



Organizer of World Partnership Walk - Green Escape Challenge