Description
Come for a screening of the new Living Soil documentary, and stay to connect with local innovators in stewardship to learn about soil health and conservation in the Ottawa Valley. Local treats will be offered for refreshments, alongside a tasting of offerings from Farm Gate Cider of Arnprior, ON.

Living Soil captures the background of the current soil health movement and its momentum, beginning with painful images of the Dust Bowl, and then transitions to personal experiences of innovative women and men who are managing their land to enhance soil health.
Our farmer panel is composed of leading farmers in the local soil health movement. They'll talk about their journey towards soil stewardship, answer your questions about soil health, and tell you how we can support the soil health movement in our own landscape.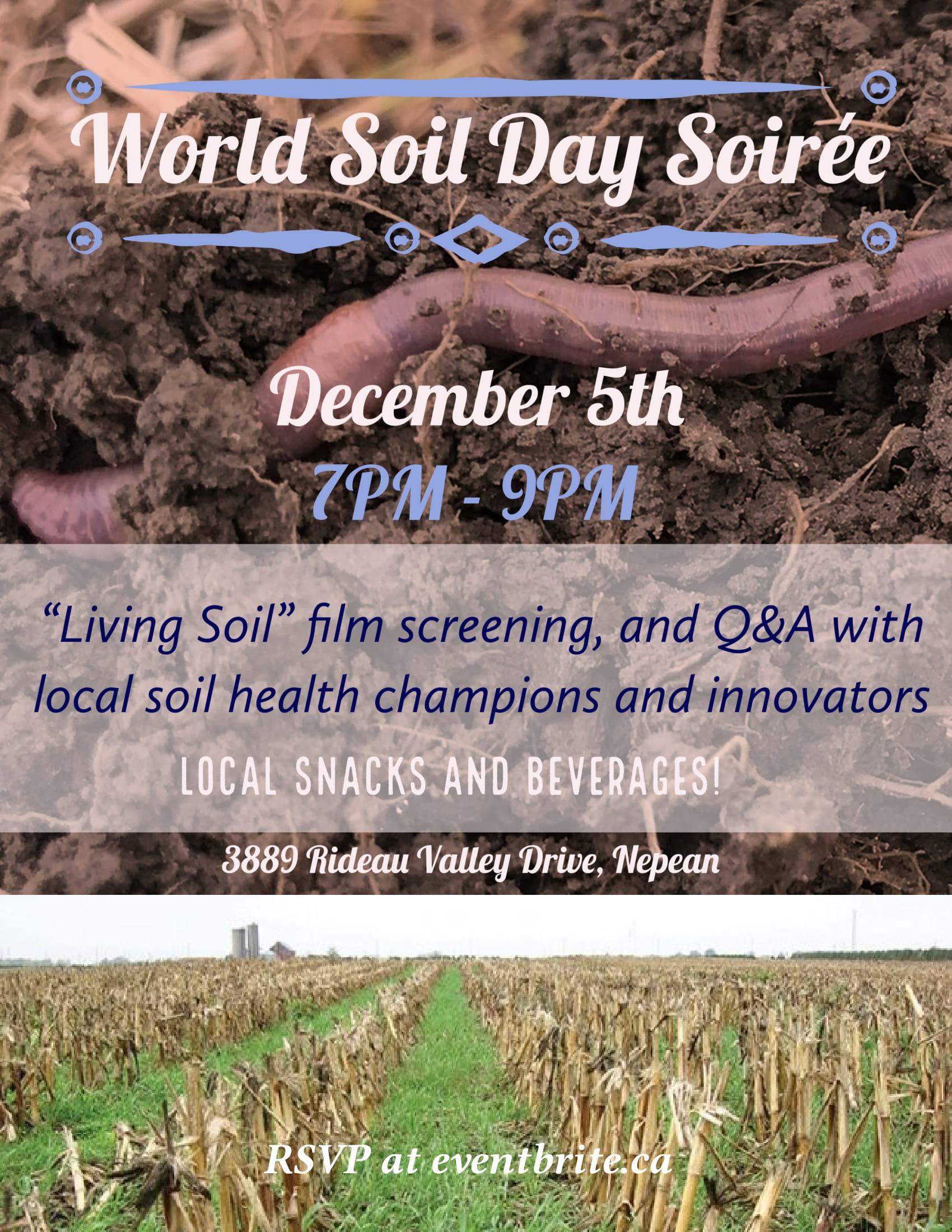 Our panelists:

Warren Schneckenburger operates Cedar Lodge Farms with his parents, Arden and Rhonda, and his wife, Christine. Cedar Lodge Farms is a cash crop/beef feedlot operation located near Morrisburg, Ontario. The farm is working hard to integrate cover crops on a large scale and reduce tillage in an effort to minimize soil degradation and erosion.
Amber Payne was born and raised on a beef farm in Manotick Station. She spent most of her childhood in dairy barns, hay fields and raising beef cattle. After high school, she worked on a variety of organic farms, developing her farming experience and passion for nutrition and healthy living. Eventually, she returned to the family farm to run a CSA market garden, where she quickly learned that you have to put more back into the soil that you take. Integrating livestock was key to making it possible to sustainably feed a community of hundreds of families while improving the soil.
Alan Kruszel is the chair of the Soil Conservation Council of Canada, and former president of the Ontario Soil and Crop Improvement Association. He farms in Stormont County and has a long experience practicing and advocating for soil health and conservation.