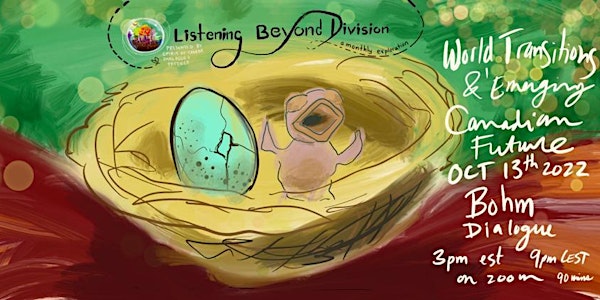 World Transitions & Emerging Canadian Future
What is emerging in our Canadian hearts as we sense into "What Does the Spirit of Canada want?"
About this event
The Spirit of Canada Dialogue Project holds a space once a month called 'Listening Beyond Division'. We explore difficult topics in the Canadian context, with open hearts. We are curious about what breaks our hearts and what breaks us open to healing and to expanded possibilities.
This summer has been a time of great transition. And with it, the great potential for the birth of the new.
Our community call this month will explore what is emerging in our Canadian hearts as we consider what we sense as a representative of our unique knowing and perspective in response to, "What Does the Spirit of Canada want?".
You are invited to join.
Date: October 13th, 2022
Time: 3:00pm EDT - 90 minutes
Place: Zoom
--------------------------------------------------------------------------
We will reflect back and explore together in a Bohm Dialogue format.
Through a process called Bohmian Dialogue, we will explore our relationship to the patterns of "unity" and "diversity" in our lives. How can deep listening affect the complex issues that we face? Relating to each other in our virtual circle, we will each practice suspending judgement, respecting each other, voicing what has heart and meaning, and listening deeply to the wisdom arising from our experience. We will hold the space for each other to learn, let go, be surprised, evolve and grow. And, you will experience Bohmian Dialogue, a powerful group process that goes beyond typical conversation, discussion, negotiation, or debate, to get to the truth and heart of what matters most... a process that you may wish to host in your own community.
Dialogue, as David Bohm envisioned it, is a radically new approach to group interaction, with an emphasis on listening and observation, while suspending the culturally conditioned judgments and impulses that we all have. This unique and creative form of dialogue is necessary and urgent if humanity is to generate a coherent culture that will allow for its continued survival.
The following diagram is courtesy of John Ruffin of Boulder Dialogue.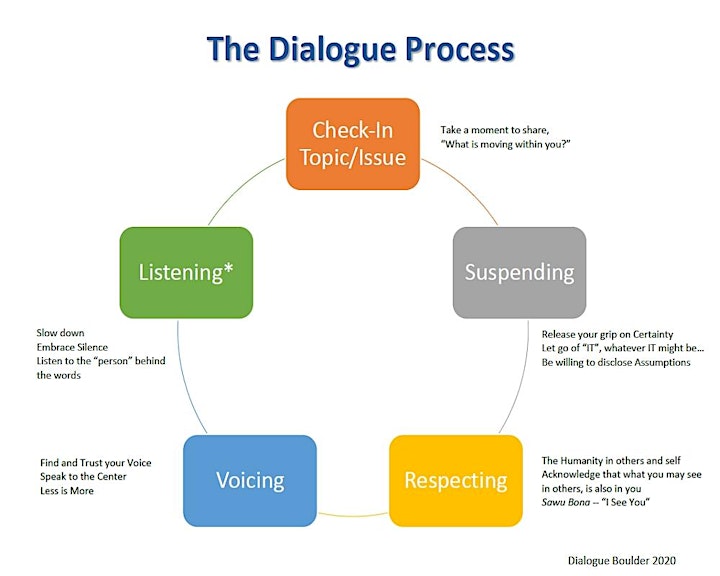 What is Bohm Dialogue?
From Wikipedia: Bohm Dialogue (also known as Bohmian Dialogue ) is a freely flowing group conversation in which participants attempt to reach a common understanding, experiencing everyone's point of view fully, equally and non-judgmentally. This can lead to new and deeper understanding. The purpose is to solve the communication crises that face society, and indeed the whole of human nature and consciousness. It utilizes a theoretical understanding of the way thoughts relate to universal reality. It is named after physicist David Bohm who originally proposed this form of dialogue.