Description
Secret RSVP is the world's first LIVE-MATCHED social event experience for singles - a fun, relaxed and modern way to meet.


How is Secret RSVP different?
We don't believe in awkward speed dating or dull, run-of-the-mill singles "mixers".
We believe in a modern way to meet … so you'll need to bring your phone (don't worry, no ghosting or endless swiping "games").
We'll provide an evening unlike anything you've experienced before.
So come, have some fun, make new friends and discover chemistry secretly.
How It Works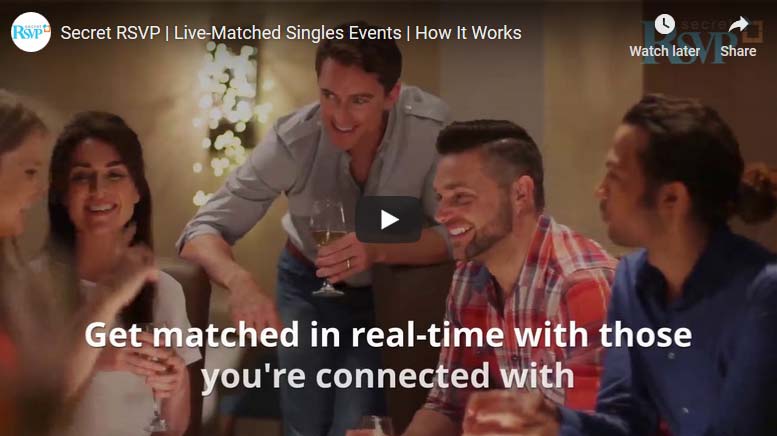 Learn more at our website: www.srsvp.com or watch a video on how Secret RSVP works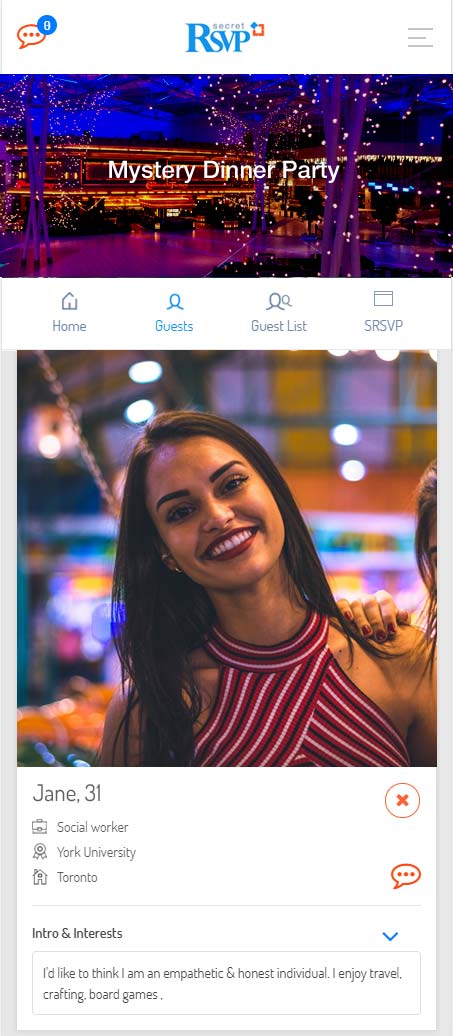 What others have said after past events:
"Thank you for this event. I really like the concept and had a great time meeting new people."
"Great concept! It was fun! I liked meeting people in real life and the games made it fun."
"Great event last Saturday! Keep up the great work."
"What a fun event! I can't wait for the next one!"
"Thank you for this great idea and it was a fun night out! Who knows, I may get a match."
EVENT DETAILS:
Theme: The evening will be fun-filled, featuring games with the theme "Perfect Pairings" designed to help you learn more about those you are secretly interested in... and those who can't wait to get to know you :) Our games and ice-breakers are designed to help you find your perfect pairing(s) and maybe even discover chemistry :)
Expect lotsa laughs, camraderie, competition, and maybe... chemistry! Our events are so social guests always leave with new-found friendships and connections..
Venue: Private area at the Peacock Public House (located on College, easily accessibly by street car just west of Bathurst).


Attire: Dress presentable - smart casual always works.


Age Group: 23 – 40 years young


What's included?
The Secret RSVP experience (it's one-of-a-kind, patent pending).
Opportunity for post-event connections
Prizes, including drink tickets.
What's NOT included?
Your fully-charged smartphone which you will use to view and add your guests.
MORE FAQs
---
Who attends Secret RSVP events?
Whether you're an introvert, extrovert, shy or out-going, we attract all types of professional singles. We also see many people come back to our events so we must be doing something right. We think it's largely due to the way we designed the experience to be a low-pressure way to connect IRL and that's something we all need to do more of these days.
What happens after the event ends?
Our events end on such a high note that you'll want to keep the social experience alive. Soon after the event ends, you can connect with anyone through messaging within the app for a limited time.
Do I have to bring my printed ticket to the event?
Nope! Once you have registered for the event, we will have your registration details from Eventbrite so there is no need to bring your printed ticket.
Can I update my registration information?
Once you have registered for the event, you will receive an email with more details about the event, including the venue. Closer to the event, we will send you instructions to create your profile on the Secret RSVP app, which you will be using at your event. You can then update your profile information, and add your photos, prior to the event.
Is my registration fee or ticket transferrable?
Your registration is tied to your event profile in the Secret RSVP app so your ticket is not transferable.
---
GOT MORE QUESTIONS? Email them to jen@srsvp.com