About this Event
Over 70% of tickets sold. Please note there is limited seating available for these style of events so reserve early. We will open a waitlist and issue any open tickets closer to the event.

Why you should go
---------------------------------
Because we DON'T host awkward speed dating or dull singles "mixers"
Our events are designed for the modern single so you won't be sent through a treadmill of awkward one-on-one "dates" or pressured to approach others.
You are the matchmaker
Our patent-pending live-matching algorithm is influenced by who you and everyone else secretly chooses. Then we invite you to meet in small mystery groups to get to know others through games. No one knows how they're connected.
Experience a new and modern way to meet … so you'll need to bring your phone
We embrace technology but in a healthy social way. We use it as a tool to help connect you with others in a fun and modern way.
Get to know others while playing fun relaxed games
Expect to play and have fun! Everything from Trivia, to modern party games to old-school JENGA, UNO, ... along with some unique methods that we use to help you get to know others in a fun relaxed way.
Experience increased excitement and attraction
We use psychology and mystery in a unique way that heightens the excitement and attraction with other singles. This is called the Uncertainty Principle and it occurs often at our events.
Meet lots of singles, make new friends and discover chemistry
Our events average close to 50 professional singles interested in meeting and making REAL connections.
And lastly, because it's good for you
We are social beings after all. And socializing with others is an essential need we all have. People need people. And those that are active socially simply do better mentally, physically, and emotionally than those that don't.
Quotes from attendees:
"Thank you for this event. I really like the concept and had a great time meeting new people." Donna B.
"Great concept! It was fun! I liked meeting people in real life and the games made it fun." James F.
"Great event last Saturday! Keep up the great work." Jewel A.
"What a fun event! I can't wait for the next one!" Lawrence H.
"Thank you for this great idea and it was a fun night out! Who knows, I may get a match." Carrie B.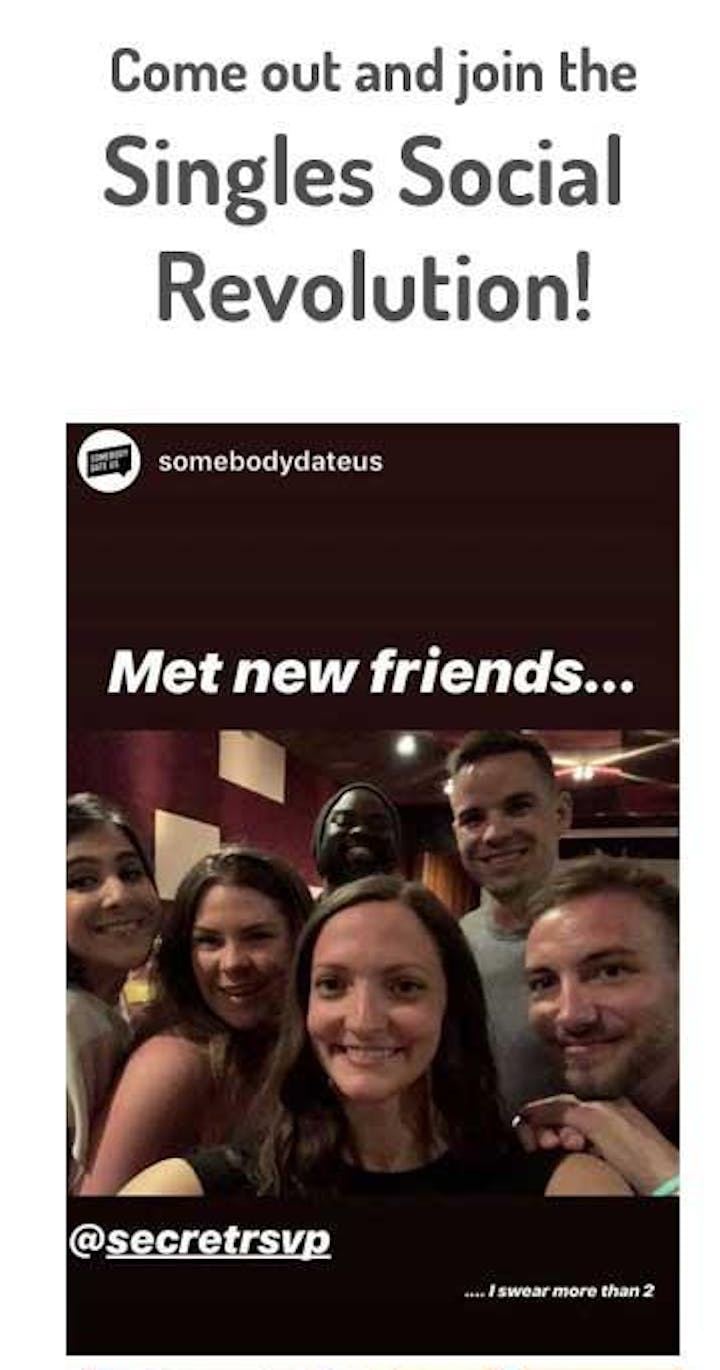 Event Details
You'll be matched with other extraordinary and eligible singles in small groups to participate in a series of fun and light interactive games aimed at getting to know others in a relaxed way.
It's all happening at a secret location (revealed to ticket holders).
Advanced tickets on sale until Sep 19th. After that prices go up. Our events often sell out so book your spot early!
Venue: 
Secret Location. Revealed to ticket holders only (Hint: "hip" venue close to Danforth & Greektown area (near Chester Stn).
Attire: 
Smart casual and presentable always works!
Age Group: 
25 – 42 years young
What's included?
Your personal live-matching experience (one-of-a-kind, patent pending)
Post-event messaging
Appetizers (YUM!)
 What's NOT included?
Your fully-charged smartphone which you will use to view and add your guests.
A cash or credit bar is available for drinks (drinks are not included in your admission). The venue has given us a private section so please try to patronize the bar to show appreciation to the venue for giving us their beautiful space.
MORE FAQs
What does Live Matching mean?
Secret RSVP is designed to work only AT A LIVE EVENT. We match you with those you're curious about, others curious about you, shared interests, and many other hidden aspects that our algorithm considers when it places you into small groups.
Who attends Secret RSVP events?
Whether you're an introvert, extrovert, shy or out-going, we attract all types of professional singles. We also see people come back to our events so we must be doing something right. We think it's largely due to the way we designed Secret RSVP events to be a low-pressure way to connect IRL and that's something we all need to do more of these days.
What happens after the event ends?
Our events end on such a high note that you'll want to keep the social experience alive. Soon after the event ends, you can connect with anyone through messaging within the app for a limited time.
Are there ID or minimum age requirements to enter the event?
This event is for singles between 25 – 42 years young, but we do allow a 1 - 2 year leeway outside these ranges. If you're outside of this age range, please let us know your interest by completing our waitlist form to an upcoming event we have planned. 
What are my transportation/parking options for getting to and from the event?
We always find venues that have great transit options. If you drive, parking locations can be easily found using Google maps.
Can I bring my friends?
Yes! Meeting new people can be nerve-wrecking. The extra moral support from friends can help! Your friends are welcome to come - just remember to create a unique profile for each person attending when purchasing your tickets, and be prepared to join different groups. 
 What can I bring into the event?
Please bring your smartphone, fully-charged!
Do I have to bring my printed ticket to the event?
Nope! We're fully-electronic! Once you have registered for the event, we will have your registration details so there is no need to bring your printed ticket. 
Can I update my registration information?
Once you have registered for the event, you will receive an email with more details about the event, including the venue as well as instructions to create your profile on the Secret RSVP app, which you will be using at your event. You can then update your profile information, and add your photos, prior to the event.
When can I see the profiles of other guests going to the event?
You can only view the profiles of event attendees once you are checked-in by an event host at the event. This also keeps your profile private and visible only to those committed to attending the event.
Is my registration fee or ticket transferrable?
Your registration is tied to your event profile in the Secret RSVP app so your ticket is not transferable.